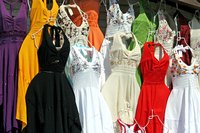 Circle skirts are a staple of traditional female Mexican dress; they became popular because they allow the wearer freedom of movement, especially while dancing. Circle skirts are named because they form a perfect circle when placed flat and feature a lot of volume along the hem. Mexican dancing skirts are perfect for children because little girls like to see the skirt move when they twirl.
Things You'll Need
Cotton fabric
Matching thread
Measuring tape
Protractor
Chalk
Yardstick
Scissors
Sewing machine
Iron
Three-inch zipper
Measure the child's waist. Add two inches to this measurement to allow for the seam at the waist. This number will be the circumference of the inner circle of the dancing skirt.
Divide the circumference by 3.14 to get the diameter. Divide that number by two to get the radius of the inner circle.
Set the protractor to the proper radius and draw a circle on the middle of the piece of cotton fabric. Also mark the center of the circle with the fabric chalk.
Determine the desired length of the skirt and add one inch to accommodate the waist seam. This number will help you determine where the second circle, the one that makes up the bottom of the skirt, will be drawn.
Measure the above number from the first circle's edge and make a mark. Line a yardstick up with the center of the circle to ensure that the measurement is accurate, then continue making marks around the fabric.
Connect the marks to form another circle that is the length measurement's distance from the inner circle.
Cut the fabric along the edges of the inner and outer circles.
Turn the fabric inside out and fold the bottom and top edges to create two one-inch seams and iron them. Use the sewing machine to sew down the seams half an inch from each edge.
Cut a three-inch slit at the top of the back of the skirt. Fold the new three-inch edge inward half an inch and iron it flat. Turn the skirt right side out and place the zipper in the slit. Sew each side of the zipper to each side of the slit.