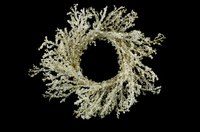 Wreaths aren't just for Christmas anymore, they're used to decorate homes year round. No longer held hostage by the use of the primary colors of Christmas, we can freely express ourselves in the choice of materials including a full range of colors. Bending a wire coat hanger into a circle for a traditional round wreath is an age old tradition. Here's how to make a quick, sumptuous coat hanger wreath.
Things You'll Need
3-5 different colored fabric
Scissors
Collect up to five different colors of cotton or blended cotton fabric. Scraps from sewing projects or other craft projects will work.
Cut a minimum of 120, two by seven-inch strips. Divide the 120 by the number of different color or printed fabrics chosen for the wreath.
Shape the hanger into a circle. Use a pliers if necessary.