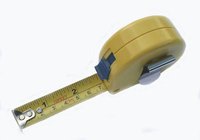 Storm shelters are normally built underground as a safe place to go in case of storms or tornadoes. They may also be used to store canned food. Storm shelters are built with concrete blocks and rebar for reinforced strength inside the walls. Condensation may form inside the storm shelter, creating mold and musty smells. Dehumidifying the storm shelter should rid you of these problems.
Things You'll Need
Tape measure or yardstick
Measure the dimensions of your storm cellar. You'll need this information to choose an appropriate dehumidifier.
Find out what type of dehumidifier best meets your needs. Frigidaire, Soleus and Sunpentown are several brands of dehumidfiers on the market. These and others may be purchased at stores such as ACE Hardware, Sears, Lowe's and Home Depot. A knowledgeable salesperson should be able to help.
Set up the dehumidifier in the storm shelter. Smaller dehumidifiers sometimes run on batteries, but larger units need an electrical outlet, which means you may need to use an extension cord running to the house.
Empty the drip pan from the dehumidifier each day to avoid overflows. You can attach a hose to drain water from the drip pan into a sink if the shelter has a sink.