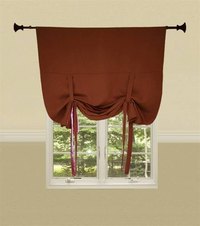 Decorating isn't as formal and stuffy as it used to be. and many homeowners today want relaxed casual spaces that are both comfortable and classy. When it comes to covering your windows, store bought blinds are not only expensive but they don't add that custom look to the home that many desire. You can make your own relaxed tie-up blinds at a fraction of the cost of purchased blinds and they will match your home perfectly.
Things You'll Need
Measuring tape
Fabric
Ribbon
Scissors
Sewing pins
Sewing machine
1-inch wide curtain rod with hardware
Drill
Measure the height and width of the window and frame to determine how much fabric will be required as well as the size curtain rod needed for your shade. Decide if you want the shade to cover only the window itself or also the framing on the outside of the window.
Cut the fabric to the measurements adding 2 inches for the rod pocket at the top and 1 inch on the sides and bottom for hemming.
Turn the sides and bottom under to form a 1-inch fold and pin along the turned-under edge to hold it in place. Fold the top of the shade under to form a 1 1/2-inch pocket, pin n place. Stitch along the folded edges of the fabric with the sewing machine, removing pins as you work.
Cut four strips of ribbon approximately 2 1/2 feet long. Fold under and pin two of the strips to the front of the shade along the bottom of the pocket edge approximately 4 inches in from each side. Stitch into place with the sewing machine. Repeat the process with the remaining two strips on the back of the shade.
Install hardware for the curtain rod with the drill. Feed the rod through the pocket at the top of the shade and hang the shade in the window. Adjust the blinds up or down using the two ribbons on either side to tie them up at the desired height.