Things You'll Need
Pattern

Fabrics for blouse/skirt or dress

Sewing machine

Threads

Straight pins and pinking shears

Fabric to make a traditional square head covering (dikla)

Gypsy-like jewelry and accessories

Fabric to make a vest or corset (optional)

Material to make a fringed shawl (optional)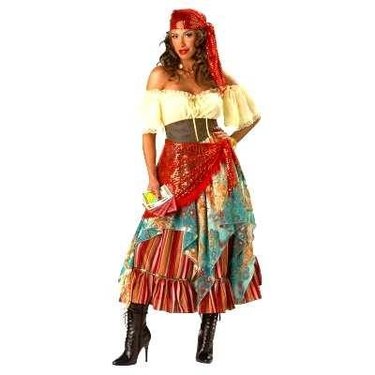 Even if you don't know a Romni (married Gypsy woman) from a diklo (the colorful cloth gypsy women wear on their heads), making an authentic Gypsy dress will be as much fun to create as it will be to wear --- just as long as you've the sewing skills to follow some simple directions. Traditional gypsy garments are dramatic, traffic-stopping and sexy, so follow your inner colorist to make the finished product as vivid as the real thing. Stick to fabric and lines that best fit your body because there are several types of gypsy outfits that match the lines of the authentic, Old World outfits. But don't let the idea of being so true to detail that you accidentally substitute your shears for a scimitar (knife-like weapon) or even your best friends will tell you that you've gone too far.
Step 1
Choose a pattern that best suits your body type and the overall look you're trying to achieve. The following pattern numbers can point you in the right direction, but since patterns are discontinued from time to time, take the entire list with you when you go shopping: Simplicity #3618, #4484, #5359, #5582 or #9966, McCalls #4090, #4861 or #4994 or Butterick #3906. All offer different versions of the traditional gypsy dress.
Step 2
Shop for the most colorful cloth you can find on the shelves of your favorite fabric store, but keep it to solids. Gypsies don't make their clothing of patterned material. Stay within a traditional color spectrum by avoiding earth tones in favor of vibrant blue, green, pink, burgundy, maroon, brown, yellow and orange. At the zenith of Europe's largest gypsy societies, black dye was too expensive to buy, so don't include it in your color palette. Also, avoid using true red fabric. In the old country, red is associated with blood; it's a color that portends bad luck.
Step 3
Using your pattern of choice, smooth out the fabric on a large worktable or the floor if you're short on space. Pin the pattern pieces to the cloth as the directions instruct. Use a pinking shears to cut sections from the bolt to avoid fraying the material's edges, and when each piece is cut, take a moment to iron it --- especially if you're choosing a tiered skirt.
Step 4
Thread your sewing machine with colors to match your fabric and join all of the seams per pattern instructions. If your design features a tiered skirt, make sure you stick to the same stitch width so you don't wind up with puckers. Traditionally, gypsy women wear several skirts at the same time, so if you're working with a two-piece pattern and like the idea of a truly accurate outfit, make several skirts.
Step 5
Complete the structure of your dress or blouse and skirt by adding facings where called for, then complete the hand-stitching elements required to finish the frock. Tack down facings, pin up and whipstitch hems. If your bodice features an off-the-shoulder or gathered neckline, use decorative cord in a complementary color or elastic fed through the hem located around the top of the blouse section.
Step 6
Consider adding a brocade, tapestry or heavily embroidered vest to the ensemble, though if you'd like to take it to the extreme, you'd be in keeping with tradition if you made the vest of leather or fur. Neither is pleasurable to feed beneath the foot of a sewing machine attachment, but remember that tradition is the key word here, so if you're into extreme style, use these touches. You'll also find boned corsets lavished with hand-made eyelets laced up with fancy cord atop a plain blouse over a Gypsy skirt (see photo), so if this appeals to you, add it to your sewing project.
Step 7
Stitch a head covering that's in keeping with your station in life. If you're a Romni, you'll want to make a diklo --- a square bandanna in a matching color to wear over your hair. Non-married Gypsy girls can also wear a head covering in the form of a scarf to tie back the hair. Muffin-style hats, snoods and garlands may be seen traipsing about Renaissance Fairs, but these head coverings are not Gypsy styles, so don't go there.
Step 8
Pull your traditional outfit together by making or buying a large fringed shawl, then opt for bare feet ---or go to the other extreme and don lace-up boots. Pile on the amulets, ankle bracelets with jingling bells and hand jewelry. Add the longest, most dramatic earrings you can find. Tone down your makeup; Gypsies don't polish their nails or color their hair.
Tip
In pursuit of an authentic look, women often mistake Gypsy style with peasant, Native American or harem looks. Though there are some similarities and patterns can often crossover to produce different styles, the Gypsy look is as unique as its culture.