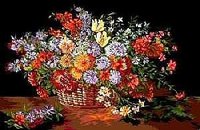 How do I make a tapestry stitch? The tapestry stitch is also known as the Gobelin stitch (pronounced like what hangs around with ghosts). The finished appearance of ancient woven tapestries is achieved by using finer thread (when using heavier thread or yarn, the same stitch is called a Knitting Stitch), and building up layers next to each other. The stitch differs depending on whether you are using it in needlepoint or embroidery, though needlepoint most resembles woven tapestries when complete. This article illustrates how to make tapestry stitches in both needlepoint and embroidery.
Things You'll Need
NEEDLEPOINT
Needlepoint canvas
Thread (finer thread preferred to heavier yarn)
Tapestry needle
Scissors
Laying tool - optional
Needlepoint frame - optional for this exercise
Needlepoint stand -
EMBROIDERY
Fabric
Embroidery thread
Embroidery needle
Scissors
Embroidery hoop
NEEDLEPOINT - the tapestry stitch on a needlepoint canvas is made straight up and down. It is achieved by working two threads long by one wide on the weave of the canvas, as shown in this illustration. Work in rows from right to left, and from top to bottom. Although it is more challenging, in order to give a more tapestry-like raised effect, you can place a thin layer of padding between the canvas and the thread.

Illustration of Tapestry Stitch in finished needlepoint.

EMBROIDERY - the Tapestry Stitch in embroidery looks similar to a Chain Stitch, but is created differently. For illustrative purposes, I'll call the horizontal threads (the weft) rows, and the vertical threads (the warp) columns.
a. The stitch begins under your fabric, passing your embroidery needle up and then inserting it into the fabric diagonally two rows up and one column to the right.
b. The next stitch is made by bringing the needle up in the same column that the previous stitch began, but one row higher.
c. The needle then goes down again into the fabric two rows up and one column to the right.

d. When you have reached the top of the column (usually the right side of a stem or other vertical feature), instead of bringing the needle up in the same column, come up in the same row but in the column to the left. This will make a loop on the underside of your fabric.
e. To begin the Tapestry Stitch down the left-hand side of the stem, insert the needle two rows down and one column to the left.
f. Bring the needle up in the same column as the previous stitch, but one row further down. The final embroidered stitch appears to "grow" up one column of the fabric and down the next.
g. The finished columns look like this illustration.

This is an illustration of an Overlap Tapestry Stitch. The stitch in this piece has been used to make stem intersections appear more realistic.

Embroidered bookbinding, The Miroir or Glasse of the Synneful Soul, manuscript by the Princess Elizabeth (later Elizabeth I of England) in 1544 at age 11. Tapestry stitch embroidery.