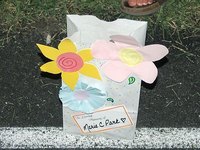 A luminaria is a paper bag filled with sand in the bottom tand a tea light inside to give it a "candle effect." They are usually set out to line a walkway or path. If used in the American Cancer Society Relay for Life event they line the walking track. When used in this manner they are decorated in the honor of, or in memory of, a loved one who has cancer.
If you are participating in a Relay for Life event the luminaria bags are provided by the American Cancer Society. Otherwise, you need to purchase lunch-sized paper bags. Preferable white.

Who will the bag honor? If you have a computer it's nice to print out a photo of the person you are honoring for display on the bag. You can also print out their name as you want it prominently displayed. Otherwise, using markers you can write it directly on the bag.

Use your imagination when decorating. A nice idea is to decorate the bag in a way that shows the interests of the person being memorialized. Using themes such as fishing, sewing, skiing, flowers, etc will personalize the luminaria.

You can use poems, favorite quotes, and other meaningful tributes on the bags. Either write these on the bag or print out on your computer and paste on.

Use stickers, markers, cut-outs, ribbon, lace, buttons, and any other craft items you like to decorate the bags. Love is the most important item when decorating a luminaria.