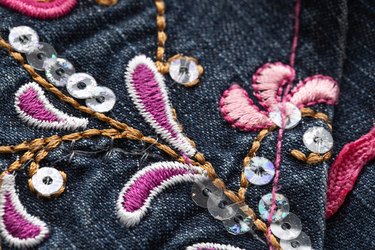 Embroidery used to mean spending hours and hours with a hoop, needle and thread embroidering designs by hand. This type of embroidering can be a relaxing and satisfying hobby but if you'd like to up your embroidery game a bit and save time, investing in an embroidery machine might be in your future. A good embroidery machine can help you turn an ordinary item into a work of art in no time. Add some flair and embroider unique designs onto clothes, hats, bags, hats, backpacks, blankets and quilts with an embroidery machine. Choosing one of your first embroidery machines can be a daunting task. There's no need to be confused and overwhelmed when buying your first machine because we've compiled the information you'll need to help you choose the best embroidery machine for your needs.
What to Consider When Purchasing an Embroidery Machine
​Price:​ Embroidery machines are an investment, so determining what you'll be doing with the machine, how much you'd like to spend, and doing your research will help you make the best decision. Embroidery machines for personal use can range anywhere from $500 to $5,300. They can cost as much as $10,000 for a commercial embroidery machine. Be sure to buy the best machine you can afford with the features you will use.
​Usage:​ Determining the purpose of your machine will help you decide which embroidery machine will work best for you. Ask yourself what type of items will you be embroidering or monogramming. Will you be decorating hats, blankets, shirts, jackets, blankets, towels or quilts? Ask yourself if you'll be using your machine for home use or for business. If you're using it for business and it will be in use frequently, you will want to purchase a high-quality, and most likely, more expensive embroidery machine.
​Embroidery Hoop Size:​ The smallest hoop size, or embroidery area, is a 4-inch by 4-inch square. This works for beginners, but most likely after you use this for a while, it won't be large enough. You'll want to try and get an embroidery machine that has an embroidery hoop size that is at least 5 inches by 7 inches. The hoop size can go up to 7.9 inches by 9.4 inches but these embroidery machines will be the most expensive. Broadly speaking, the larger the hoop size, the more expensive the embroidery machine will be. Purchase an embroidery machine that has the largest embroidery area you can afford.
​Throat Width:​ The throat width is the width between the embroidery needle and the machine body. A large throat area gives you more room to maneuver large fabrics like quilts. You can use larger embroidery hoops for free motion quilting with larger throat widths.
​USB Port:​ A USB port is an important feature so you can plug in a computer or flash drive and download designs directly onto your embroidery machine. Make sure your machine has this capability and doesn't rely completely on the pre-installed designs. There are many free designs available for download and you can even create your own with embroidery software. Some of the newer embroidery machines even have WiFi so you can transfer your designs without a cord or a flash drive.
​LCD Touch Screen:​ A large color screen with easy readability is best so you can not only create designs but visualize what your embroidery designs will look like in the embroidery area on your finished embroidery projects.
​Design Library and Embroidery Software:​ You don't need to spend much money on pre-installed embroidery designs because there are so many free options available for download. If your embroidery machine comes with embroidery software to help with digitizing and creating your own designs, even better. Heads up—if you plan on selling your finished projects, you should purchase your designs to avoid copyright issues.
​Supplies and Accessories:​ Check and see if the machine you intend on purchasing comes with any of these supplies and accessories. You can save money by purchasing some of these at a later date when you're sure you will be using them.
Essential stabilizers are crucial to beautiful embroidery projects. It's the material that goes on the back of the fabric to support it as you stitch the embroidery design. You should get at least one of each kind of stabilizer.
Machine embroidery thread will come with most machines but you should check your pattern to verify what type of embroidery thread, texture, quality and weight is recommended for your embroidery machine.
Embroidery bobbin thread is lighter than the upper thread to help pull the needle to the back of the fabric and create a smooth embroidery project.
Embroidery machine needles come in several types. Regular needles are used on woven fabrics. You'll need ballpoint embroidery needles when using knit fabrics. Titanium needles will help to repel gumminess when working with sticky stabilizers. As a rule of thumb, the lighter the fabric is, the smaller the needle should be.
An automatic thread cutter is a timesaving accessory that will automatically cut the thread when finished with a certain color and will alert you to change the thread color.
An automatic needle threader is an invaluable tool to help guide very fine thread through even the tiniest of needle eyes, saving you time and frustration.
A bobbin winder helps to distribute the bobbin thread evenly so thread tension will be correct.
​Warranty and Customer Support:​ Since an embroidery machine is an investment, a good warranty is essential. Many machines come with online tutorials for setup, projects and technique classes. Look for an embroidery machine that comes with customer support and warranties on parts and labor.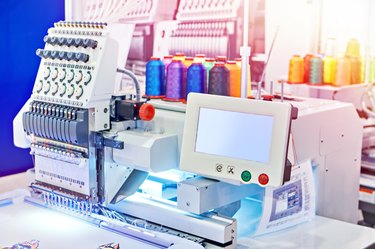 The Best Combination Embroidery and Sewing Machine
Brother SE1900 Sewing and Embroidery Machine
The Brother SE1900 Sewing and Embroidery Machine is a versatile, high-end and affordable machine that can be used for sewing, quilting and embroidery projects. At a lightweight 22 pounds and a reasonable 23.19 inches long, 11.54 inches wide and 13.43 inches high, it can be transported easily to your favorite sewing events. It has an advanced needle threading feature to make it easy to switch thread colors and save time and frustration. The jam-resistant top bobbin will help to minimize tangles.
The Brother SE1900 has 138 built-in designs, 11 embroidery and monogram fonts, 240 built-in stitches, and 10 styles of 1-step buttonholes. You can upload custom designs through the USB port, then edit and preview your designs in full color on the large LCD touchscreen. The large 5-inch by 7-inch embroidery area allows you to create beautiful embroidery designs.
For regular sewing and quilting, the Brother SE1900 has eight presser feet for buttonholes, monograms, overcasting, zig-zag, zippers, button fitting, blind stitch and embroidery designs. You can also do free-motion sewing and quilting with the drop feed feature.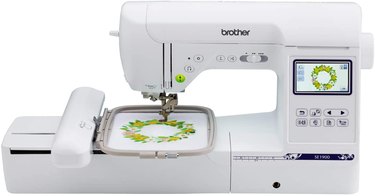 The Best Embroidery Machine For Beginners
Brother PE800 Embroidery Machine
The Brother PE800 Embroidery Machine is a popular, easy-to-use, computerized choice for those just getting started in home embroidery. It can be set up for use in 30 minutes and has helpful tips and tricks to get going on your first embroidery project. This embroidery machine has a large, color LCD touch screen to help you experiment with ideas and color combinations. Even though it comes with over 100 built-in embroidery designs, the Brother PE800 has enough built-in memory to allow you to personalize your embroidery projects by creating, purchasing, uploading or editing your creations. You can also edit by mirroring, rotating or changing the size of your designs, which makes for unlimited design options.
The Brother PE800 comes with 138 built-in embroidery designs, 11 lettering fonts, 10 frame shapes and 14 border styles. To save you time, it comes complete with an automatic, touch-of-a-lever needle threader. To prevent eye strain, the Brother PE800 also has a bright LED light. You can easily bring it with you to all of your favorite sewing classes, seminars and conferences because it only weighs 13.74 pounds and measures 21.8 inches long, 19 inches wide and 19.1 inches high. Brother is confident that the Brother PE800 will take what you can dish out with its 25-year limited warranty and free lifetime telephone and online customer support.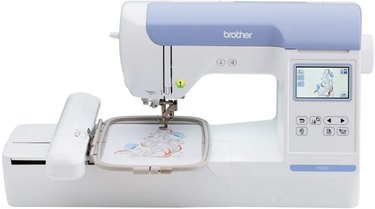 The Best Embroidery Machine for Businesses
Janome MB-7 Multi-Needle Embroidery Machine
For those of you who are selling your embroidery designs and consider yourself a professional, you'll want to consider making an investment in a multi-needle embroidery machine. The Janome MB-7 multi-needle embroidery machine comes complete with a maximum embroidery area of 9.4 inches by 7.9 inches to accommodate a large variety of embroidery designs. This computerized embroidery machine has a large, easy-to-read LCD touch screen and reads all the professional embroidery formats such as .jef+, .jef and .dst. To save time, the independent bobbin winder prepares new bobbins while you are stitching. The USB port allows you to import designs and it has 10 monogram fonts and 50 built-in embroidery designs. It embroiders quickly at 800 stitches per minute. The seven separate needles and six bright LED lights make changing thread colors quick and easy. This is an embroidery-only machine but well worth the investment.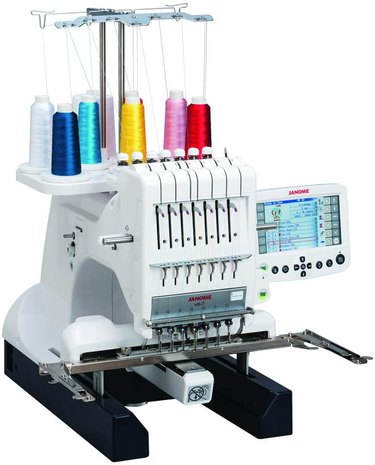 The Best Budget Embroidery Machine
Brother SE600 Embroidery Machine
The Brother SE600 Embroidery Machine is a budget-friendly machine that also doubles as a regular sewing machine. It has a large, computerized LCD touch screen that allows you to have control over stitch type, width and length. You can upload and preview custom design patterns and use the USB port to add .pes embroidery design files. The Brother SE600 has a 4-inch square embroidery area, 80 built-in designs, 6 embroidery fonts and 103 sewing stitches. It comes with feathers, stars, hearts, waves, and decorative scrolls and stitches. It includes a jam-resistant drop-in bobbin and the automatic threader works with the touch of a lever. The Brother SE600's work area is extra bright thanks to an LED light. Brother thinks pretty highly of this machine since it includes a 25-year warranty and lifetime technical support.