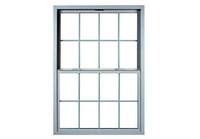 The hardest part about installing new windows is taking the old ones out. It's very popular to install new windows to be more energy efficient, or to fix windows that were once leaking. Although it seems simple, replacing your windows will take some time. But in the end, it will help your entire house look better.
Things You'll Need
Measure your existing window. You will want to go outside with your tape measure for a more accurate measurement.
Order a new window. You will want to order the exact same size from a hardware or window store. Depending on your home, you may want to deduct a quarter to a half inch on each side as you measure. This is because old windows were put in before brickwork and siding, and you will want a window that is a little smaller so it will fit.
Make sure the window opening is completely level and square.
Take out your old window and the window frame. Take note of how the old window was attached to your home. If your replacement window comes with a wood frame, you can screw it in easily. If your home is made of brick, you will want to be sure it has some wood blocks around the window for you to screw in the new window. If not, you may have to install some shims to keep the window in place. On vinyl siding and vernier, the window should be easy to install because it has wood underneath.
Install your new window using screws.
Caulk around the window. This will create a weatherproof seal so you won't have to worry about any water getting inside.