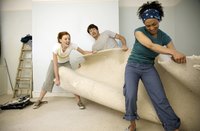 Save money on the installation of new hardwood flooring or a new room of carpeting by removing the old carpeting yourself. Removing old wall-to-wall carpeting requires no specialized skill and few tools, but a plan makes the work faster and cleanup a snap. Even though the carpet is destined for the trash heap, give it a good vacuum first then mist with water to keep the dust to a minimum.
Things You'll Need
Utility knife
Utility knife blades
Masking tape
Grab the carpeting in the corner of the room and pull it from the tack strip.
Cut a strip of carpet about 3 feet out from the corner with a utility knife. Cut the strip wall-to-wall, or whatever is manageable for you.
Roll the cut strip of carpet, pulling it from the tack strip when necessary.
Secure the carpet roll with masking tape.
Continue cutting and rolling 3-foot strips of carpet until all carpeting is removed.
Cut and roll strips of the carpet padding as you did with the carpet until all carpet padding is removed.
Remove the tack strip with a pry bar and hammer. Insert the pry bar under the tack strip near a nail, use the hammer to hit the pry bar in place then lift the nail out of the floor with the pry bar.