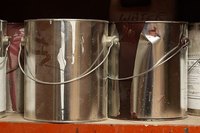 How to Remove Latex Paint from Carpet. That "oops" you heard during that painting project in the other room is bad news - latex paint can ruin a carpet. Act fast or you may have to permanently place a potted plant in that stained spot.
Remove as much wet paint as you can by blotting with a clean, white, absorbent cloth; work from the outside in to avoid spreading the stain.
Sponge with cool water and blot again (still from the outside in) until you've removed as much paint as you can.
Mix one teaspoon mild dishwashing detergent in a cup of lukewarm water.
Blot with detergent solution solution, using a clean, white cloth, working from the outside in.
Let the area dry completely and vacuum.