Vintage novelty circle skirts are just about the holy grail of thrift shopping. They are extremely rare to find, let alone scoring one in your size. So, learn how to make your own! The beauty of this DIY is that it is fully customizable. You can choose your color, size, and put just about anything on the skirt. The possibilities are endless.
Things You'll Need
Skirt pattern
Yardage of felt to make skirt (check instructions on pattern for amount)
Sewing machine
Thread matching main skirt color
Zipper
Hooks or snaps
Colored felt for appliqué
Felt glue (Beacon)
Embroidery floss & needle
Step 1
This tutorial features the pattern Simplicity #5403. Most main pattern brands have a 50s circle skirt style pattern. You can design your own appliqué for the skirt but this pattern included a couple options. The cat design is used here with some modifications.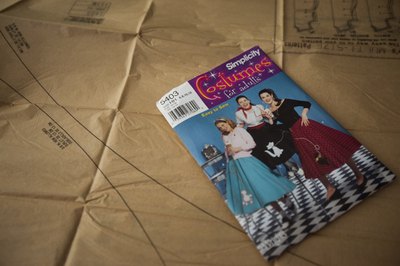 Step 2
Cut out pattern pieces and lay out on your fabric to cut. Your pattern will have specific instructions for this so stick to those. For this tutorial, fabric was doubled up before cutting out all the pieces needed.
Step 3
Next, decide what you want to do for your appliqué. If the pattern for your appliqué is too big, you can copy and reduce the size. Here, the kitty pattern was reduced to two different sizes: One at 50 percent and one at 75 percent. (While one kitty is great, multiple kitties are better!) Cut and trace your design onto felt (different colors than the skirt).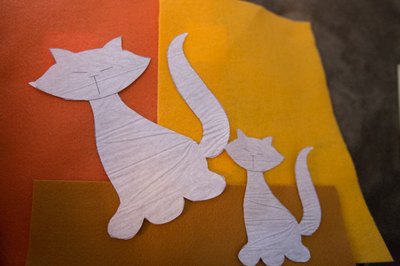 Step 4
This is the fun part: Embellishing your appliqué. You want to do this before attaching them to the skirt. You can use glitter, rhinestones, embroider with thread or even use more felt. Here, we glued on some bows and gave the big kitty a little face by straight stitching the details directly onto the felt.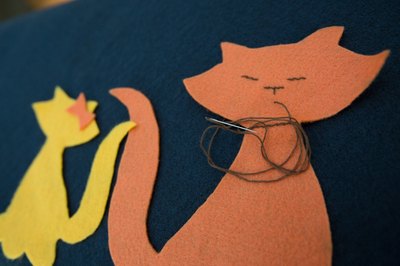 Step 5
Now, it's time to lay out your design and glue your appliqué to the skirt. It is much easier to work with your skirt still in pieces when gluing. Use the Beacon's felt glue to attach your appliqué to the skirt. Gluing felt is one of those impossible tasks and this product seems to work the best for me. Let this dry an hour. This makes the sewing part easier.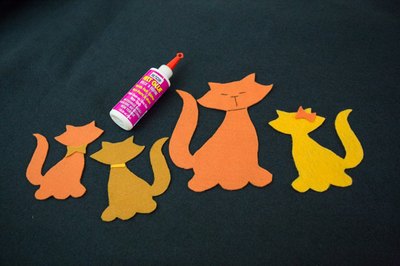 Step 6
Once the glue is dry, sew around the edges of the appliqué. This is another opportunity for you to be creative. Use a decorative blanket stitch with embroidery floss or use a contrasting color. To keep things clean with this design, a simple running stitch with a close matching color was used. Pay special attention to corners - giving these spots a specific stitch so your appliqué stays put.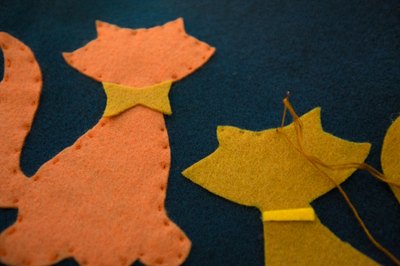 Step 7
Next, put your skirt together. The instructions that came with your pattern will give you specifics about how to assemble your skirt. Read them two or three times before moving onto this step so you don't miss anything. Here, the front and back piece were first sewn together, a side zipper was installed, and a waist band with closure hooks was added.
Step 8
This is your completed felt appliqué skirt. Obviously four kitties are better than one!