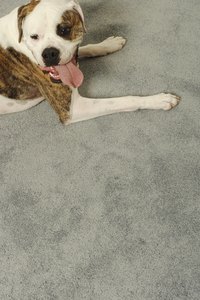 When you're restretching, repairing or removing carpet, you will need to peel the carpet away from the moldings and floor. Carpeting is secured with long wooden tack strips along all edges and doorways and is typically laid on top of a foam or rubber pad. You may have plywood, chipboard or even old hardwood floors underneath your carpet, but in terms of removal, all are treated the same way. Tackle this do-it-yourself project to improve the look of your carpet or as a first step in an all-new floor.
Things You'll Need
Work gloves
Goggles
Respirator mask
Pliers
Screwdriver
Pry bar
Put on appropriate safety gear, including gloves, goggles and a mask or respirator. Old carpets are quite dirty and tack strips can be very sharp.
Grasp one corner of the carpet with pliers, working carefully to avoid damaging the fibers. Pull the corner of the carpet away from the wall and molding or trim, revealing the tack strips. Continue to peel back the carpet until you have removed as much as desired.
Remove staples from the carpet pad, prying them out with a screwdriver and pliers. Lift the carpet pad away from the floor.
Remove tack strips by prying them free from the floor with a pry bar. Work carefully to avoid injury.