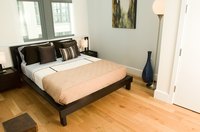 Many people are afraid to decorate a bedroom with black furniture because they are afraid it will look overly dark. According to Cottage Home Decorating, however, black can be used in many home furnishings throughout your home. With the right placement and additional colors, black furniture can help create a sophisticated look without feeling too dark.
Things You'll Need
Paint
Light-colored rug
Black bed
Black side tables
Black chest of drawers
Decorative accents
Lamps
Sconces
Apply a contrasting paint color to the walls. Lighter colors like tan, blue and green will make the black furniture stand out while providing color. Avoid colors like navy, dark brown and maroon because they do not contrast the black furniture enough and will further darken the bedroom.
Add a large, light-colored rug to the floor if your flooring is dark. Light flooring will help contrast the black bedroom furniture while helping to keep the room feeling bright and airy.
Put the bed against a wall that opposes the entry door, if possible. You want the bed to be the first thing you see when you walk in. This makes the black bed the focal point of the room and will keep it from obstructing the flow into the room.
Place black side tables on either side of the bed, allowing at least 6 inches between each piece of furniture if possible. The spacing keeps the wall the bed is on from feeling too dark by allowing the light-colored walls to be seen.
Put your black chest of drawers in a walk-in closet, if possible, to keep too many dark pieces from being in the room. Otherwise, place your chest of drawers on the largest wall that is not already occupied by furniture.
Add accents like pillows, vases, curtains and art in light, bright colors to help contrast the black furniture. Keep the accents in the same color family as the color on your walls. For example, if you have light blue walls, choose accents in colors like blue-green, purple and different shades of blue.
Put additional lighting into the room if your current lighting is not enough to counter the dark furniture. Simply adding bedside lamps and a few sconces around the room may be all you need.