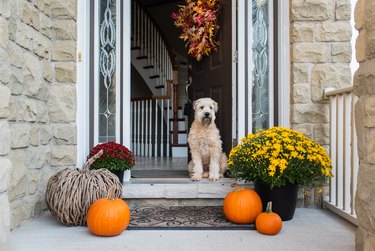 Hello, fall! What's not to like about autumn? The air is crisp, the leaves are turning glorious colors and you can gulp down PSLs like nobody's business. Don't forget to put your enthusiasm for the season on display through outdoor decor too. With the addition of a few yard decorations and perhaps a pumpkin or two, you'll be well on your way to bringing cheer to your whole neighborhood.
You don't need a sprawling front yard to decorate your outdoor space for fall though. A simple wreath or door mat can be enough to bring a smile to your guests' faces—and yours too! If you're working with more space, consider larger fall decor pieces, like topiaries and yard decorations. Either way, it doesn't take much or cost much to celebrate the season in style.
What to Consider When Purchasing Outdoor Fall Decor
​Material:​ Whenever you're buying outdoor decor, you'll want to pay close attention to the material that it's made out of. That'll determine whether or not it can stand up to obstacles Mother Nature brings your way, whatever that means in your climate. Keep in mind that direct sunlight can fade decor, and exposure to moisture can deteriorate some materials. Hardy materials that age well, like terracotta, wire and wood are best for fall decor, and fit in with the vibe too.
​Price:​ Let's face it—fall is a fleeting season. As much as we'd like to cozy up in sweaters and marvel at blaze orange trees for months, the season speeds by. Take that into account when you're gauging how much to spend on fall decor. These pieces won't be on display for long, though the "you get what you pay for" adage is oftentimes true too. If you're going to spend serious money on fall decor, make sure you're investing in pieces that will stand up year after year, and that you have a climate-controlled place to store them until next fall.
​Style:​ Don't be shy. If your love of fall knows no bounds, celebrate your love of the season with spot-on themed decor. Think pumpkins, Halloween cats and maple leaves. For a more subtle route for seasonal decorating, there are plenty of options for you too. Veer more towards a seasonal color palette and patterns—burnt oranges, black and white gingham, rich burgundies—and include lots of texture, like lush hay bales and dried wreaths.
Scroll on for 12 outdoor fall decor finds that'll give your home a fresh fall feeling.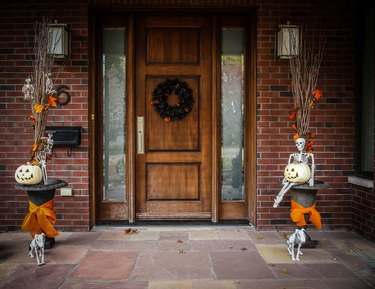 1. Burgundy Hydrangea Fall Wreath
The first place to add outdoor fall decor? Your front door. A wreath, like this one that's handmade by an Etsy artist, is bound to bring a smile to your face every time you come home. Each wreath is one-of-a-kind, made with artificial hydrangeas, wildflowers and fall foliage on a grapevine wreath base. You could also hang this wreath indoors, perhaps above a fireplace or in an entryway. Keep in mind that moisture and direct sunlight are not friends with this wreath, so to extend its lifespan, only hang it on your door if it's located in a dry and shady area.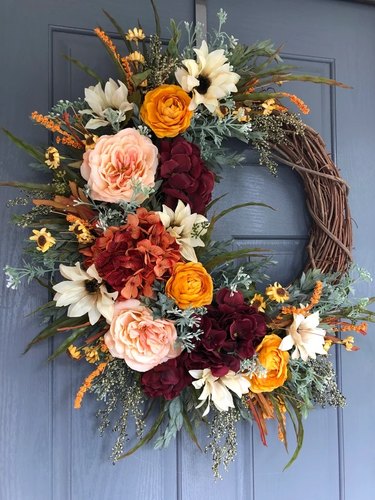 2. Fall Wooden Pumpkin Patch Yard Stake
Whether or not your home boasts a pumpkin patch or apple orchard, this yard sign would add serious fall appeal to your outdoor decor. Simply stake this three-and-a-half-foot tall fall sign into the ground anywhere in your lawn or garden, or add it to a large planter on your patio. It's cute, colorful, and a charming addition to your yard.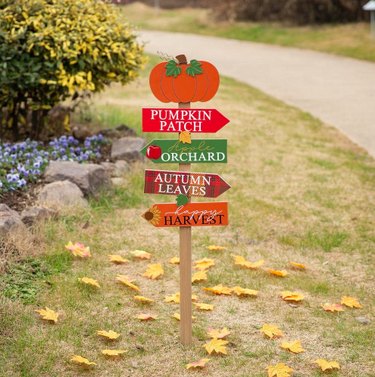 3. 3D Pumpkin Welcome Fall Porch Sign
Welcome, indeed! All your guests will feel right at home when greeted with this pumpkin-themed welcome sign. Pair it with an assortment of hay bales, mums and pumpkins for a full-on fall look, or a skeleton and witch's broom for an outdoor Halloween display.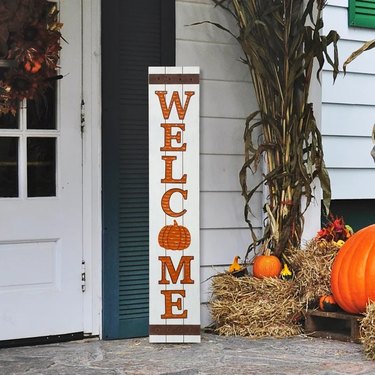 4. Fall Lighted Maple Leaves Tree in Urn
Even after Mother Nature blows the last of the colorful greenery off the trees, this faux topiary can add vibrant hues to your porch or patio. The closer you look, the most interesting it becomes, revealing artificial pumpkins and berries amongst the colorful maple leaves. If you're out of AA batteries, add those to your cart too, since this tree requires three of them for the warm white lights on it to illuminate.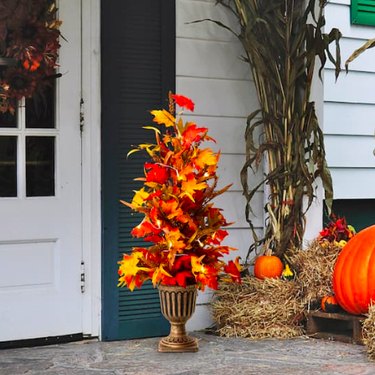 5. Wooden Trick Or Treat Porch Sign
Prop this porch sign up outside your house, and all of the trick-or-treaters will know where to get the good candy on Halloween. This sign can be used indoors or outdoors, and features warm LED lights and an over-the-door mount. Note that it comes in two pieces, so some assembly is required.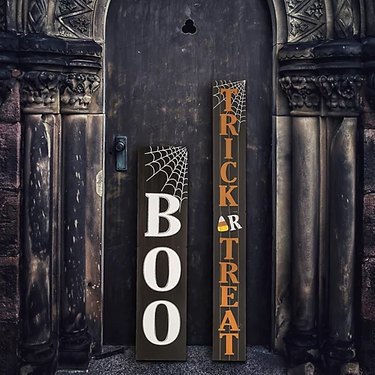 If this isn't the most elegant witch's broom we've ever seen …You won't scare the little ones away from your front door with this witch's broom, which is made with rattan, jute and iron. It's more whimsical than spooky, especially when lit with its dozens of glowing LED fairy lights. Lean it against your front porch, or bring it inside your entryway.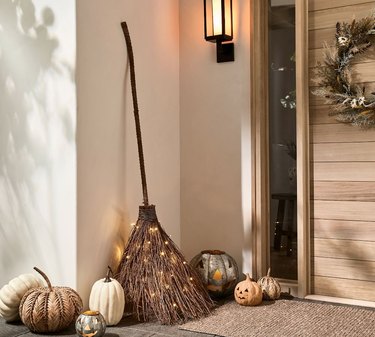 7. Welcome Pumpkin Patch Burlap Yard Flag
For a dose of fall cheer without dropping a lot of money, nab one of these burlap garden flags. They're cute, easy to add to your yard, and perhaps most appealing, under $10. Keep in mind that you'll need to buy the flag stand separately. Then you'll be welcoming guests to your pumpkin patch before you know it.
8. Handmade Terracotta Jack O' Lanterns
As much as we love a traditional jack-o'-lantern, we dread the mess they leave behind. (Or, more likely, the mess that the squirrels who feast on them leave behind.) That's why we adore these terracotta jack-o'-lanterns, which are handmade by artisans in the Philippines. They're sold individually in three sizes—small, medium and large—so consider buying a variety of the funny faces to light up your outdoor space.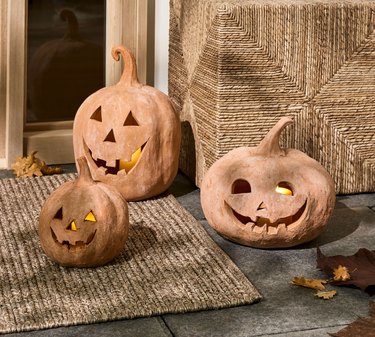 Here, kitty-kitty! How cute are these wooden cats? This Etsy artist makes these from distressed wood, and they'd look oh-so-adorable on your porch or patio. Each purchase comes with three cats: small (6 inches tall), medium (8 1/2 inches tall), and large (11 inches tall). If you'd rather add these indoors, they make for a fun addition to a fireplace mantle, kitchen countertop or dining room table centerpiece too.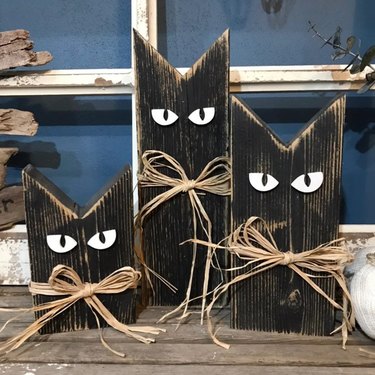 10. Welcome Pumpkin Pattern Door Mat
A door mat is one of the easiest—and most practical—ways to switch up your outdoor decor. Welcome guests with this orange pumpkin patterned door mat, with its cheery tangerine color making a splash on your front door decor. Each mat includes a slip-resistant back and is made with UV ink to prevent fading, so it'll stay in good condition to bring back out year after year.
11. Decorative Straw Bale
Go ahead, add a few of these decorative straw bales to your cart. Consider them the foundation of an inviting fall decor display, if you're game to DIY a farmhouse-style look. Stack a few together, along with pumpkins, gourds, mums, topiaries and scarecrows. You can buy these guilt-free, as they're made of natural and biodegradable straw that is eco-friendly, durable and rust-resistant so, if taken care of properly, they'll come in handy fall after fall.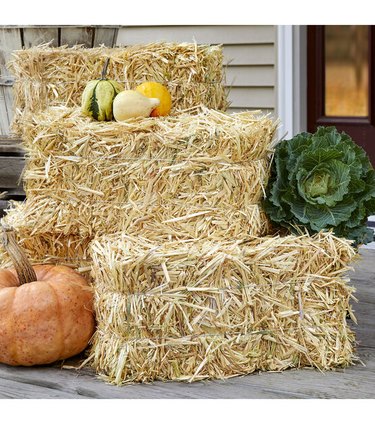 12. Maple Tree with Warm White Lights
Is your decorating motto "go big or go home?" Then light up your autumn decor with this 8-foot tall plug-in maple tree, featuring 264 warm white LED lights that'll add a warm glow to your fall outdoor decorations. Its yellow maple leaves add a sense of cheer to your yard, front door or porch even after the color fades from the rest of nature.