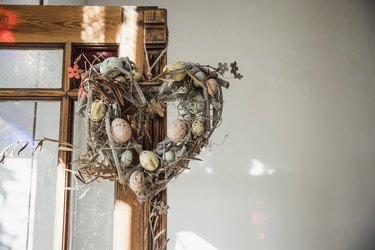 The temperatures are rising, the trees are budding and the Easter bunny will be here any day. See you next year, winter. It's time to put away your cold-weather decorations and break out the spring decor! One easy way to instantly cheer up your home? A front door wreath.
Whether you prefer a natural design with preserved florals or an artificial one you can use spring after spring, and whether you prefer bright blooms or subtle hues is up to you. We've rounded up an assortment of wreath ideas to please a variety of styles. They range in size, color scheme, price point and material, but each would be a beautiful addition to your front door, fireplace mantel, or even your dining room table as a centerpiece. There's no wrong place to hang these pretty designs.
What to Consider When Purchasing a Spring Wreath
‌Size:‌ Like most online purchases, take a good look at the dimensions of a wreath before buying. You'll want to measure (and then measure again) the space you intend to hang it on too. Wreaths vary in size, and some designs are made in multiple widths, so you want to make sure the size and scale fit your front door, or wherever you decide to hang it.
‌Materials:‌ Wreaths can be made from a long list of materials, from wire to grapevine and from silk flowers to fresh ones. Some are durable and some are delicate. If you plan to hang your wreath outdoors, you may want to lean towards more durable materials, especially if the weather could turn questionable quickly.
‌Maintenance:‌ Wreaths made from sturdy and oftentimes artificial materials, like faux flowers, are a breeze to take care of. Simply hang, enjoy and give it a good cleaning before storing it away. Wreaths made from fresh flowers, while beautiful, require more care. They're pickier about where you hang them, often preferring cool (but not cold!) conditions and no direct sunlight. To extend their lifespan, some may require daily misting too. Either option would be a pretty addition to your spring decorations, but be sure you know what you're getting into before clicking "add to cart."
Ready to outfit your front door with a spring wreath to celebrate the season? Read on for a few of our favorites.
1. Place & Time Easter Woodchip Rabbit Wreath
It doesn't get much more springy and celebratory than this bunny-shaped Easter wreath. Decorated with a variety of spring-inspired elements—colorful flowers, leaves, berries and pastel-colored eggs—this wreath is playful without looking like a kid's art project. Since it's mid-sized, 20 inches long by nearly 10 inches wide, it'd be an easy fit just about anywhere. Not only would it be a charming addition to your front door, but consider it as home decor for your entryway, dining room or anywhere else that needs some seasonal cheer. There's no way the Easter bunny would skip your house with this on your front door!
2. GreenishBlu Fresh Magnolia Wreath
Did you gasp at the sight of this stunning wreath? We did too. This hand-made wreath—perfect front door decor!—is created with fresh magnolia, seeded eucalyptus, privet berries and pink ice proteas. This one (which is available in four sizes) would brighten your door all spring long, and brighten the entire neighborhood too. This wreath prefers cool and fresh environments, without direct sunlight, and to extend its lifespan, mist it once a day and then preserve it to use year after year.
3. Place & Time Easter Woodchip Wreath
Welcome spring into your home with this charming woodchip wreath. It boasts a subtle holiday theme—there are pastel-colored Easter eggs on it, after all—but this wreath would be a beautiful addition to your front door or above a fireplace mantel even after the holiday is over. Shades of green, yellow and pink brighten up your home (much appreciated after a long winter!) and the cool texture adds dimension and visual interest. Another idea: Use this wreath as a centerpiece for your Easter brunch table, perhaps placing a basket full of treats in the middle.
4. White Flower + Eucalyptus Iron Wreath
This spring flower wreath, made of an iron frame adorned with eucalyptus leaves and delicate white blooms, is an elegant and understated front door wreath option. It has a fresh, natural air about it, yet it is sturdy enough to withstand extra windy days. (Though, since iron can rust, bring it inside if a surprise spring snowstorm hits.) This rustic wreath measures two feet in diameter, and while it's on the pricier side, you'll get plenty of use out of this beauty considering it'll last year after year.
5. GoodnessWreathCrafts Bright Spring and Summer Wreath
Oh what fun! Not only would this vibrant and cheerful design, which features an array of artificial flowers (including daisies and ranunculus) be the perfect addition to your home this spring, but it could double as a summer wreath too. If you live in a warm climate, why stop there? This could be a year-round wreath if it wouldn't feel out of place weather-wise. Add one to your cart for yourself, and then a couple more if you need to buy any housewarming or Mother's Day gifts.
6. Preserved Pink Posey Wreath
If you prefer your spring wreath to be crafted from natural materials, look no further. This organic floral wreath, made with a variety of naturally preserved pink and white wildflowers, green leaves and stems (avena, artemisia, larkspur and amaranth, amongst others), would bring a hand-made feel to your spring door wreath. For good reason too—it ‌was‌ hand-made by a woman-led team in Washington. Since it's more delicate than artificial wreaths, treat this one with extra TLC. Be sure to store the wreath carefully so it won't get crushed between seasons, and shield it from direct sunlight and moisture too.
7. Artificial Sunflower and Peony Wreath
For budget-friendly spring decor, consider adding a touch of color to your door with this sunflower wreath. The mix of yellow flowers are bound to bring bold vibrancy to any space, while the base—a sturdy grapevine wreath—adds an organic, nearly natural touch. It's cheerful, versatile (since it's spring- ‌and‌ summer-friendly) and affordable. What's not to like?
8. CEWOR 20-inch Artificial Eucalyptus Wreath
For a dose of greenery on your front door—a welcome color if you've been surrounded by white snow and gray clouds lately—opt for this 20-inch artificial eucalyptus wreath with white berries and a grapevine-inspired base. It's made for both indoors and outdoors and is lightweight for easy hanging. When you first take it out of the box it will be on the smaller side, so take a few minutes to fluff and shape the wreath to get it to its intended fullness.
9. DearSun 11.2-inch Easter Wreath With Flowers and Eggs
Here's betting you'd have the most cheerful front door on your block with this delightful spring wreath. It's decorated with a variety of colorful artificial flowers (which hold up well, even in unpredictable spring weather) for a full look. It's petite—just over 11 inches in diameter—so it'd be an easy fit even on slimmer doors, though perhaps might look too small on oversized ones. The price is pretty unbeatable too.
10. Creekside Farms Spring Prairie Wreath
Give your guests the warmest welcome by hanging this 20-inch preserved wildflower wreath in your entryway. It's a true show-stopper that's handmade in Monterey County, California. Jam-packed with an array of seasonal flowers, it's beautiful, bountiful and bound to make an impression on anyone walking into your home. Since it's made from natural materials, this one is best for indoor use, and be aware of how close it lives to a window since it should avoid direct sunlight.