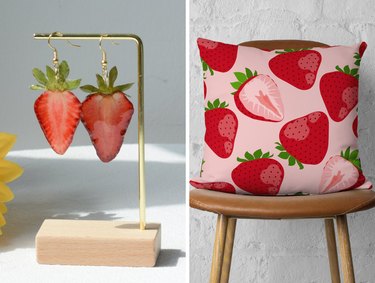 Sweet, juicy, sun-ripened strawberries are one of life's simple delights. Embracing strawberry-themed decor and other items brings a dash of those sunny, long-summer-day vibes into your space—even when it's gray and gloomy outdoors. From summer gift ideas to DIY strawberry decor, read on for a roundup of strawberry finds that are ‌almost‌ as delicious as the real thing.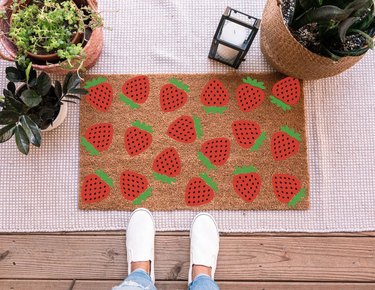 There's just something cheerful about ripe red strawberries, which makes them the perfect embellishment for a welcome mat. To brighten up your entryway, pop a strawberry doormat (like this one from Etsy seller HamlinRowShop) outside your door. You'll make the mail carrier's day!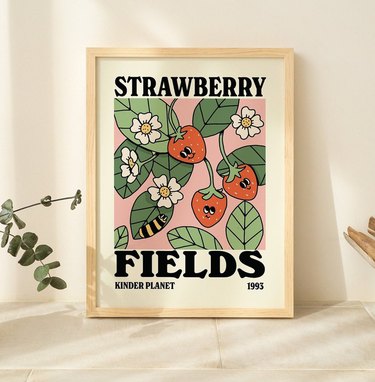 Bring a burst of juicy color to your living room with red strawberry wall art. This retro Strawberry Fields poster from Etsy seller KinderPlanetCompany is just one option. How about a gallery wall of strawberry-themed artwork? Sounds pretty sweet to us.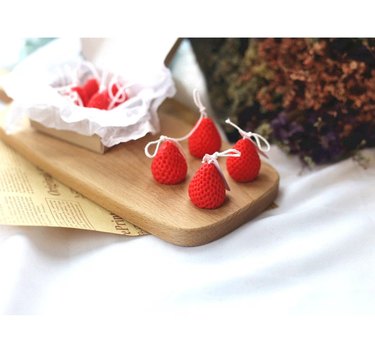 Long after summer strawberry season is over, it can still smell like warmth and wonder in your home. Candles that both look ‌and‌ smell like strawberries are too cute and delicious to resist. Try this strawberry candle set from candlemaker UniCandleLab to get started. Because the set includes multiple candles, you can burn some for their delightful strawberry scent and display others as room decor. Win-win!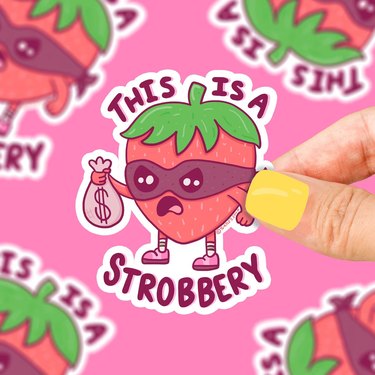 You might grow up, but that doesn't mean you have to grow out of loving stickers. They're such a simple, low-cost way to add a little color and whimsy to your life (by way of your laptop, water bottle, bedroom door... the list continues!). There are plenty of summer fruit-themed stickers out there, but we're ‌berry‌ fond of these punny and cute strawberry stickers from TurtlesSoup.
5. DIY Strawberry Gift Boxes
Here's a quick and adorable strawberry craft that's simple enough for almost anyone to master: Make your own tiny, adorable, strawberry-shaped paper boxes and use them to gift small trinkets or love notes to your favorite people. Check out a tutorial from TikToker @thisartperson for step-by-step instructions.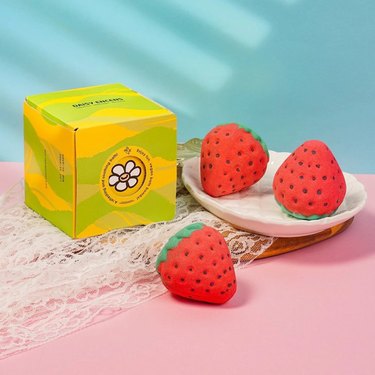 Need favor ideas for a summertime baby shower or bridal shower? Just want to pamper yourself? No matter what the occasion, consider strawberry bath bombs—like these adorable and realistic ones from Etsy seller BathessentialShop. Self-care bath products are a surefire hit, and strawberry is a crowd-pleasing scent.
Sweet Strawberry Recipes From Social Media
OK, strawberry home decor has its place, but what about your cravings for ‌actual‌ strawberries? The next time you have fresh strawberries on hand, try one of these six delicious recipes from TikTok foodies:
7. Strawberry Stained Glass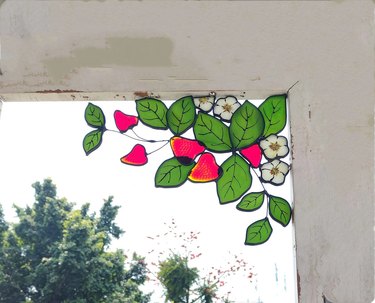 Make strawberries a permanent part of your dining room or kitchen decor with this strawberry stained glass piece from Etsy artisan ArmorStudioArt. It's designed to be hung in the corner of a window, so you'll be mesmerized as the sun streams through and light refracts across the room in intricate patterns.
8. DIY Needle Felt Strawberries
Ready to learn a new craft? Give needle felting consideration—and if you want to try it out, practice by creating adorable, fuzzy strawberries. This TikTok from @nvlamnhahihi demonstrates the basic process, which is worth checking out for the ASMR value alone. (Turns out needle felting is kinda noisy!)
9. Strawberry Throw Pillow Covers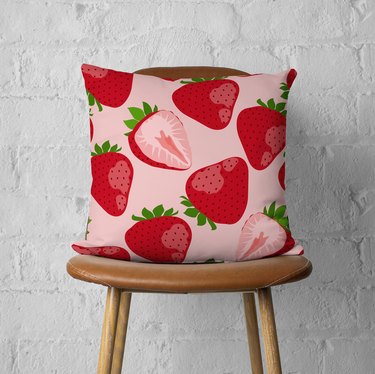 Switching up throw pillows is one of the easiest ways to refresh your living room or bedroom decor. It's even easier when you're simply swapping out covers instead of buying entirely new pillows. Naturally, strawberry prints are the perfect choice for summer home decor (or any time of year, if you ask us!). Check out the strawberry patterns on these printed pillow covers from Etsy seller CentralHomeStore.
10. DIY Strawberry Centerpieces
If you're hosting casual gatherings or family dinners this summer, homemade strawberry centerpieces (demonstrated beautifully by TikToker @danysdecorations) are a win-win. The craft itself is simple enough that you might already have materials on hand, making it easy to save money on party decorations and use up that inexplicable stash of empty Mason jars. And, despite being easy to make, the finished centerpieces are so cute that you're guaranteed to get compliments.
11. Crocheted Strawberries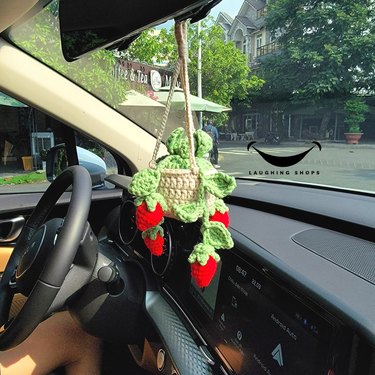 After a long day, wouldn't it be nice to climb into your car and be greeted by a friendly crocheted strawberry plant hanging from the rearview mirror? If you can't crochet your own miniature strawberry patch, leave it to Etsy creators like LaughingShops, who makes these charming crocheted pieces. Delightful!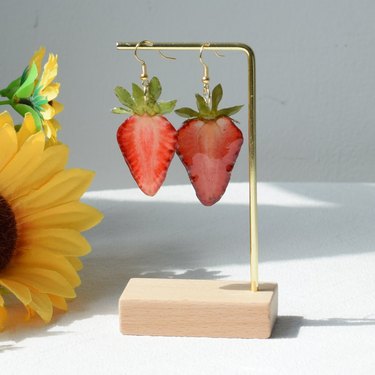 Last but certainly not least, wear your love for strawberries on your ears with a pair of real pressed strawberry earrings. Yes, you read that correctly: These wearable wonders from Etsy artisan MooncfCraft are made using actual dried, pressed strawberry slices and resin. These would add a gleeful pop of color to any outfit.
Fresh strawberries might last a week in your fridge, but strawberry home decor and other themed pieces are truly timeless. Which of these sweet and delicious finds are you shopping or making first? Whatever you choose, we're wishing you a ‌berry‌ fun experience.