Like so many of the home decor trends we've seen go viral on TikTok in the last few years, the cottagecore aesthetic can be traced back to desperate quarantine daydreaming. There's nothing like being stuck inside your home for weeks on end worrying about what's to come to make you crave simpler times.
What is cottagecore, exactly? It's a design aesthetic that's inspired by the idea of living in a quaint cottage, surrounded by nature. Fans of ​The Holiday​ can just picture Iris's glorious cottage for trend inspiration. Think wildflowers, natural materials, cozy textiles and rustic simplicity. Cottagecore is an easy trend to bring into your home, whether you live in the woods or in a high-rise apartment.
Consider the 10 ideas below to be your inspiration guide. (Just don't expect Jude Law to come knocking!)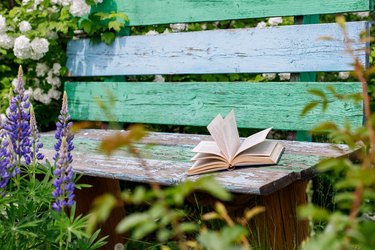 1. Cover Everything With Floral Prints
A sleek, leather sofa or bright-patterned bedspread looks too modern for a cozy cottage in the woods. A quick way to bring cottagecore style into your space is by using floral prints in natural, pastel colors. Cover sofas, chairs and beds with cottagecore tapestries or duvet covers. Look for textiles printed with wildflowers, succulents and other greenery rather than bright, fussy florals.
Cottagecore style is all about bringing the outdoors inside. Use wall hangings that look like they could have been inspired by the garden outside your country cottage. Think pressed flowers, plant diagrams and abstract art prints of trees. In addition to art prints, use wall decor made from natural materials. Think sculptures made from tree branches or woven wall hangings made with yarn.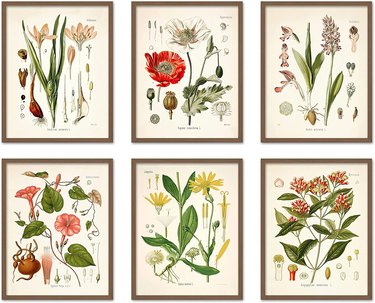 3. Hang Embroidered Curtains
When you picture a quaint Victorian-era cottage, you probably don't daydream about vertical blinds or blackout curtains. The cottagecore lifestyle calls for delicately embroidered curtains in every window, preferably made of filmy white fabric that lets in plenty of sunlight. Curtains embroidered with flowers or plants make perfect cottagecore decor.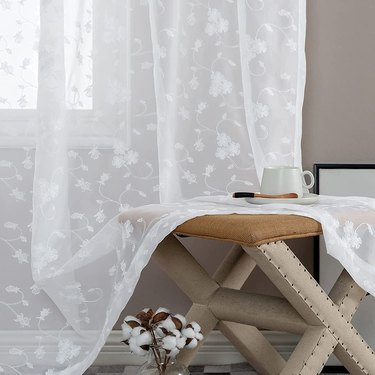 Even if you live in the desert, your cottagecore bedroom isn't complete without at least one handmade quilt. Luckily, there's no obligation for you to actually ​do​ the quilting; artfully draping them across beds and sofas is enough. Buy a handmade quilt from an Etsy artisan or scour craft shows and thrift stores to find quilts that would look at home in a cottage.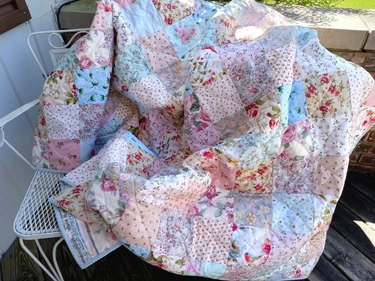 5. Embrace the Book Stack
Honestly, it's hard to say why stacks of vintage books have become synonymous with cottagecore style. Were people in olden times so starved for bookshelves that they had no choice but to stack their books in piles on the floor? In any case, this is one easy DIY way to make your home look a little more lived in and cozily cluttered.
Gather all your oldest-looking books with the most worn covers and pile them on an end table. Add to the display a houseplant, a tea cup with a saucer and maybe a candle
​5 Key Pieces for a Cottagecore Wardrobe​
The cottagecore lifestyle is about fashion as much as interior design! To dress the part, you need:
Flowy dresses, skirts or pants in natural colors
Slouchy knit cardigans
Straw hat
Accessories with lace or embroidery details
Vintage shoes, like Mary Janes or worn leather loafers
Because plants are a central part of cottagecore design, you haven't nailed this trend until there are at least a few houseplants in every room. (No worries if you have a history of killing low-maintenance succulents; realistic-looking fake greenery is your friend.) Ditch terracotta pots and use planters that look like handmade, one-of-a-kind pieces.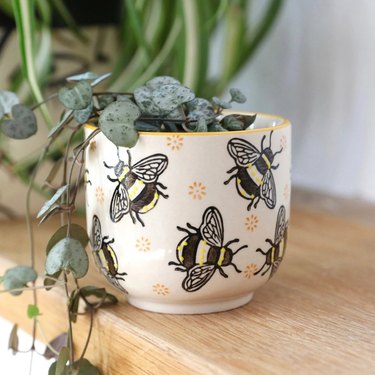 7. Fill Rooms With Mushrooms
Whether you love stuffed Portobellos or gag at the sight of a cremini, you can't deny that mushrooms are having a moment. Mushroom motifs are everywhere in the cottagecore trend—no eating or foraging required. Decorate with them instead, using mushroom-themed wall art and quirky table decor.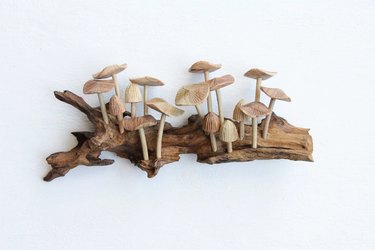 8. Pile Up Textured Throw Pillows
14 x14 chunky knit pillows
Coziness is at the heart of the cottagecore trend. Your home needs to have at least one place where you could curl up and get lost in a book or watch a thunderstorm pass by. Oversized throw pillows and blankets in chunky knits are perfect for this aesthetic.
9. Try Peel-and-Stick Wallpaper
Temporary floral wallpaper
When you want to try out a new trend in your home, peel-and-stick wallpaper is one of the first places to look. It goes up quickly and can completely transform the way you look at your space. Plus, it's safe for renters since it's designed to peel off without causing wall damage. Wallpaper printed with a floral or greenery design is a natural choice for the cottagecore look.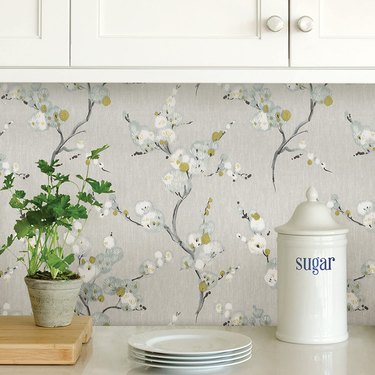 10. Use Weathered, Mismatched Furniture
One nice thing about cottagecore is that this trend isn't about perfection. It's not about sleek lines, scuff-free furniture and pristinely organized tabletops. It's about creating a space that feels like it's been lived in for decades. To that end, wander your local thrift stores and antique stores looking for any chairs, end tables and other small pieces that you love. You might even use sandpaper to make pieces look more weathered than they really are.