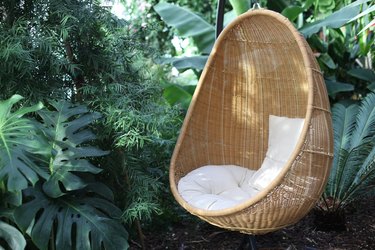 Sure, couches are great, but if you really want to embrace the lazy summer life, a hanging chair is the way to go. Hanging chairs add an element of movement and enhance your indoor or outdoor living space by offering a comfy place to literally hang out and read a book, drink your morning cup of coffee (or mimosa, depending on the day), chat with friends or curl up and take a nap.
The best thing about hanging chairs (aside from being incredibly relaxing) is their versatility. You can put one on your porch or in your living room, bedroom or playroom. A suspended chair doesn't just add additional seating, it brings some fun and zen to a space.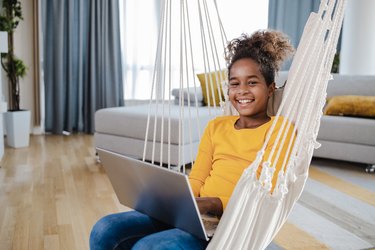 What to Consider When Purchasing a Hanging Chair
‌Style:‌ There are several styles of hanging chairs to consider, all of which bring the cozy vibes to any room or outdoor space. You'll find that bohemian is the most common style for hanging chairs due to its laid-back aesthetic, but modern hanging chairs are also popular.
‌Material:‌ Boho hanging chairs are typically made of wicker, rattan, macrame, rope, tassels and other materials in the same vein. Modern hanging chairs tend to be made with plastic or plexiglass materials, but materials like wicker or rattan can also be categorized as modern depending on their shape and structure. If your chair will be placed outdoors, you'll want to make sure it is UV-resistant.
‌Weight Capacity:‌ It's important to check the weight capacity of a hanging chair before making your purchase, especially if you love the idea of having someone join you in the chair or you have multiple kids who will be using it together. The average hanging chair can hold up to 250 or 300 pounds, while ones that are extra sturdy can hold upwards of 500 pounds and some can even hold over 700 pounds. Hanging chairs or swings that are made for kids tend to max out around 100 or 150 pounds, and they also might have a recommended age range.
‌Structural Support:‌ Securely hanging a chair from the ceiling requires anchoring the proper hanging hardware to a ceiling joist. If you had to look up what "joist" means or you're certain this isn't the job for you, you might want to consider hiring a professional or asking a handy friend to help. If your ceiling doesn't have the structural support needed to safely hang a chair, you can go with a swing chair on a stand, which gives you a similar feeling to sitting in a hanging chair, but it has its own support.
Browse around below for the best hanging chairs that'll bring you the comfy vibes you deserve.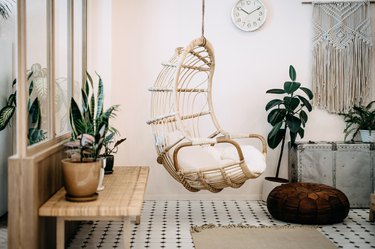 The Best Overall Hanging Chair
Handcrafted of bent rattan, Serena & Lily's Double Hanging Chair was inspired by a Scandinavian design from the '60s. The scooped seat with a white trim is wide enough to fit two people for a cozy snuggle session. Add your favorite pillow for an added layer of comfort. The wicker hanging chair comes equipped with a heavy duty loop and rope for sturdiness, but you'll need to get your own hanging hardware.
‌Dimensions:‌ 50" x 26" x 55"
‌Weight Limit:‌ 800 lb
‌Materials:‌ Bent rattan
‌Indoor/Outdoor:‌ Indoor
‌Hanging Hardware:‌ Not included
The Best Budget Hanging Chair
It's one of the least expensive hanging chairs on this list, but it doesn't lack in beauty. This beige macrame chair swing is made of cotton ropes with woven net and a sturdy iron frame. It has boho style fringe that hangs from the bottom. The hanging ropes are relatively short, so the chair would work best when hung from a stand, which will need to be purchased separately.
‌Dimensions:‌ 24" x 24" x 45"
‌Weight Limit:‌ 330 lb
‌Materials:‌ Iron frame, cotton rope
‌Indoor/Outdoor:‌ Indoor
‌Hanging Hardware:‌ Not included
The Best Outdoor Hanging Chair
Built for two, this porch swing is a great place to curl up and read a book or hang with your favorite person. It was built with safety in mind, so the chair only moves back and forth about two feet. A large weather-resistant cushion is included, making this lounge chair ideal for outdoor use. The outdoor hanging chair comes in seven color options, so chances are good you'll be able to find one that matches with your existing outdoor furniture.
‌Dimensions:‌ 66'' x 50'' x 43''
‌Weight Limit:‌ 400 lb
‌Materials:‌ Handwoven PVC
‌Indoor/Outdoor:‌ Outdoor
‌Hanging Hardware:‌ Yes
The Best Hanging Chair for Kids
Give your kids their very own cocoon to hang out in with this pod swing. The sensory swing is equal parts fun and cozy. It's made of nylon with reinforced edgings for durability, and it comes with a lightweight PVC cushion. It also comes with the hardware for easy installation and it can support up to 100 pounds. A bonus is that the swing can be used indoors or outdoors, and it can easily be taken down and stored.
‌Dimensions:‌ 59" x 27.6"
‌Weight Limit:‌ 100 pounds
‌Materials:‌ Nylon, cotton, canvas
‌Indoor/Outdoor:‌ Both
‌Hanging Hardware:‌ Yes
The Best Hanging Chair for Teens
If you have a teen at home, you'll be their favorite person if you buy them this super fun and cozy cocoon chair—for a few minutes, at least. There's plenty of space inside to lounge alone or with a friend; however, the weight limit of 220 pounds may not always accommodate two people. The setup includes a storage bag, a nylon rope hanging system and a carabineer, making the chair portable and easy to hang anywhere
‌Dimensions:‌ 48" x 48"
‌Weight Limit:‌ 220 lb
‌Materials:‌ Polyester, nylon, cotton
‌Indoor/Outdoor:‌ Both
‌Hanging Hardware:‌ Yes
The Best Hanging Chair With a Stand
Place this hanging chair with a metal frame on a porch, deck, balcony or even in your living room. The fabric is UV-resistant, and the wicker rattan is made for all types of weather, so it's safe to leave in the sun. Designed for one person, it's the perfect hanging chair that doesn't actually require hanging from a ceiling.
‌Dimensions:‌ 41" x 57" x 78"
‌Weight Limit:‌ 265 lb
‌Materials:‌ Rattan, powder-coated steel frame, UV-resistant polyester
‌Indoor/Outdoor:‌ Both
‌Hanging Hardware:‌ Yes
The Best Modern Hanging Chair
This hanging bubble chair won't be just a place to sit, it'll be a statement piece. The futuristic bubble shape, along with the comfy cushion, will be your new favorite place to hang. Once it's hung from the ceiling, the chair can twist, turn and swing. The plexiglas shell is reinforced for safety.
‌Dimensions:‌ 42" x 25" x 42"
‌Weight Limit:‌ 400 lb
‌Materials:‌ Plexiglass
‌Indoor/Outdoor:‌ Indoor
‌Hanging Hardware:‌ Yes
The Best Hammock Hanging Chair
This whimsical, boho hammock chair swing will make the perfect addition to your living room, bedroom, playroom or outdoor space—whether it's hung from the ceiling, a stand or a tree. Even though the hammock is beige and white, you don't need to worry about it getting dirty because it's washable. The chair is easy to hang and has removable seat and back cushions. It's suspended by a hanging loop and rope along a wooden bar.
‌Dimensions:‌ 49.6'' x 31.56'' x 35.43''
‌Weight Limit:‌ 250 lb
‌Materials:‌ Cotton, canvas
‌Indoor/Outdoor:‌ Both
‌Hanging Hardware:‌ No