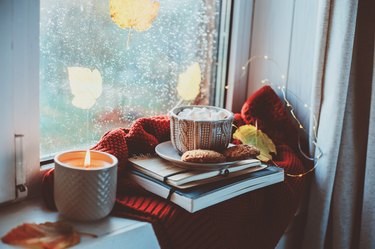 Pumpkin spice, apple pie, long walks on crunchy leaves—the fragrances of fall are unlike any other time of year. To enjoy the season's cozy vibes to the max, add a few candles to your fall decor. We've shopped for the season's best fall candles, and whether you choose one with notes of bergamot or vetiver, or go straight for the PSL-inspired ones, you won't be disappointed.
What To Consider When Purchasing Fall Candles
​Burn Time:​ We've all been there: One second you're enjoying the soothing scents of a candle, and the next you're watching in horror as it melts away far too quickly. To avoid disappointment, be aware of a candle's burn time before buying. (Most retailers will give you a number or a range.) Don't be fooled into thinking the bigger the candle, the longer the burn time either. That's not always true.
​Vessel:​ Glass is the best material for a candle vessel. It's non-flammable, non-porous, and the thicker it is, the less likely it is to crack. The prettier the vessel, the more excited you'll be to add it to your home decor too—and the more likely you are to recycle the glass for another purpose after you burn the last drop of wax. Consider using them to propagate plant clippings or to solve your "where did all of my pens go?" problem.
​How To Burn It Properly:​ The first time you light a candle, allow it to burn until the wax pool melts all the way to the edge. This process can take several hours, but you don't want to be stuck with a partial pool of wax, as it may never burn evenly again. (Our advice: Don't light a candle for the first time too late in the night, in case it takes hours.) You'll also want to trim the wick to ¼-inch each time you light the candle, snipping away any "bloom" from the previous burn.
Read on for the best fall candles that'll have your home feeling cozy with the simple light of a match. Don't dally! Some of these fall candles are limited edition, and you'll want to nab one before they sell out.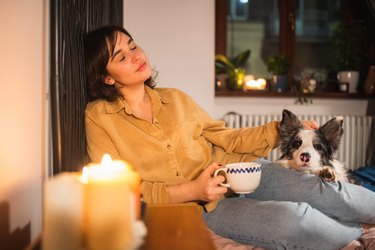 1. Yankee Candle Autumn Nature Walk
Leave it to Yankee Candle to deliver spot-on fall fragrances, like this two-wick candle that mimics the scents of a crisp autumn walk in the woods. Light this candle, and you'll feel as if you're meandering along your favorite trail as fall foliage crunches under your feet due to notes of bay leaf, lavender and sandalwood. This candle has a long burn time of 60 hours so you'll be able to enjoy the fall vibes all season long.
​Burn Time:​ 60 hours
​Size:​ 20 oz.
​Number of Wicks​: 2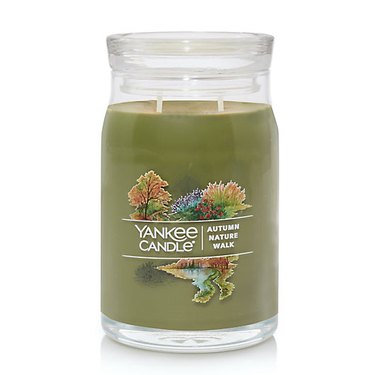 2. D.S. & Durga Portable Fireplace
If you love the smell of a crackling fireplace (who doesn't?), but don't ​have​ a crackling fireplace, this candle by D.S. & Durga is your next best option. One sniff of this, and you'll be enveloped by a rich, smoky scent that will feel like you're cozying up by fireside thanks to notes of smoke, cedar and dwarf pine wood. D.S. & Durga candles are an investment, but for good reason: They're hand poured in the Brooklyn studio of husband-and-wife duo David Seth and Kavi Ahuja using premium oils and ingredients.
​Burn Time:​ 60 hours
​Size:​ 7 oz.
​Number of Wicks​: 1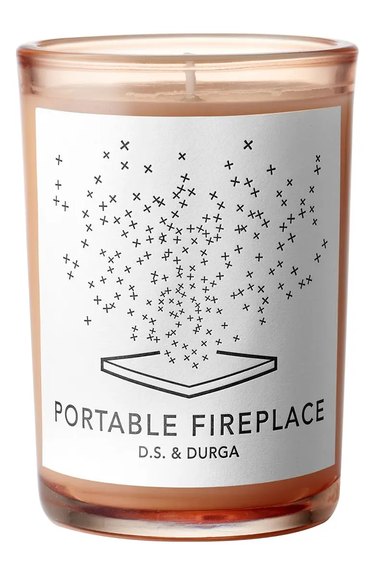 3. Rifle Paper Co. High Peaks of the Adirondack Forest Candle
Just like its name suggests, this candle evokes the essence of crisp mountain mornings and camping under the stars on chilly nights. It's created with the woodsy scents of cedarwood, clove, pine and oakmoss, so no wonder. Whether you're gifting this to a friend or keeping it all to yourself, you'll be greeted with the prettiest painted glass jar—Rifle Paper Co. is a pro at packaging—that arrives in a decorative gift box with gold foil accents.
​Burn Time:​ 40+ hours
​Size:​ 9.5 oz.
​Number of Wicks​: 1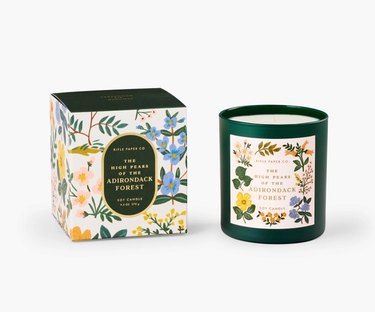 4. Capri Blue Pumpkin Clove Jar Candle
In between sips of a pumpkin spice latte, get whiffs of this pumpkin clove candle. Its scent is uncanny to a spiced pumpkin pie, with the base notes of creamy, buttery pumpkin with a touch of orange zest, vanilla and cinnamon. With 70 hours of burn time, you'll be soaking in the PSL-like goodness long past Halloween.
​Burn Time:​ 70 hours
​Size:​ 19 oz.
​Number of Wicks​: 1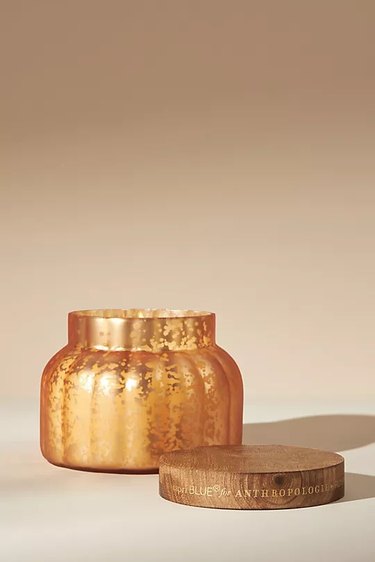 5. Apple Cider Donut Candle
The only thing better than a glass of apple cider in the autumn is an apple cider donut ​with​ a glass of apple cider. Save yourself the sugar high by indulging in the sweet scent with this apple cider donut-scented candle instead, which mixes a vanilla base with tonka bean, spicy cinnamon and musk notes. Each is hand-poured to order by this Etsy artist using 100 percent soy wax and high-quality fragrance oils. You might want to add several candles to your cart; these make for the perfect teacher, hostess or just because gifts.
​Burn Time:​ 70 hours
​Size:​ 9 oz.
​Number of Wicks​: 1
There's no need for a roaring fireplace when you have this cedar candle. This Jenni Kayne candle was one of Oprah's favorite things in 2019, and it's one of ours, well, every year. Each candle is hand-poured in Los Angeles with notes of rose, tobacco leaf, fir needle and cedarwood. For such a petite size—just 10 ounces—it carries an incredibly long burn time of up to 80 hours. Here's betting this will be your new signature home scent, not only in the fall but all year long too.
​Burn Time:​ 60-80 hours
​Size:​ 10 oz.
​Number of Wicks​: 1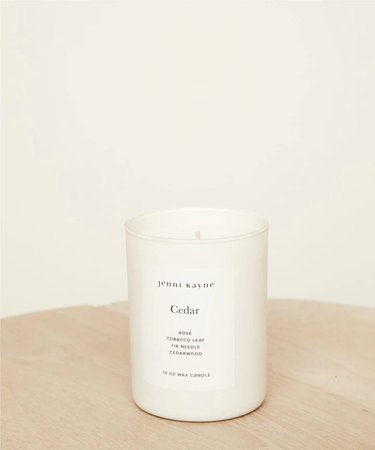 While fall can be about settling in and powering down, whenever you're in the need of a pick-me-up, take a match to this energetic fall-fragranced candle. Notes with ash-spiced tobacco, tonka and tea leaves are paired with base notes of spearmint and ginger (which soothe your nerves) and citrus and eucalyptus to enliven the senses. You'll feel clear-headed and calm—a must not only for fall but throughout every season.
​Burn Time:​ 50 hours
​Size:​ 8 oz.
​Number of Wicks​: 1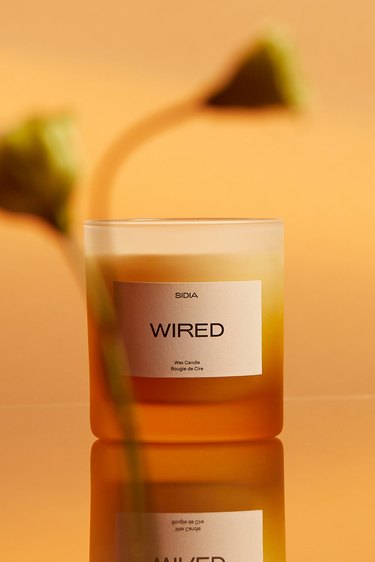 8. Library John Steinbeck Candle
If fall inspires you to curl up with a classic novel—"The Grapes of Wrath," perhaps?—add this John Steinbeck candle to your cart. The top notes of black raspberry, apple and nectarine are paired with woodsy tones of maple bark, patchouli and campfire smoke for an unexpected fall scent you'll want to burn all season long.
​Burn Time:​ 45 hours
​Size:​ 6.5 oz.
​Number of Wicks​: 1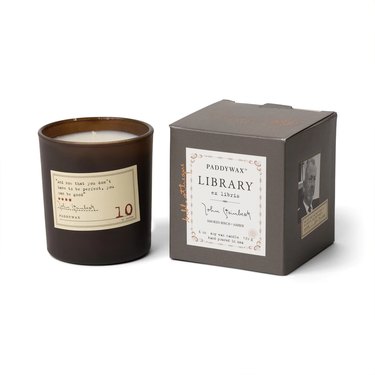 9. Two Fall Candle Bundle
The only downside of this fall candle bundle? Picking just two scents. We don't know how you could possibly narrow down just two from these options: Maple Bourbon and Apples; It's Fall Y'All (cinnamon, apple, pecan); Sweater Weather (ginger, maple syrup, vanilla bean); Pumpkin Chai (pumpkin, cardamom, black pepper); and Apple Harvest (nutmeg, clove, apple). Since they're affordably priced—especially considering they're all made and hand-poured in the U.S.—go ahead, treat yourself to one of each.
​Burn Time:​ 35+ hours
​Size:​ 6 oz. per candle
​Number of Wicks​: 1 per candle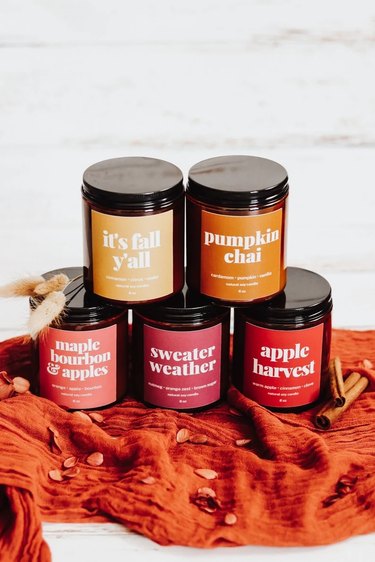 10. P.F. Candle Co. Cedar & Sagebrush Candle
Just reading about these scents will inspire you to click "add to bag" on this P.F. Candle Co. classic. They put it best, describing the teakwood and tobacco notes as "pipe smoke wafting over an orange orchard," the golden coast vibes like "driving a convertible down the California coast past a redwood forest," and the notes of moss and amber like "walking through a field of lavender and sage after swimming in a forest spring." We're inspired.
​Burn Time:​ 40 hours
​Size:​ 7.5 oz.
​Number of Wicks​: 1
11. Linnea Harvest Pumpkin Candle
Fall is fleeting. You feel that every time a gust of wind blows the beautiful leaves off your red and orange trees. Soak up all the fall goodness you can with this Harvest Pumpkin candle, scented with ripe pumpkin and subtle herbal notes. As much as we love its fragrance, we equally adore its simple, elegant design that would look beautiful on any nightstand or coffee table.
​Burn Time:​ 60 hours
​Size:​ 11 oz.
​Number of Wicks​: 2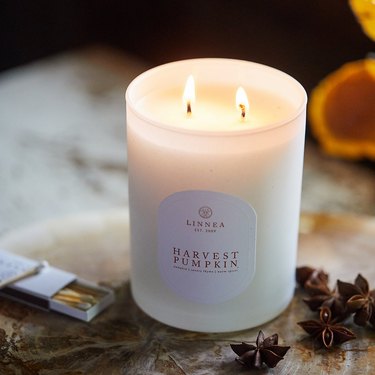 12. Autumn Hayride Candle
Prepare to feel a tinge of nostalgia with this Autumn Hayride candle from Homesick, which is bound to flood you with memories of bumpy hayrides and corn mazes. The notes of fresh hay, nutmeg and patchouli (amongst other fall favorite fragrances) are to thank. With up to 80 hours of burn time, you can supplement the crisp air with this fall scent all season long.
​Burn Time:​ 60-80 hours
​Size:​ 13.75 oz.
​Number of Wicks​: 1