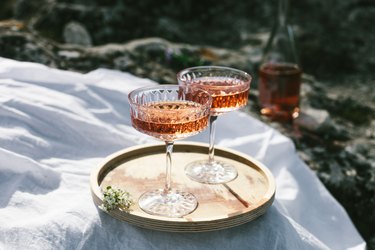 Repeat after us: no boring boring glassware. All liquid vessels, from water glasses to Champagne flutes to coffee mugs to whiskey tumblers, can be both fun ‌and‌ functional. Whether you're hosting a dozen of your closest loved ones or are whipping up an intimate dinner for two, stylish glassware instantly adds a dose of design to your dining table. It doesn't matter if you're drinking water or wine (or both!), interesting glasses make all your meals, cocktail parties, open shelving and bar carts all the more delightful.
That's why we shopped for aesthetic drinkware worthy of your tabletop, from colorful options to sculptural shapes. Each option would make for dazzling home decor.
What to Consider When Purchasing Aesthetic Glassware
‌Versatility:‌ While some glassware has one purpose and one purpose only—like, say, espresso cups—other stylish sippers can hold a variety of beverages. Versatility is key to getting the most use out of glassware, as well as the most use out of your precious kitchen cupboard space. Before buying, know whether a glass can hold hot drinks, cold drinks or both, and have an idea of what you'd use them for. If you rarely pop a bottle of bubbles, skip the Champagne flutes. Instead, opt for a set of more versatile coupe glasses, which can hold all kinds of wine, cocktails and mocktails.
‌Dishwasher Safeness:‌ Some stylish glassware can be thrown in the dishwasher no problem. Others require more delicate detergent and lower temperatures. The most delicate designs are strictly hand-wash only. There's no right or wrong, but scour the listing before buying so you're confident as to whether a glass is dishwasher- or microwave-safe.
‌Stackability:‌ If you're short on kitchen cupboard or open shelving real estate (who isn't?), you'll want to consider if the glassware you're eyeing can be stacked before clicking "add to cart." While some glassware can be stored vertically, others are too delicate to do so. You wouldn't want to risk breaking your beautiful new glasses.
Read on and raise a glass to these aesthetic glassware options that'll make all your beverages, from your morning coffee to end-of-day nightcap, look (and taste!) better.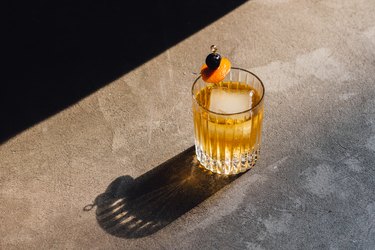 It's time to perfect your martini recipe! This set of four borosilicate glass couple glasses would instantly elevate any cocktail party, whether you're serving Champagne, cocktails or mocktails. Choose from a standout color, like chartreuse or lilac, or opt for clear glass or an assortment—no matter which option you choose, you'll be happy. Keep these coupes out of the dishwasher though; you'll want to hand-wash them with a soft sponge, mild detergent and lukewarm water to keep them in their best shape.
2. Hudson Wilder Aita Green Base Short Glasses
No matter what you're drinking, from sparkling water to white wine to a margarita, these green-base glass tumblers would be a stylish way to sip. Since they're individually hand-blown from durable borosilicate glass, they're resistant to thermal shock, making them suitable for both hot and cold drinks. (That means they're dishwasher-safe too! Good thing, because you'll want to use them every day.) Short on cabinet space? These glasses stack easily too.
Just picture it: an open shelf full of these retro-inspired amber mugs looking neat and classy. It's soothing just to think about. These mugs' clean lines and vintage tones evoke a sleek Scandinavian feel—one that would surely start your day off on a good note. They're made of heat-resistant glass, so if you (oops!) let your coffee get cold again, no worries. They are microwave- and dishwasher-safe. Note that these mugs are priced individually.
4. LSA International Metropolitan Champagne Flutes
Oh là là! Every bubbles-loving household needs a set of Champagne flutes. Our vote goes to these contemporary glasses from LSA International, which make for a swoon-worthy gift, whether for yourself or anyone else in your life worthy of celebrating. Their angular bowls, tall stems and fine rims give them a delicate look yet they have a deceptively durable feel. They're even dishwasher-safe. (Just use gentle detergent and a low temperature.)
Need a shot of caffeine? These handmade, hand-painted espresso cups would be the ultimate vessel for your petite pick-me-up. (As well as a great gift for any coffee lover in your life.) They fit up to two ounces of espresso, large enough for a lungo or double shot without worrying it'll overflow. Their navy and white stripes evoke a French feel that would brighten any open shelf or kitchen cabinet, and they're practical too, being both microwave- and dishwasher-safe.
6. Bailey Cocktail Tumbler
Remember: it's 5 o'clock somewhere. In honor of that, nab a couple of these cocktail glasses from Urban Outfitters. These ceramic tumblers feature a jigger silhouette and classic patterns, like checkerboard and stripes, in unexpected color combinations. The cherry (er, um, olive?) on top: the ceramic green olive that lives on the rim.
7. Strandgade Drinking Glass
These aren't your average water glasses. For this MENU design, Copenhagen-based architects Mentze Ottenstein blended functionality with beauty. The gently fluted silhouette, perfect as a beer glass, sits lightly and comfortably in your hand. They are stylish and simple, best for savoring any cold drink. Keep in mind: these fine, handcrafted glass cups are particularly delicate, so avoid stacking them and keep them out of the dishwasher too. Choose from sizes small (3.3 inches high) or large (5.4 inches high).
8. Tarhong Mesa Acrylic Outdoor Drinkware
Add a dose of color to your next summer soirée with this drinkware set. Since each piece is made out of acrylic, they're durable, pool-friendly and dishwasher-safe. The shatterproof glasses include a double old fashioned size as well as tall tumblers and stacking goblets in either sage green or clear. Here's betting you'll be eating (and drinking!) alfresco all the more with these glasses in your collection.
Meet your new favorite coffee cup. This set of two microwave- and dishwasher-safe mugs are made from strongly tinted borosilicate glass with a rimmed edge and arched handle—perfect for perking you up each morning or winding down with a cup of tea each night.
The name says it all: these handmade tumblers have morning, noon and night versatility. Since they're the perfect size for just about every beverage and beyond—from sparkling water to cold brew to even scoops of ice cream—you'll reach for these high-quality glasses day after day. Here's betting they'll become an essential part of your dinnerware. Now, the hard part: choosing which of the 10 earth-inspired colors, like this ocean blue, is your favorite.
11. Textured Lowball Glass
One old fashioned, coming right up. Or, at least that's what you'll say with a few of these lowball glasses living on your bar cart. They're richly hued, intricately textured and vintage-inspired, but don't require the patience of hunting down a similar set from an antiques shop. After your last sip, load them in the dishwasher—they're safe for a spin, saving you the hassle of hand-washing. Note that these lowball glasses are priced individually.
12. Handmade Ear Glass Cups
Drinking water (or iced coffee, orange juice or you-name-it!) has never been more fun. These colorful glass cups, with contrasting hues for the handles, would instantly brighten your kitchen, and—let's face it—entire day. The equally-as-delightful twisty straws are sold separately, but we couldn't help but add a couple of those to our cart too.
13. Pomponette Champagne Coupes
Cheers, indeed! These playful Champagne couples, decorated with jeweled bubbles, are the ultimate celebratory glassware. Made from borosilicate glass, each couple is hand-blown, making for a truly special one-of-a-kind piece. This set of two wine glasses is a splurge, no doubt about that, but worth the indulgence for a special occasion. Although the coupes are technically dishwasher-safe, it's best to gently hand-wash these beauties.
14. Hand-Blown Colored Ripple Glasses
One scroll through TikTok and you'll see that ripple glasses are trending—and for good reason. Not only are they wildly adorable, but they're just as functional too. They make for ideal juice glasses, as well as water, whiskey, tea, coffee and cocktail vessels too. This design comes in a handful of colors, with each set including two glasses of the same hue or the option to mix and match, as well as two sizes: 10 ounces or 20 ounces. Hand-washing is recommended for these, though they are dishwasher-safe.