Once the Christmas tree has been dragged to the curb, the ornaments carefully stored away for next year, and the stockings unhung with care, your home may feel a little bare. Don't let your decor suffer in boring blahness until springtime though. Come January, it's all about a fresh slate. It's a new year, so it's time for some new decor to cheer you up through the freezing nights to come.
Chances are you'll be spending more time indoors in the coming months, so it's worth your time (and money) to transform your home into an inviting place to spend snow days. There are plenty of winter-friendly decor pieces that'll add warmth to your space and the spirit of the season to your home without feeling like leftover holiday decorations. From seasonal art to tartan throw blankets to candles—lots and ‌lots‌ of candles—we shopped for wintery decor finds so you can hibernate in style.
What To Consider When Buying Wintery Decor
‌Texture and Material:‌ In the warmer months your decor should feel light and airy. Think linen and cotton. Come wintertime, you'll want to indulge in thicker, richer fabrics and textures that'll bring warmth and depth. That could mean a faux fur rug or velvet pillows, just for starters. (More ideas below!)
‌Colors:‌ When decorating for winter, it's a delicate balance to incorporate seasonal items without them feeling holiday-themed. It'd be easy to assume it's best to stay away from red and green, but that's not the case. Red winterberries pop against a snowy window view and touches of evergreen feel distinctly wintery. Don't forget to include lots of white touches too, from birch branches to candles.
‌How You'll Store It:‌ Fortunately, the freezing temperatures of winter don't last forever, so once winter turns to spring, know how and where you'll store these seasonal decor items. Do you have the proper storage space? If not, opt for smaller and more seasonally flexible pieces.
Scroll on for our favorite wintery decor finds that you can display now until spring arrives.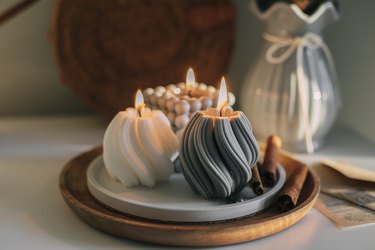 Whenever you need a quick, easy and practical way to add new life to your living room, reevaluate your throw pillow situation. Whether or not you consider yourself a snow bunny or prefer the après-ski activities, the slope-side scene on this ultra-cozy throw pillow would make for a wonderful addition to your couch this winter season. Not only is it luxuriously soft and easy to incorporate into a variety of design styles, but it acts as a soft spot to rest your head for a Netflix marathon too.
2. Creekside Farms Citrus Wreath
Don't let your front door go bare now that the holidays are over. This wreath, made with dried willow eucalyptus, dried slit oranges, and orange and lemon slices, smells just like a crisp winter day. Creekside Farms' wreaths are handmade in Monterey County, California, starting with fresh greenery, which dries out in about a week. Fortunately, the dried wreaths can be enjoyed for a couple of months, or up to a year if you store them carefully. This wreath is available in one size (18 inches in diameter) and looks just as beautiful inside your home as it does outside, although it's best to display it in a sheltered area where it's less susceptible to weather damage.
3. Artificial Mini Pine Trees
Just because Christmas is over doesn't mean you have to do away with all trees—only the ones with ornaments, angels and presents. This set of artificial mini bottle brush trees adds a wintry forest feel to a fireplace mantle or side table without feeling like holiday decorations you forgot to put away. There are 30 pieces in this set, so have fun creating various vignettes with them throughout your home or opt for one dramatic scene (on a fireplace mantel, perhaps?) with all of them.
Find yourself with a sadly bare staircase or mantel once the holidays are over? There's no need to do away with ‌all‌ types of garland. (Just the fresh ones that have shed and the ones with ornaments or stockings on them.) This handmade pinecone design, made with assorted ponderosa, fir and spruce cones collected in Colorado, is perfectly wintery. There's no wrong place to string this 8-foot-long garland, as it's both indoor- and outdoor-friendly. A porch, staircase, mantle or headboard would feel fancy with the help of this garland.
5. Artificial Winterberry Stems
Depending on where you live, access to high-quality fresh flowers may still be months away. Don't let that stop you from getting creative with flower-like items though. Instead, add these artificial red berry stems to your Amazon cart, then dust off your biggest vase, and place them inside. Voila! Wintertime centerpiece complete.
6. Handmade White Candles
Candles, candles and more candles are a wintertime must. (Though really, candles are necessary all year round.) They create a warm, inviting ambiance, whether you're hosting a dinner party or are simply cozied up on the couch. For a true wintertime scene, mix and match a handful of these all-white, handmade candles. They come in a variety of shapes, from pillars to arches to leaves, and different heights too. They're almost too pretty to light, but don't let that stop you.
7. Hanging Rattan Snowman
It may be time to store away your Santa decorations until next December, but snowmen are appropriate all winter long. This rattan design can be hung to light up your window or front door until the last patch of snow melts. Simply string the included LED lights around the figure-eight design and hang it anywhere, indoors or outdoors.
8. Eddie Bauer Throw Blanket
Once the temperatures dip below freezing, you'll always want a throw blanket within arm's reach. This Eddie Bauer design is a great wintertime choice. The tartan pattern will make you feel like you're at a ski chalet, while the reverse sherpa size is soft and cozy. It's affordable and machine-washable too. What's not to like?
9. Birch Wood Candle Holders
We've already established candles are a must for setting the tone for a homey ambiance. Candles set inside birch wood logs though? Even better. This set of three birch wood candle holders, which come in a variety of heights between five and seven inches tall, hold tea light candles and fit naturally within a variety of home decor styles, from farmhouse to beachy to bohemian and beyond. They can also be personalized with your initials or a word of your choice for a one-of-a-kind piece you'll cherish for years to come.
10. Winter Landscape Framed Wall Art
It may be a winter wonderland outside, and you can bring it inside too with this beautiful image of snow-capped trees. Switching out your artwork is an easy way to make a big impact on your decor. Remember: Just because you've pounded a nail into your wall doesn't mean whatever you've hung on it needs to stay there forever. Freshen up your gallery wall or replace (whether temporarily or permanently) a piece of artwork you're tired of with a seasonal image. This one is available in three sizes and a half-dozen sturdy wooden frame options, so you can make sure it fits your space perfectly.
11. Snowman Luminary Candle Holders
Your outdoors deserve a little wintertime decor attention too. How about adding a few of these adorable snowman luminary candle holders to your front porch? You could also add one to each of your front steps, lighting the way for you and your guests to make it safely inside. Add a battery-operated LED candle for a realistic look without worrying that wintery gusts will blow real candles out immediately. These handmade luminaries come in three sizes with various smiles so you can mix and match them to whatever works best for your space.
One upside of winter's early sunsets is that you can illuminate your home in a variety of cozy, intimate ways. These glowing glass spheres are filled with warm white LED bulbs, which light any mantle, side table or windowsill in your home. They come in a set of two—the small is 4.8 inches in diameter and the large is 6 inches in diameter—and look especially beautiful when placed next to eachother. Just be sure you're stocked with AA batteries; each globe requires three batteries. Daylight savings time doesn't seem so dreadful anymore!