Your desk might be functional, but is it ‌fabulous‌? If you're looking for an extra dash of style and fun in your at-home workspace, it might be time for a DIY desk makeover. Whether you use it for work, school or just to hold stacks of random clutter (no judgement), you deserve to have a desk that you love! There are ample ways to upcycle your old desk or a thrift store find, from easy swaps, like peel-and-stick wallpaper, to more ambitious DIY projects. To help you get started, we rounded up a few of our favorite desk upgrades from crafty social media makers—and the inspiration is endless.
Ready to refresh your space and get your creativity flowing? Read on for a fun collection of ideas for dressing up your trusty desk plus plenty of tips for personalization!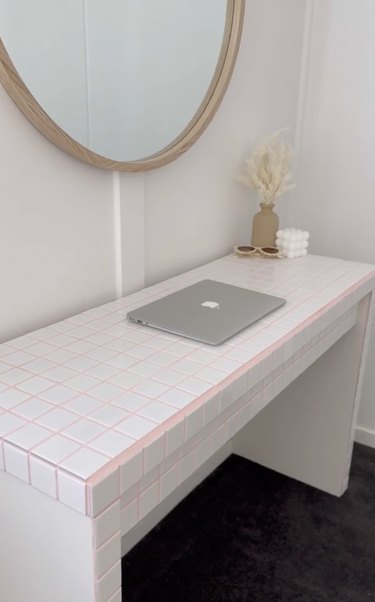 As long as you're starting with a pretty basic desk, covering it with tile can be a surprisingly simple DIY project. The key to this old desk makeover is measuring everything carefully so you can buy the right-size tiles. DIYing is way more fun when you don't have to deal with technical tasks like cutting tiles to size! This project allows you to totally customize the color palette and design of your desk. TikToker @skye.boyd chose basic white square tile but used pink grout for a pop of color. Fun!
2. Whimsical Painted Leaf Desk
This cheerful leafy desk would look equally perfect in a kid's room or a home office. There's no age limit on loving bright colors and whimsical design elements, like the hand-painted designs Instagrammer @kurrline added to the sides of this upcycled desk. You could easily replicate the idea using stencils to create perfectly uniform shapes or embrace imperfection and paint them by hand!
3. Patterned Mosaic Tile Desk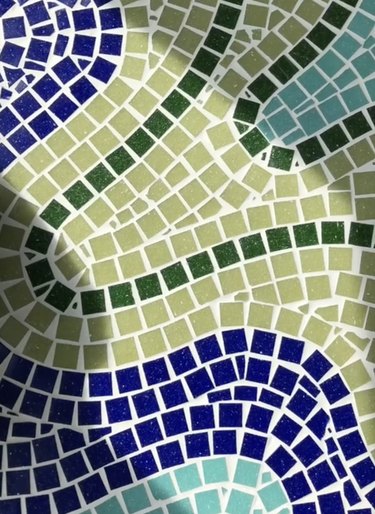 Which desktop design would you make from mosaic tiles? Blue ocean waves? Cheerful flowers? A rainbow? Maybe even spell out a word or message? TikToker @artsyfartsypobi made a free-form curving pattern with blue and green tiles, but the sky is truly the limit when it comes to mosaic designs!
4. Colorful Geometric Desk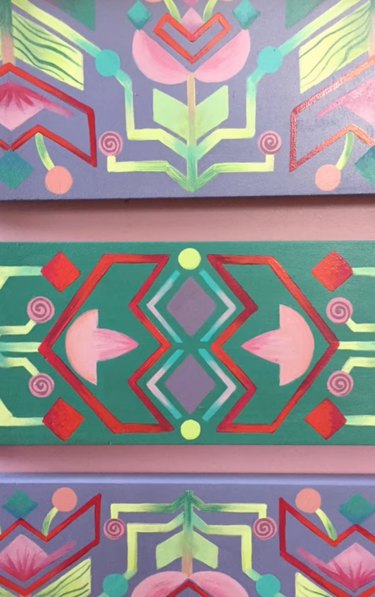 Make your desk into a one-of-a-kind work of art with a hand-painted geometric design like the one @dumillustration shared on Instagram. Sketch out some patterns on paper first or grab a paintbrush and start freestyling with nothing but your creativity as your guide. As long as everything's basically symmetrical, any design you create can look intentional. Yep, you totally meant to do it that way!
5. Resin-Sealed Glitter Desk
Every day has disco party vibes when your desk is covered with glitter! This tutorial from TikToker @bdodesigns calls for silver glitter, but you could easily swap in a different color or make patterns from multiple colors. A layer of epoxy resin seals everything in place. Put your finished desk near a window and watch the sun throw glittery light all around the room.
6. Pink & Gold Ombre Desk
Make your desk an ode to your favorite color with the ombre treatment! This beautiful piece of pink perfection started out as a beaten-up old desk before it was upcycled by Instagrammer @pink_pinecone, who swapped out the old hardware as part of the makeover. Part of the fun of this project is getting to play with the paint color chips at the hardware store while you select perfect shades!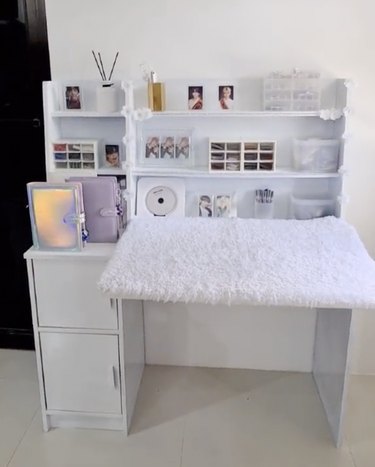 Here's a desk makeover idea we've never seen before—but we're totally enamored. TikToker @nicsksn created what can only be described as a "fuzzy glam desk" by adding a layer of soft white carpeting to a painted desk and then embellishing with stick-on rhinestones. @nicsksn adds framed photos of her favorite K-Pop stars, but you could make this design your own with artwork or family pictures. Good luck trying to avoid taking a nap with your head down on this soft creation!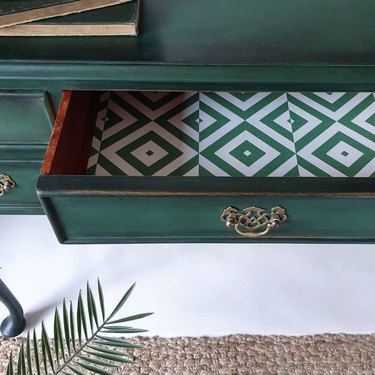 Anyone can admire your beautiful desk as they walk by, but you're the only one who gets to see inside the drawers, so giving them a makeover is basically self-care. Instagrammer @chloekempsterdesign has us totally inspired with this green design, and we love the idea of cutting shelf liners or peel-and-stick wallpaper into strips to create your own patterns.
9. Salvaged & Painted Desk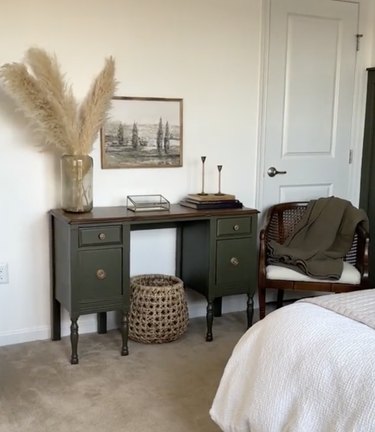 This tutorial is for folks who spend Saturday mornings at yard sales and thrift stores seeking deals and don't mind putting in a little elbow grease. TikToker @studio_adash started with a beautiful vintage desk that was still sturdy (albeit water-stained) and gave it new life by creating a piece that would costs hundreds in an upscale store.
It was a lot of work, from sanding to painting and staining, but you could tackle a similar project if you have a garage or other workspace and access to tools. Refinishing a desk could be a manageable starter project if you want to learn some skills to take on bigger furniture makeover projects later. Get creative with your customized desk by covering the drawer fronts with chalk paint, swapping out old drawer knobs for new hardware or painting a stencil onto the wood top of the desk.
10. Peel & Stick Wallpaper Desk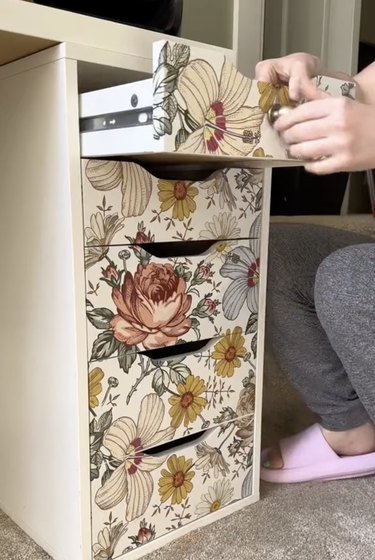 Whether you're dealing with scratches, stains or full-blown half-peeled desk drawers like TikToker @moonlight.market.co, peel-and-stick wallpaper provides an easy and eye-catching desk makeover method. It's pretty self-explanatory: Simply measure, cut, peel and stick your preferred wallpaper onto desk drawers and finish it off with updated pulls. Adorable!
Your desk should be a place where you feel settled and inspired. No matter what you're envisioning for your new desk setup, get started on a transformation today!