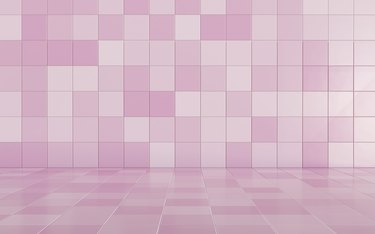 If you ask us, there's nothing more magical than walking into a home and unearthing a remnant of the past. That's why we're so delighted when homeowners retain retro elements—particularly those unmistakable pink bathrooms!
You know the ones: Perhaps your parents or grandparents proudly embraced their pink bathroom tile, matching bubblegum-toned hand towels to the backsplash and selecting rose-toned fixtures to round it all out. Maybe you recently purchased an older home and have chosen to play up the bathroom's vibrant pink floor tile or incorporate it into a broader interior design scheme. Or maybe you're a longtime admirer of mid-century style who's always dreamed of enjoying the pastel tile trends of the past.
No matter the reason for your interest in retro bathroom designs, we've got you covered with a roundup of pink tile bathroom inspiration from some of social media's most talented DIY fanatics and vintage decor enthusiasts. You'll find ideas for playing up the features of an existing pink tile bathroom, adding simple but charming touches to a soft pink powder room and even re-creating that pink ceramic tile style in modern settings.
Ready to embrace all things pink? Let's step into the style of yesteryear!
A Quick History Lesson
Wondering why pink tile bathrooms were once so prominent? According to Pam Kueber of Save the Pink Bathrooms, which advocates for preservation and appreciation of the iconic pink bathroom, millions of homes built in the United States from the mid-1940s through the 1960s had pink tile bathrooms. In fact, there's even a special name for the mid-century pink bathroom hue: Mamie Pink, named for First Lady (and outspoken lover of all things pink) Mamie Eisenhower. Pink bathrooms (and their blue, green or yellow counterparts) are believed to have taken center stage in response to Americans' renewed desire for color and levity following the darkness and suffering of World War II.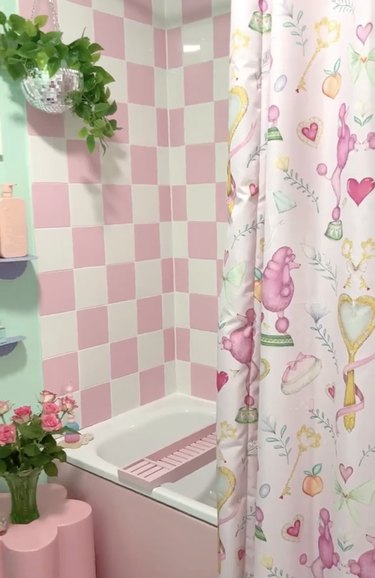 TikToker @kate_rose_morgan started with plain white tile walls in her bathroom, then added pink paint to create a checkerboard effect. She emphasizes that you'll need to use the proper paint for this project (bathroom tile paint, to be exact). The result is a checkerboard pink and white tile design that perfectly pays homage to a retro look while incorporating modern touches. Check out that disco ball planter and playful wallpaper!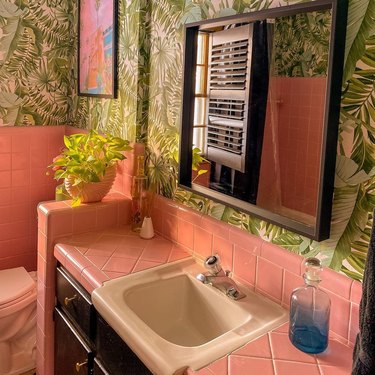 Peel-and-stick (or traditional!) wallpaper pairs wonderfully with pink tile and provides a fun opportunity to add more color to a vintage bathroom. Instagrammer @tikijunglehouse, who documents the transformation of a mid-century home in Minnesota into a maximalist wonderland, uses leafy green wallpaper to create a tropical bathroom oasis. We love the contrasting black drawers, mirror and light fixture.
3. Simple Vintage Touches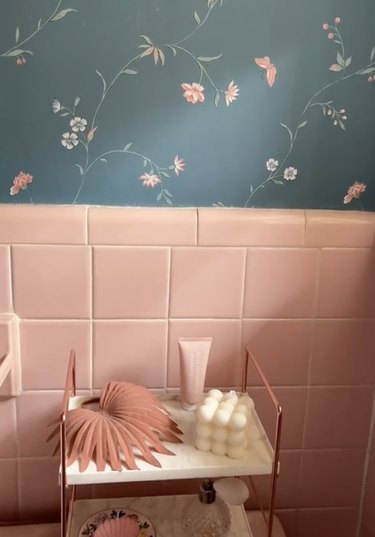 Here's further proof that accessories and trinkets sometimes make all the difference! TikToker @hullosam shows off a gorgeously styled pink bathroom (completely with original tile floor, countertops and built-in cabinets) that's carefully decorated with contrasting blue wallpaper, textured curtains, jewelry trays and even a glass crystal lamp alongside the sink.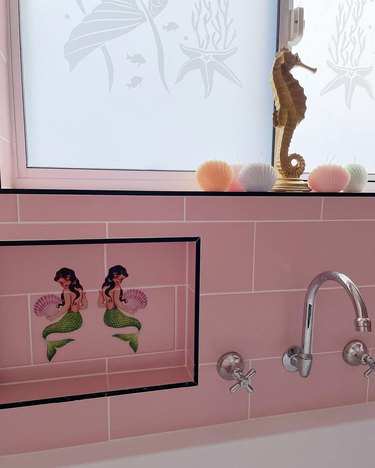 We love the idea of choosing a bathroom decor theme and sticking to it. Instgrammer @vinnieboyvintage did just that in a vintage-inspired pink tile bathroom, dressing up the pale pink walls with all sorts of under-the-sea touches. From a seahorse figure to retro mermaid wall decals and even seashell soap, there's so much to love—and each piece seems to pair perfectly with pink porcelain tile.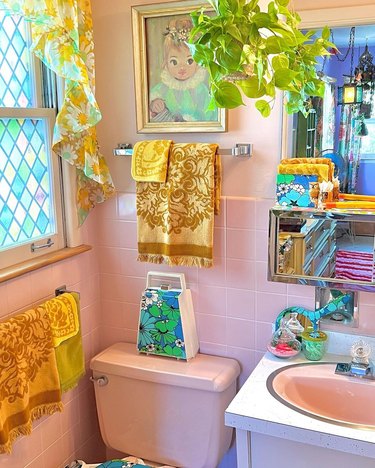 Move over, minimalists: If you've read our piece about maximalism, you know that "more is more!" This spirit easily transfers to the world of pink tile, as loading a small bathroom with vintage touches can truly set it apart. Just take a look at the bathroom highlighted by Instagrammer @imarriedamillennial, which combines mosaic tile-inspired window decals and kitschy decor galore.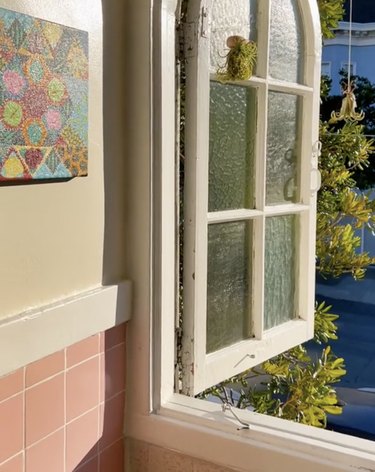 Take a cue from @charlie.dorlando on TikTok and use houseplants (plus natural light, if you have it) to freshen up a pink bathroom scheme. Add small potted plants to the bathroom vanity or windowsill, plus hanging plants to create height in a relatively small space. Pair it with photos and art (we're big fans of bringing Art Deco prints into mid-century bathrooms) to make a space that's all yours!
Next up, TikTok DIYer @slayerellaa shows us that it's totally possible to restore a pink tile bathroom that's been (sadly!) painted over or covered up. You'll need an appropriate paint stripping product (Citristrip is a great option), protective gear, a scraper and plenty of patience, but the results are dreamy for any vintage interior design enthusiast.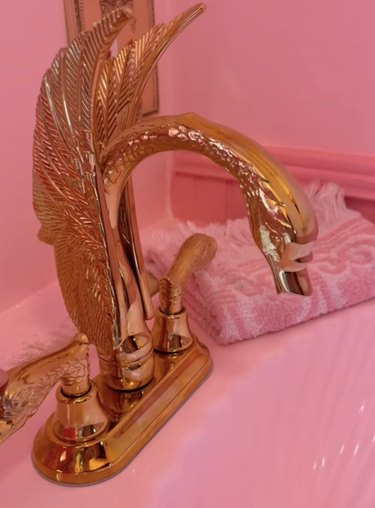 We love the combination of pink shower tiles, pink paint and gold fixtures used by @thehouseofadora on TikTok, who uses a intricate swan-shaped sink faucet, gold wall decor and a chandelier-inspired light fixture to embrace the regal vibes amid her self-described "elevated Barbie" pink bathroom remodel. Even better? Her sink basin is shaped like a (pink!) seashell. What a dreamy combo—and totally inspiring for those who like the pink bathroom look but want to stand out.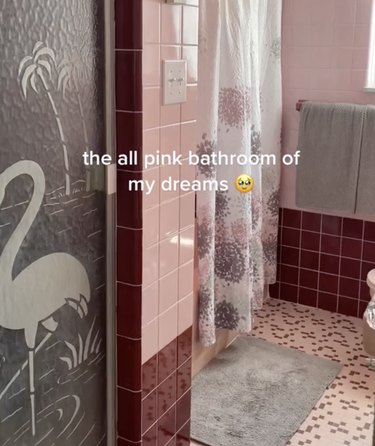 Pale pink tiles seem to be the most popular choice in the vintage tile bathroom world, but we're all about mixing up the color scheme with some contrast! TikToker @dominiquebrienza shows off a retro bathroom that combines light pink with darker, more maroonish tile. You could easily re-create this look in your own throwback bathroom by selectively painting sections of tile to add depth and visual interest.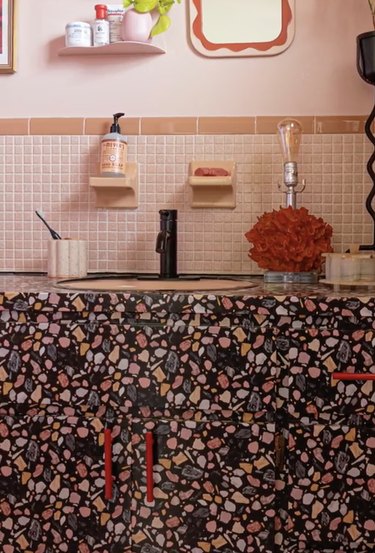 TikToker @lizzie_darden has an original take on the pink bathroom makeover, opting to upgrade her cabinets as opposed to focusing solely on wallpaper or the tiles themselves. Instead, she applies contact paper to cabinets and drawers to create a dark terrazzo vibe that makes the pale pink walls and tiles of her power room stand out. So fun!
Whether you're daydreaming about a future home or searching for ways to upgrade your existing space, we hope this roundup of pink bathroom designs helps you embrace the unique beauty of pastel floor and wall tiles. With a dash of creative spirit and a healthy respect for home trends of decades past, the (pink) bathroom might just become your favorite room of all.