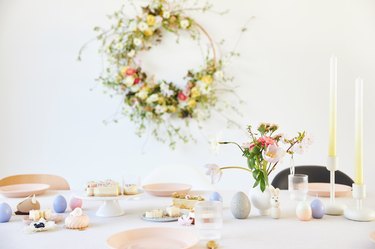 So long, winter! After months of chilly temperatures and gray skies, we're (more than) ready to embrace the lightness and brightness of springtime. The longer and warmer days bring a very welcome excitable energy after the slow slog of winter. An easy way to embrace the new season is with a few pieces of fresh home decor—items that'll invigorate your spaces and your mood, no DIYs or tutorials necessary.
We've looked forward to the budding trees and blossoming flowers all year round, so now it's time to usher in spring. How? Read on for 10 spring decor finds we love and think you will too, from wreath ideas to throw pillows and plenty of floral patterns.
What to Consider When Purchasing Spring Decor
‌Material:‌ Spring is all about shedding the layers of winter. Store away your heavy fabrics and shop for soft, lightweight materials in floral patterns instead. Since spring can be unpredictable, anything you'll keep outside should be made from something sturdier, so opt for strong woodsy materials for outdoor decor. (A burlap and artificial flower rustic wreath, perhaps.)
‌Color:‌ After a long winter, surrounded by white snow and gray skies, springtime is your chance to break out the bright hues. Pastels, of course, are particularly springy but don't feel limited by pale tones. Any color that feels fresh and energetic, like sunshine yellow or poppy red, is appropriate for spring decor.
‌Versatility:‌ As much as we love spring, depending on the climate you live in, the season can be sadly short. If that's the case, consider decor finds that can extend into the summer to get proper use out of them. The more versatile, the better—from the amount of time you can use it to the number of places (either indoor, outdoors or both) it could be displayed.
Scroll on for 10 spring decor ideas you can add to your online cart (and home!) immediately.
1. PersonalizedShed Spring Doormat
Welcome spring, indeed! Switch out your winter doormat—which, let's face it, could probably take a break and get a thorough cleaning anyway—with this delightful wildflower option, featuring pink, red and yellow flowers. This piece of front door decor is available in three sizes so that you can get the perfect fit for your space. It's both pretty and practical, made of 100% coir with a slip-resistant backing. Here's betting both you and your guests will smile every time you see it. Pair it with a coordinating wildflower wreath or an Easter wreath on your front door and voilà! Spring has officially sprung.
2. National Tree Company Flower Garland
If you thought garland was just for holiday decorations, think again. This artificial flower garland, which measures five feet long and is designed with a woven vine stem base, looks nearly natural and would instantly brighten any fireplace mantel, entryway, staircase railing or door frame. Featuring large, red, orange and pink flowers, as well as fern fronds and green leaves, it brings all the beauty of a fresh bouquet to your home—without water and without dying a week later.
It doesn't get much cuter than this ceramic strawberry vase from ban.do. Its color, texture and shape all scream "spring" and would be a delight to catch a glimpse of no matter what you put in it or where you display it. Use it as a home for a bouquet of fresh tulips (or whatever your favorite spring flower is!) or plant a succulent in it. Display it in your kitchen while holding utensils or stuff eucalyptus stems in it. If you'd rather keep it on your desk, it could double as the most stylish pen holder of all time.
4. Hide or Hatch Kitchen Tea Towel
Don't let your living room have all the fun! Give your kitchen a fresh look this spring too. The easiest—and one of the least expensive—ways to do that? A new tea towel or two. Geometry has dozens of springtime towels, from this abstract Easter egg one to plenty of florals (the peony option with greenery is particularly lovely) to geometric designs in pastel colors. Not only are the patterns pretty, but Geometry towels, which are made of ultra-fast-drying recycled materials, stay fresher between washes and are remarkably absorbent. Your oven handle will have never looked better.
5. Marimekko Pieni Unikko Accent Pillow
"Florals? For spring? Groundbreaking." That snarky ‌The Devil Wears Prada‌ quote is a classic, but there's no getting around it: florals are the quintessential pattern for the season. Take this poppy-colored pillow in one of Marimekko's heritage patterns. The iconic Finnish design company has been producing this particular eye-catching floral design for decades, so you know this pillow will stay in style for decades more to come. Throw it on any couch, bed or side chair for an instant dose of color and fun.
A spring wreath is simply a must. Decking your front door with a floral wreath will spread springtime cheer to your guests and neighbors. There's no shortage of types of flowers to feature—a peony or hydrangea wreath would be particularly pretty—but we're suckers for tulips in the spring. This custom design from Etsy comes in dozens of color combinations and nine sizes too, so you can get the exact look and fit you're aiming for, from a 12-inch coral and green design to a 28-inch pink, orange and yellow one. No matter which design you choose, you'll receive a sturdy, stunning wreath that you can hang year after year.
7. Embroidered Yellow Wildflower Table Runner
From Easter brunch to everyday breakfasts, this sweetly embroidered table runner will make eating at the dining room table a delight. (Whatever it takes to get the whole family to eat together, right?) This design measures 15 inches wide and 70 inches long and is made out of a polyester and linen blend. Oops! Did someone spill a few drops of maple syrup on it? That's okay—it's also machine-washable.
8. Gale Switzer Flower Market Oxeye Daisies Art Print
It can be easy to let your artwork get stale, displaying the same framed family photos and posters for years on end. Here's a friendly reminder to switch it up once in a while. Start with this oh-so-springy art print by Gale Switzer. It features rows of everyone's favorite white flower, oxeye daisies. While it'll instantly add freshness to your space, wherever you decide to hang it, this print will also look perfectly lived-in, since it's printed on high-quality archival paper made from cotton pressed in Italian mills. It's available in nine frame options in up to five sizes (depending on the frame), so you can select a small one to sneak into your gallery wall or an oversized one that'll stand out on its own.
9. Nathalie Lete Velvet Throw Blanket
Just because the temperature outside is (finally!) above freezing, that doesn't mean you won't need a cozy throw blanket to cuddle up in. Give your winter blankets a good wash, and then store them away for the season. This spring, indulge in snuggle sessions in this floral velvet design from Anthropologie instead. It's supremely soft—perfect for family movie nights or simply warming up while working from home—and features a whimsical woodland scene that is endlessly interesting. Each time you look at it you'll pick up something new to see, from flowers to birds to mushrooms and more.
10. Spiral 6-Pack Assorted Candles
Switching out your taper candles is an easy and relatively inexpensive way to update your home for spring. If you have a set of candlestick holders or a candelabra, this six-pack of assorted twisted candles will add a punch of pastel to your vignette design. They're made in Italy out of paraffin wax and measure 11 inches tall and 1 inch wide. The candles each have a seven-hour approximate burn time but it's not recommended to burn them for more than two hours at a time. If this color combo doesn't match your home decor, no worries, there are several other options to choose from.