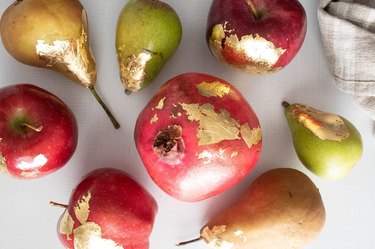 For a tablescape that will shine this holiday season, look no further than your fruit basket. Yes, really! With the right approach, you can easily transform ordinary fruit into elegant holiday table decor, as proven by our DIY golden fruit table.
The secret? Edible gold leaf. Typically used to decorate cakes and chocolate, edible gold leaf comes in loose leaf sheets that can be torn and applied to food. It's also made out of pure 24 carat gold, which is safe to eat. What's more, edible gold leaf has no flavor or smell, making it the perfect embellishment for sweet seasonal fruit.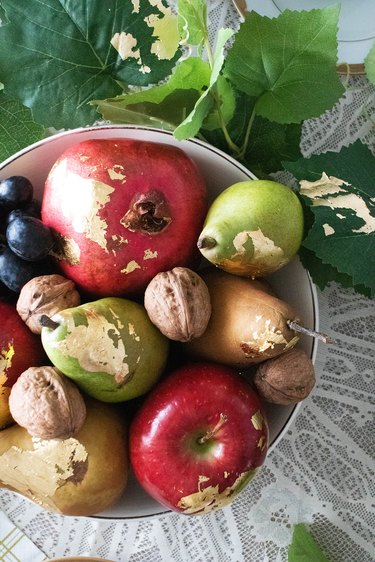 For our golden fruit table, we applied edible gold leaf to apples, pears and pomegranates, then placed them in a decorative fruit bowl with grapes and walnuts. The result is an instant table centerpiece that's stunning and inexpensive to boot. Some fruit were also used to make place card holders, creating a cohesive look with the fruit bowl.
Finally, we added a faux leaf garland embellished with (you guessed it) more gold leaf! Together, this trio of projects will create a vintage-inspired dining table setup. So grab some fruit off your kitchen countertop—it's time to create a stunning tableau.
Video: Edible Gold Leaf Fruit for a Glimmering Tablescape
Things You'll Need
Fresh fruit

Craft tweezers

Fluffy decorating brush

Water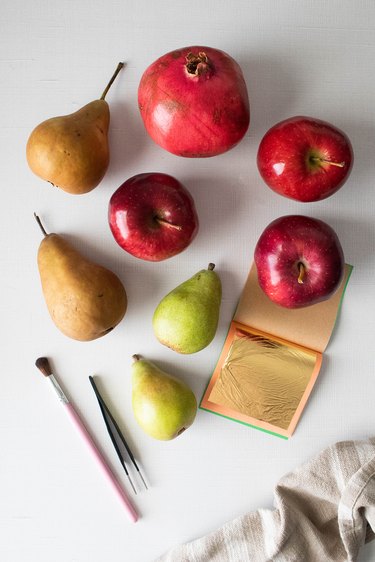 Tip
Your brush should be used exclusively for food. Do not use brushes that have been dipped in paint, glue or any other art medium.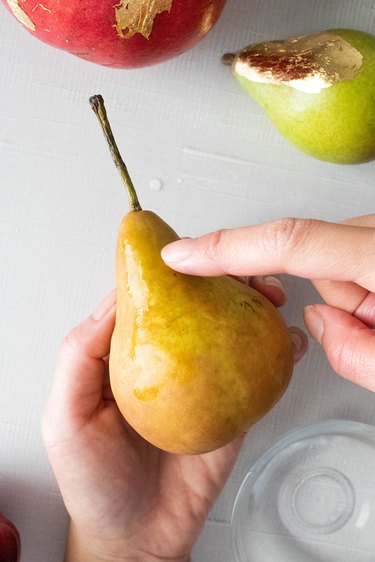 Dip your finger in water and swipe it on a small portion of the fruit. Avoid adding too much water, which can make it difficult for gold leaf to stick. The goal is to dampen fruit peel lightly.
Using tweezers, gently place gold leaf on dampened area. Don't worry if the sheet rips; this will add to the organic golden look on the fruit.
Tip
Edible gold leaf is extremely fragile, so it's essential to use tweezers. Also, be careful when you open up the gold leaf package!
2. Brush off extra gold leaf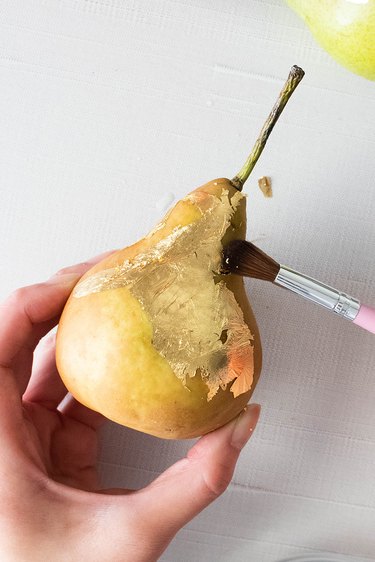 Brush away excess gold leaf, moving in a gentle circular motion.
Tip
Don't toss gold leaf scraps! You can sprinkle them on top of chocolate and desserts, such as cupcakes or cake.
Repeat with remaining fruit.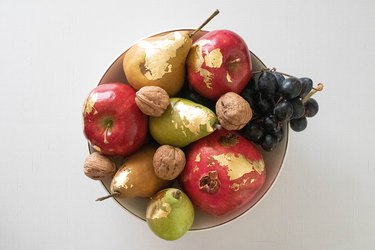 Place golden fruit in a bowl, along with grapes and in-shell walnuts if desired.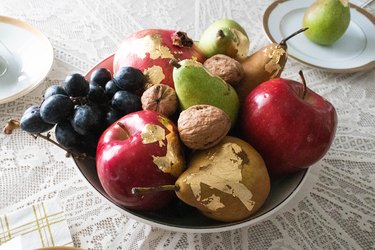 Fruit storage has never looked so pretty!
Tip
Feel free to display fruit in any type of container, including glass or metal fruit bowls. For a more minimalist look, go for a wire fruit bowl. Even serving bowls, small storage baskets and bread baskets work.
2. Gold Fruit Place Card Holders
Things You'll Need
Fresh fruit

Craft tweezers

Fluffy decorating brush

Water

Straight pins

Paper

Marker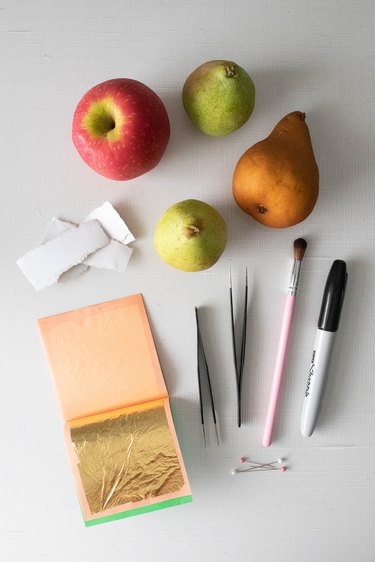 Tip
You'll be piercing straight pins into fruit. To make sure they're clean, wash with warm soapy water and dry well. You can also wipe them down with rubbing alcohol.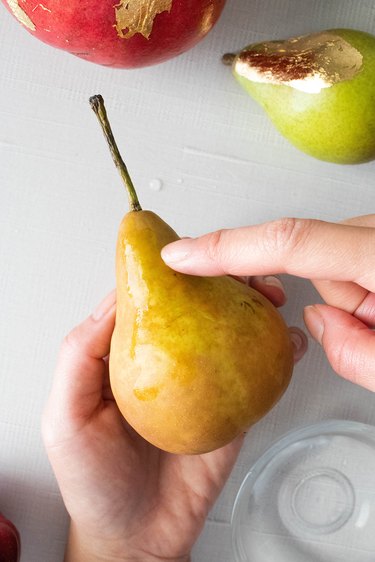 Dampen part of the fruit with your finger and a bit of water. Avoid adding too much.
Use tweezers to place edible gold leaf carefully on fruit. Let dry for 30 minutes.
2. Brush off extra gold leaf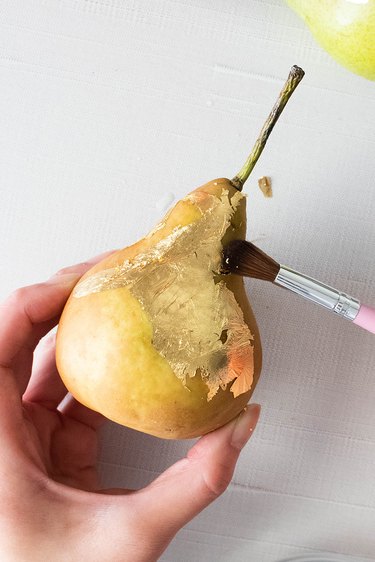 Gently brush away excess gold leaf, using a circular motion.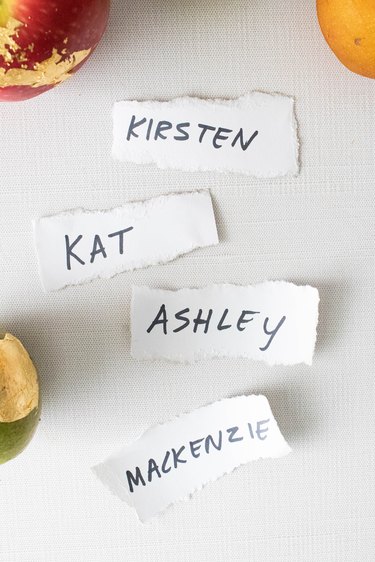 Write guests' names on scraps of paper. You can't go wrong with a classic white or kraft paper, but feel free to use paper that matches the home decor in your dining room or living room.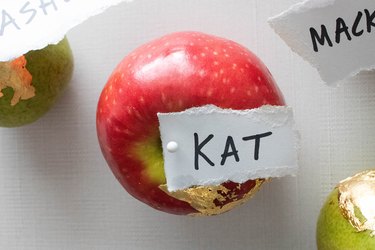 Stick one name to top of each fruit using a straight pin.
Things You'll Need
Faux leaf garland

Decoupage (like Mod Podge)

Foam brush

Fluffy makeup brush

Craft tweezers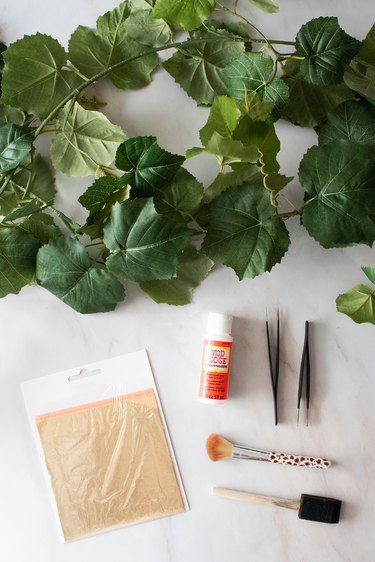 Tip
Technically, you can use edible gold leaf for craft projects, including this leaf garland. But crafting gold leaf (which is available in the paint section of craft stores) is slightly thicker, so it's a lot easier to work with. We recommend using this type for the leaf garland, but keep in mind that it is ‌not‌ edible.
Using foam brush, apply a light layer of decoupage to random leaves.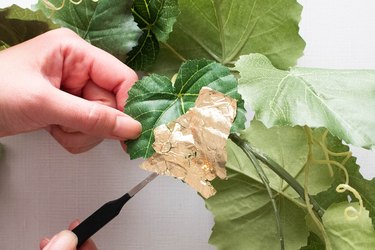 Tear a piece of gold leaf with tweezers. Next, place it on decoupaged areas, pressing gently with tip of tweezers.
2. Remove extra gold leaf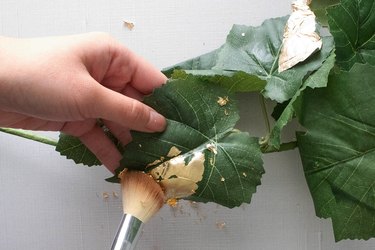 Remove excess gold leaf by gently brushing it in a circular motion.
Make sure makeup brush is dry, clean and free of debris. If you'd like, consider buying an inexpensive brush from the dollar store to use exclusively for gold leafing.
Tip
If you plan to reuse or display leaf garland (such as on the mantel or wall), it's a good idea to coat leaves with a clear spray adhesive after applying the gold leaf.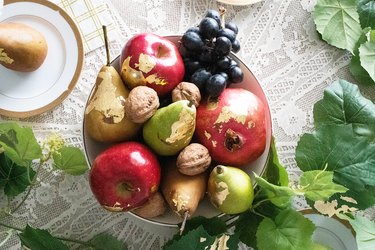 To style your tabletop, set fruit bowl in center. Lay out any place mats, plates or serving ware, then add golden fruit place cards to plates. Finally, drape leaf garland across table.
How to Make Golden Fake Fruit
For a more long-lasting project, use fake fruit instead of real ones. Simply apply decoupage to fake fruit using a foam brush, then apply crafting (not edible) gold leaf. Once you brush off excess leaf, you'll have a set of golden fruit that can be displayed all year round. They'll look especially beautiful in a pedestal bowl on your coffee table or countertop (because who says kitchen storage has to be boring?).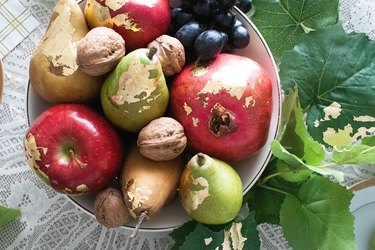 With that, you've created a gorgeous golden display that will be the talk of any dinner or family gathering. What a wonderful way to transform ordinary kitchen fruit while adding sparkle and shine to your tabletop!