If you have a wood-burning fireplace and don't already own a fireplace tool set (or are ready for an upgrade), there's no better time than winter to make that happen. A fireplace tool set is a necessary addition to your room as it provides an efficient and safe way to tend to the fire, remove the ashes and keep the hearth organized. Cleaning a fireplace is a dirty job, but with the right tool set, the job will be a lot more pleasant. Plus, good-looking fireside tools can add to your home decor.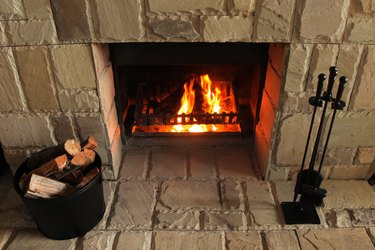 What to Consider When Purchasing a Fireplace Tool Set
‌Types of Tools:‌ Fireplace tool sets can come with various tools, so it's important to figure out which ones you need to help make your fire upkeep as efficient as possible.
‌Poker:‌ Also known as a fire iron, the fire poker is a rod that's used to adjust the logs to help the fire burn longer.
‌Tongs:‌ You can use tongs to add more logs or to move them around while they're in the fire.
‌Shovel:‌ A fireplace shovel is used to remove the ashes once the fire stops burning. The Chimney Safety Institute of America recommends leaving a 1-inch layer of ashes on the floor of your fireplace to help it maintain heat.
‌Broom or Brush:‌ Either one of these tools can be used to sweep ash residue once the ash is removed.
‌Ash Bucket:‌ This is a heatproof container that holds the ash that's been removed from the fireplace. It's a safe place to hold hot ashes as they cool down and it's typically sold separately from a tool set.
‌Log Rack:‌ Some fireplace tool sets come with a built-in log rack, which is a rack or stand that conveniently holds extra firewood.
‌Size:‌ You can find a wide range of fireplace tool set sizes, from compact models for small fires to standard sets for the average fireplace or fireplace insert and heavy-duty sets for extra-large fireplaces or outdoor fire pits. The size of your hearth (the area in front of the fireplace) will need to be considered to ensure there's enough space to hold the tool set.
‌Materials:‌ Most fireplace tools are made of steel, wrought iron or cast iron. You can find brass fireplace tool sets, but solid brass isn't as resistant to high temperatures, so they can get too hot to touch depending on their proximity to the flames. The material of the handles can vary, with options including wood, cork, or a grippy material that is layered over the iron or steel.
‌Style:‌ Certain coatings can offer different looks to your fireplace tool set, like a brass coating over a steel or iron tool. Some tools have decorative accents like wooden or marble handles that might go well with your home decor. Ultimately, safety should always come before style, but you have options when it comes to finding a set you love.
Scroll on for the best fireplace tool sets to place on your hearth.
The Best Overall Fireplace Tool Set
This is a great fireplace tool set because it includes four important wrought iron fireplace tools—a brush broom, an antique shovel, a set of tongs and a fireplace poker—all for a reasonable price. The tools rest on a sturdy stand atop a heavy-duty base. Gold powder-coated handles are designed to allow for a firm grip on each tool, and it doesn't hurt that they're a nice complement to any gold fireplace screen that keeps the stray embers at bay.
‌Material:‌ Wrought iron
‌Dimension:‌ 7.09" x 7.09" x 31"
‌Number of Tools:‌ 4
‌Types of Tools:‌ Brush broom, antique shovel, tongs, poker
‌Finishes:‌ Black, bronze, golden
The Best Budget Fireplace Tool Set
If you're looking for a no-frills fireplace tool set with excellent functionality while staying on budget, check out this five-piece set. Along with a heavy duty base, the set includes a broom, shovel, tongs and fireplace poker. Unique rings at the top of each tool allow you to easily grab what you need and securely put it back. The size works for standard hearths, fireplaces, wood-burning stoves and outdoor fire pits.
‌Material:‌ Powder-coated steel
‌Dimensions:‌ 10.04" x 8.86" x 31.69"
‌Number of Tools:‌ 5
‌Types of Tools:‌ Stand, broom, shovel, tongs, poker
‌Finish:‌ Black
The Best Splurge-Worthy Fireplace Tool Set
Keep the fireplace conversation going with these mid-century fire tools. Designed to fit with modern home decor, this set certainly won't take away from the beauty of your fire. Included in the set is a poker, shovel, broom and fireplace tongs. The broom is made of natural corn stalk fiber, giving the set a modern twist on the brooms that are typically included in a fireplace tool set. Rubber feet protect your hearth's surface from scratches. Choose from a brass or black matte finish.
‌Material:‌ Steel
‌Dimensions:‌ 9" x 29"
‌Number of Tools:‌ 4
‌Types of Tools:‌ Poker, shovel, broom, tongs
‌Finishes:‌ Brass, black
The Best Modern Fireplace Tool Set
Fireplace accessories don't have to be basic. Pottery Barn's five-piece Vail Fireplace Tool Set makes that abundantly clear, with its modern wood handles and leather straps. Not only would the tool set be an attractive addition to your hearth, but you also have the option to add on matching fireplace essentials, including an iron fireplace screen and an iron and leather log holder. If your goal is to make your living room look like a Pottery Barn catalog, this fireplace tool set will get you on your way.
‌Materials:‌ Vintage iron, wood
‌Dimensions:‌ 9.5" x 9.5" x 30.5"
‌Number of Tools:‌ 4
‌Types of Tools:‌ Tongs, shovel, brush, poker
‌Finish:‌ Black
The Best Fireplace Tool Set With Log Rack
This wood rack and tool set combo is a great space-saving solution if you want to keep your logs nearby. In addition to holding logs and the necessary tools (tongs, shovel, broom and poker), it can also hold kindling and newspaper and look good while doing it.
‌Material:‌ Steel
‌Dimensions:‌ 12.5 " x 12.5 " x 32
‌Number of Tools:‌ 5
‌Types of Tools:‌ Tongs, shovel, broom, poker, log rack
‌Finish:‌ Black
Whether you need an ash bucket in addition to a fireplace tool set or as a replacement for one, this model from Smedley & York is incredibly efficient. The bucket can hold up to 2 gallons of ashes, coal, logs, wood, kindling, pellets and more. It works well for both indoor and outdoor use and comes with a lid to keep things as clean as possible. It also boasts a shovel and a broom to aid in ash cleanup. The bucket is a great place to store items you need for the fire, but it's also an ideal place to hold hot ashes and embers while they cool off before disposing of them.
‌Materials:‌ Iron, metal, wood
‌Dimensions:‌ 12" x 12" x 12"
‌Number of Tools:‌ 3
‌Types of Tools:‌ Bucket, shovel, broom
‌Capacity:‌ 2 gal.
‌Finishes:‌ Black, white
The Best Long-Reach Fireplace Tool Set
If you prefer not to get too close to the flames of your fire or if you have a large fireplace or fire pit, this cast iron fireplace tool set is a great option as the extended poker is 28 inches long. Cast iron offers a stable base, but it tends to be a bit heavier than other materials like wrought iron.
‌Material:‌ Cast iron
‌Height:‌ 32"
‌Number of Tools:‌ 4
‌Types of Tools:‌ Poker, tongs, brush, shovel
‌Finish:‌ Black
The Best Decorative Fireplace Tool Set
If you have a non-working fireplace or only make a fire a couple of times a year, this gold-finished tool set from Urban Outfitters can add some whimsy to your space. It only includes a shovel, poker and stand, so it's not the most practical option. However, the shovel and poker are topped with butterflies and flowers (s0 cute!) and the base features a cut-out image of a flower. You can complete the look by purchasing the matching butterfly fireplace screen.
‌Material:‌ Iron
‌Dimensions:‌ 39.5" x 20.5" x 4"
‌Number of Tools:‌ 2
‌Types of Tools:‌ Shovel, poker
‌Finish:‌ Gold