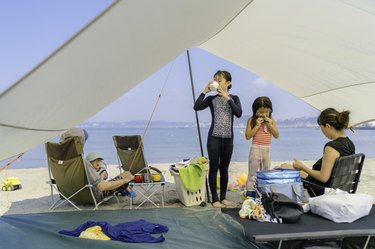 The right beach tent gives you and your family a break from the sun's harsh UV rays while providing some privacy and a place to store the essentials, like beach chairs, towels, beach bags, sunscreen, food and beverages. Even if you enjoy the sun, it's always nice to have shade as an option—especially if you tend to spend a significant amount of time at the beach.
So, whether you want to use a beach tent as an escape from the sun, a place for your kids to take a nap, or somewhere to change your clothes in private, there are several types of beach tents to consider.
What to Consider When Purchasing a Beach Tent
​Occupancy and Size:​ If your local beaches are typically crowded, you'll probably need to go with a smaller tent as the larger ones take up more space. But if beach real estate isn't an issue, a larger tent can certainly provide shade for more people. While large tents can hold more people, they can be more challenging to set up, take down and transport. Since bigger tents generally have higher sides and an overall larger footprint, they can also be harder to manage on a windy day, but if there are several people who need shade, it might be worth the risk.
​Set Up:​ The best beach tents are easy to set up and break down so you can spend your time enjoying the beach instead of dealing with a tent. Automatic pop-up tents are the easiest to set up, as they pop up and are ready to use in minutes and don't require setting up individual poles like traditional tents. A beach tent typically folds into a compact carrying bag that's easy to fit in your car and carry to your beach spot. Some are heavier and bulkier than others, so if you have to walk some distance before setting up, that's something to consider.
​Intended Use:​ The type of beach tent you buy will depend on how you intend to use it. There are beach tents designed specifically for babies that keep them contained and protected from the sun. Some even come equipped with a tiny pool for your baby to play in instead of getting in the ocean. If you plan on using the tent for yourself as shelter from the sun and other elements, many beach tents offer UV protection. If you intend to take naps in the tent (they generally aren't thick enough for overnights), one with three walls that zips all the way will offer the most protection.
Here you'll find a variety of the best beach tents in 2022.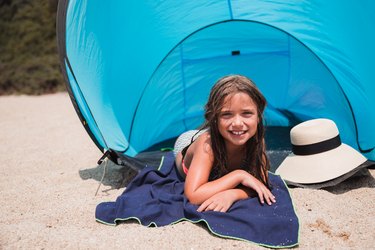 The Best Overall Beach Tent
WhiteFang Sun Shade Shelter
Our top pick for the best beach tent of the year goes to WhiteFang's Sun Shade Shelter. The tent is fantastic at providing shelter from the sun's rays, while also creating plenty of airflow through its three large mesh windows. While the tent doesn't provide full privacy, you can roll the windows up to block out the sun, wind or views from your neighboring beachgoers. The tent is equipped with three sandbags, eight steel stakes, six sand stakes and guy lines to ensure it stays put—even on a windy day. The 8-millimeter fiberglass rods on this tent are thicker than the average tent, making them sturdier and more durable. The tent is lightweight and easy to fold down into its compact carrying case.
​Occupancy:​ 3 people
​Weight:​ 3.3 lbs.
​UV Protection:​ UPF 50+
​Color Options:​ White, green, mint green, blue, light blue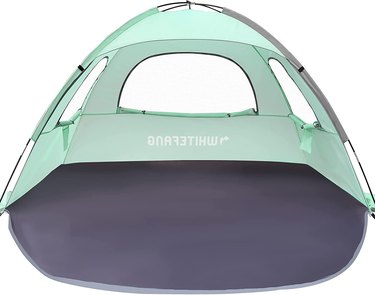 The Best Budget Beach Tent
Glymnis Pop Up Beach Tent
Roomy enough to shade a family of four or two adults laying down, this affordable pop-up beach tent is a great purchase for under $25. The tent comes with four sandbags, six tent pegs and a carrying bag. It's easy and lightweight to carry and can even fit inside a backpack or luggage, making it a great option for a beach vacation. Before you head to the beach with this one, the company suggests doing a setup and breakdown practice round. It isn't hard to do, but you'll need to follow the instructions to make sure it's done properly.
​Occupancy:​ 2-3 people
​Weight:​ 2.6 lbs.
​UV Protection:​ UPF 50+
​Color Options:​ Blue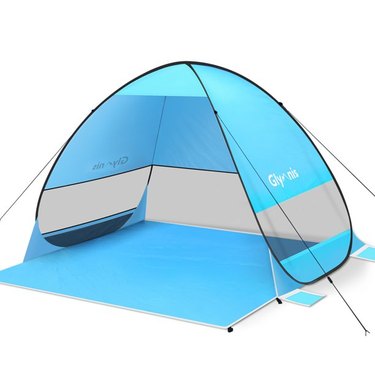 The Best Beach Tent for Sun Protection
The sun's harmful UV rays are getting stronger, so sun protection has never been more important. Silver-coated fabric ensures that this beach tent can protect you from the sun while withstanding UV damage on your beach day. Of course, you'll still need to wear your SPF, but you'll at least be able to take breaks in the shade. The fabric is water-repellent and windproof, and the four-sided ventilation design offers three large mesh windows for airflow. The tent fully zips for complete privacy when you want it—whether it's to change out of your swimsuits or to take a nap—and it has an extended floor for more sand coverage. There are three sizes to choose from, designed for three people, four people or six people. So, whether it's just you enjoying some waves or you have the whole family or several friends in tow, there's plenty of space for everyone.
​Occupancy:​ 3-6 people
​Weight:​ 3.86 lbs.
​UV Protection:​ UPF 50+
​Color Options:​ Blue, green, orange, sapphire blue, silver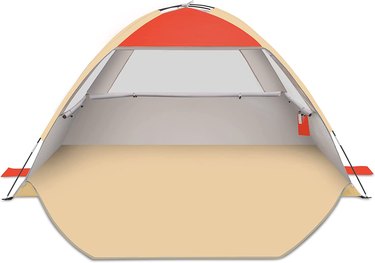 The Best Umbrella Beach Tent
Oniva Brolly Beach Umbrella Tent
Not only is this beach tent super stylish, but it's also practical. The perfect blend of a tent and umbrella, this beach umbrella tent offers just the right amount of shade for your family. It protects from UVA and UVB rays and is water-repellent. The bottom can be staked down to keep it in place. The easy-setup beach tent has internal storage pockets for the stakes, sunscreen and other small beach essentials.
​Occupancy:​ 2-3 people
​Weight:​ 2.86 lbs.
​UV Protection:​ UPF 50+
​Color Options:​ Navy/white stripes, blue, red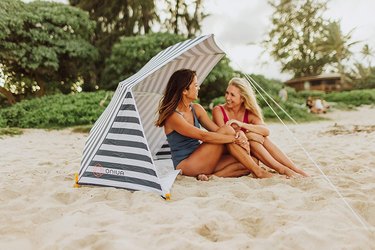 Sun Ninja Pop Up Beach Canopy
For protection on a hot summer day, check out Sun Ninja's Pop Up Beach Canopy. It's ideal for sun shade for a family or group of friends who don't feel like ducking into a tent whenever they want a break from the sun—think portable beach cabana. To set it up, lay out the tent on the ground, fill the sacks with sand, unfold and pop up. While the canopy is water-repellent and will work well in a light drizzle, it won't offer protection in a heavy downpour or strong winds. It comes in two size options with either two or four poles and everything you need for setup, including bungee cord ties, grass pegs, a shovel and a carrying case.
​Occupancy:​ 8 people
​Weight:​ 5+ lbs.
​UV Protection:​ UPF 50+
​Color Options:​ Green, navy, royal blue, turquoise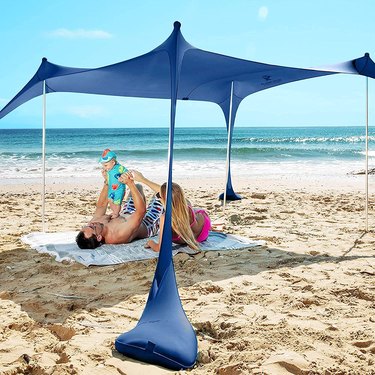 The Best Beach Tent for Babies
Monobeach Baby Beach Tent
This adorable baby beach tent is made for babies and toddlers under the age of 3. It features a mini pool that sits in the sand and can be filled with water to give your little one a place to safely splash around. A UV-protected sun shade keeps the sun away, which is nice if you don't want to have to keep applying sunscreen on your kiddo (as long as they stay in the shade, that is). The shade tent comes with a carrying bag and four pegs to keep it stable in the sand. It has an easy pop-up opening that's also easy to close. At under two pounds, the tent isn't cumbersome to carry. As a bonus, you can also use this tent in your backyard or at a park for some playtime.
​Occupancy:​ 1 person
​Weight:​ 1.65 lbs.
​UV Protection:​ UPF 50+
​Color Options:​ Blue