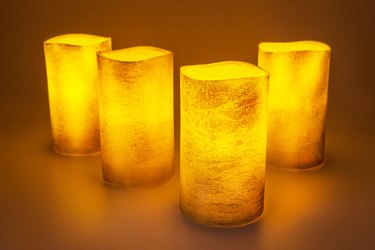 As much as we love real candles—there's nothing quite like the calming, pleasant ambiance a flickering flame brings to a dim room or outdoor dining situation—there are downsides to a real flame. That's especially the case if you have little ones in your home, or four-legged friends who tend to get themselves in trouble with their curious noses or tails. As an alternative to the real deal, turn to flameless candles. You may be surprised at how much they evoke the same warm, fuzzy feelings that regular wax candles do, but without any of the drawbacks.
Flameless candles eliminate the risk of a house fire, they emit no smoke and you'll never have to ask "How did that wax get on the tablecloth?" again. Plus, you can drift off to sleep peacefully without jolting awake wondering if you blew the candles out. Convinced? We researched the best battery-operated candles that'll bring soft light and peace of mind to you and your home decor. Read on for our favorites.
What to Consider When Purchasing Flameless Candles
​Battery Life:​ No one likes to scrounge through their junk drawer looking for another set of AA batteries. Flameless candle batteries vary in their lifespan, with tea light candles generally able to "burn" around 50 hours, while pillar candles can last upwards of 1,000 hours. Read the description of the candles you're considering carefully; that should give you an estimate of battery life. No matter how many hundreds of hours the batteries last, though, it's bound to be many times longer than a traditional candle. Just be sure to have backup batteries on hand for when they do eventually burn out.
​Material:​ Flameless candles can come in a variety of materials, with most of them being made from real wax, soy wax, beeswax or paraffin. That gives them a realistic look and natural feel. Like regular candles though, they can soften in extremely high temperatures, so it may be best to avoid placing them in sun-drenched windows or outside during a heatwave.
Other flameless candles are made of plastic, which won't soften but also won't look as realistic. If you're hoping to keep your flameless candles outside, shop for ones that are waterproof. Those will have a silicone seal that keeps moisture away from the LED light and battery compartment. You can still set the mood for an al fresco dining situation with any flameless candle, waterproof or not, but be sure to bring them inside after "blowing" out the flame.
​Size:​ You can find flameless candles in all the same sizes and shapes as regular candles. Whether you prefer pillar candles, taper candles, votive candles or tiny tea light flameless candles, there are plenty of options to choose between. For pillar candles, most are sold in sets, ideally with varying heights so you can group a few together to create a standout display. Be sure to read the product description and dimensions carefully so you're not surprised by how big (or small) the candles are once they arrive on your doorstep.
Read on for the best and most realistic-looking flameless candles.
The Best Overall Flameless Candles
Symple Stuff 8-Piece Unscented Pillar Candle Set
This ivory flameless candle set has it all. First of all, we love the candles' realistic moving flames, which have two different flickering modes that imitate real candlelight without making any tell-tale "are those fake?" noises. This set of eight also comes with a remote, so you can set them on a timer (with two, four, six and eight-hour options) without needing to turn them on and off—especially convenient if they're placed somewhere that's difficult to reach.
​Number of Candles:​ Eight
​Remote Included:​ Yes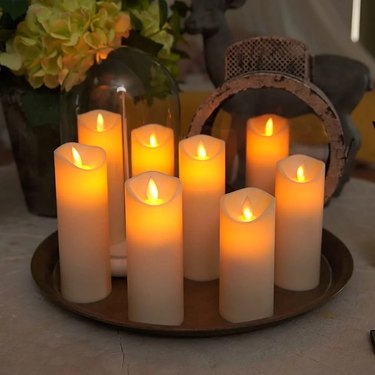 The Best Budget Flameless Candles
Homemory Flameless Tea Lights Candles
To get the calming vibe of flameless candles without spending much money, opt for LED tea lights, like this set of 12 from Amazon. The tiny flickering bulbs set a romantic scene for events, backyard dinners and inside on your dining room table too. Set them in votive holders, or any small glass cup really. While these don't include a remote or timer (tea light candles rarely will), the on/off switches are easy to use and the batteries guarantee 100-plus hours of light, which is on the high side for such a small flameless candle.
​Number of Candles:​ 12 (24- and 72-pack options also available)
​Remote Included:​ No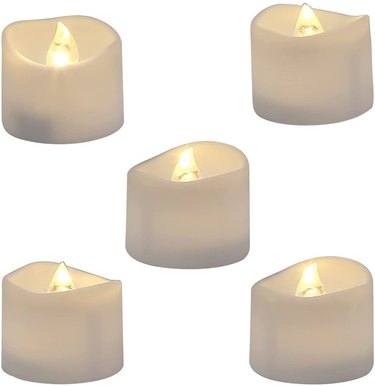 The Best Flameless Candles With a Remote
This candle set includes three candles of varying heights. One is four inches tall; another, five inches and the third six inches. As a set, they create a beautiful flameless cluster, whether set on a backyard dining table or in a (non-working) fireplace. Grab the remote control whenever you want to set the hour timer, which has four settings, or when you want to brighten or dim the flame.
​Number of Candles:​ Three
​Remote Included:​ Yes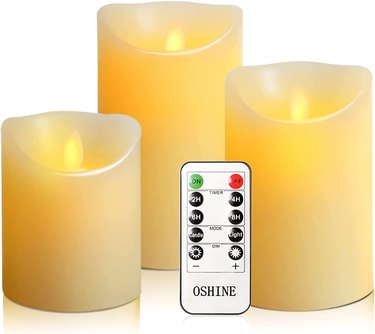 The Best Flameless Candles With a Timer
Litton Lane Cream Resin Traditional Flameless Candle
Flameless candles are key to a calm night's sleep so you don't have to crawl out of bed to double-check that, yes, you did blow out the candles. Timers on flameless candles are key to a seamless on/off situation without having to individually turn each candle upside down. Shop for candles with a remote and timer for a hassle-free way to illuminate your space in the easiest way possible. This set of three flameless candles, which feature a cool bumpy, ribbed texture and realistic moving wick, are controlled by a mini remote with a timer and dimming function.
​Number of Candles:​ Three
​Remote Included:​ Yes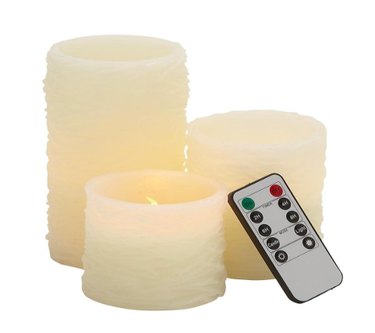 The Best Flameless Pillar Candles
YIWER Flameless Pillar Candles
Pillar candles always make for an exceptional centerpiece, whether real flame wax pillars or battery-powered ones like this set of three. Add two AA batteries (not included) to each of these candles to guarantee over 300 hours of romantic ambiance. Use the remote to set the timer, as well as choose between flickering light options and brightness levels, then rest assured no one will get hurt from the flame and no dripping wax will ruin your dining room table. Win-win!
​Number of Candles:​ Three
​Remote Included:​ Yes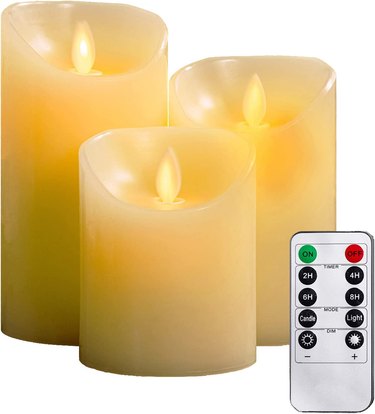 The Best Flameless Candles for Outdoor Use
Hampton Bay Set of 3-Resin Outdoor Candles
Add some serious ambiance to your backyard patio or front porch situation with this set of three LED candles. Set them in outdoor lanterns, use them in decorative vases or place them individually on stairs. These are specifically made for outdoor use—important to note if you want to leave them outside in questionable weather—though they would be just as beautiful inside, too. Simply add three AAA batteries (not included) to each, then watch your outdoor or indoor space glow.
​Number of Candles:​ Three
​Remote Included:​ Yes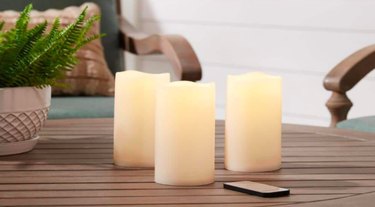 The Best Tea Light Flameless Candles
You'll pay an extra few dollars for these West Elm tea light candles, but for good reason. First of all, they're made of real wax in ivory, giving them a realistic look. They emit a warm amber glow via the battery-operated LED lights within to mimic real candlelight. While these don't come with a remote, as tea light candles rarely do, they do include a five-hour timer function so they'll automatically shut off, saving battery power in case you forget.
​Number of Candles:​ Six
​Remote Included:​ No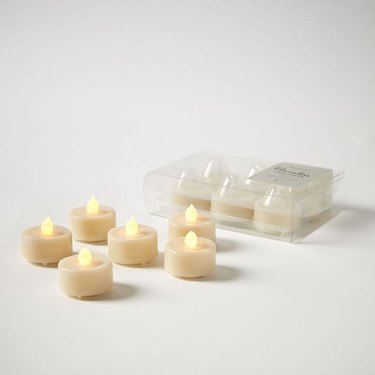 The Best Taper Flameless Candles
GenSwin Flameless Ivory Taper Candles
Add a set of flameless taper candles to your home to give your home the warm ambiance of the tall, flickering candles without the risk that a real flame comes with. You don't need candlesticks for these to stands, but we suggest them—or any candle holder—to provide a classic look. This set of six is controlled by a 10-key remote control so you can adjust the hour timer (two, four, six or eight hours) as well as adjust the brightness and change the flicker mode.
​Number of Candles:​ Six
​Remote Included:​ Yes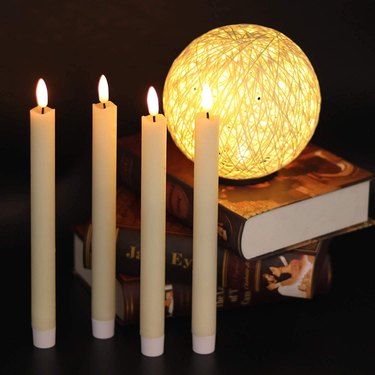 The Best Scented Flameless Candles
Charlton Home® Scented Flameless Candles
Consider these vanilla candles your new signature home fragrance. They're still flameless, providing the glow of a candle without any of the risks of a flame, with the added benefit of a subtle vanilla scent. We especially love the wavy tops, which make them particularly realistic-looking. The scent is simply a bonus.
​Number of Candles:​ Eight
​Remote Included:​ No