Amazon is a one-stop shop for everything—you know that!—including fall decor. When it's time to start thinking about which fun and festive fall decorations you'll bring into your home, make things easy on yourself and simply scroll through Amazon's best offerings for the season. You're just a couple clicks away from cute, inexpensive pieces of fall decor that you'll love this autumn, and will be just as delighted to unpack them from storage next September, and the September after that too.
Between throw blankets, pumpkin spice-scented candles, dried wreaths and maple leaf garlands, you can easily have your home in tip-top fall shape in no time—and without spending a paycheck either. To save yourself the endless "I need this!" and "I need this too!" that often happens during an Amazon spree, we shopped for you, narrowing down the best fall decor Amazon has to offer.
What To Consider When Purchasing Fall Decor from Amazon
​Price:​ As much as we'd love to sip PSLs in front of a roaring fireplace all year long, fall flashes by in a blink. Enjoy it while it lasts! But also take into consideration how much money you'd like to spend on fall decor, since you'll likely only keep it on display for a short time. Buy wisely, though, and invest in quality materials and designs you won't tire of. That way you'll be able to use the decor year after year.
​Reviews:​ Amazon reviews are an insider's view as to how the product stands up to its description. Scroll through them before clicking "add to cart" to gauge how much other buyers enjoyed their purchase. Reviews aren't ​everything​ though. Some products from small businesses have fewer reviews. Don't let that discourage you from buying a one-of-a-kind handmade piece from an artisan.
​Ship Date:​ Before buying season-specific items from Amazon, keep a close eye on when your purchase is expected to arrive. Fall flies by, and before you know it all of the vibrant leaves will have fallen from the trees. If your autumn decor won't ship until mid-October, you may want to find another product that'll arrive on your doorstep sooner. That way you can bring festive fall vibes to your home all season long.
Read on for our 10 favorite fall decor must-haves that all are a click away on Amazon.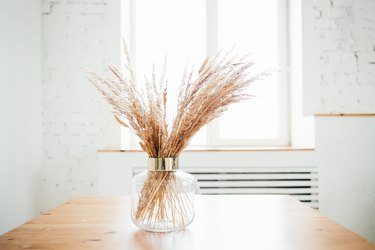 1. Fall Maple Leaf Garland, 2-Count
Who says garlands are only for Christmas? (Not us.) Celebrate the spirit of fall with this maple leaf garland, which features multicolor leaves ranging in tones from forest green to bright orange. This garland can be used indoors or outdoors, but it is especially versatile indoors. Add it to your fireplace mantle, wrap it around a stair railing, or drape it across a dining room table. Before buying, get out your measuring tape to determine how many strands of garland you'll want to add to your cart for the full effect. This particular garland comes in two pieces and you have to string the included LED lights yourself. There are five fall-inspired colorways to choose from.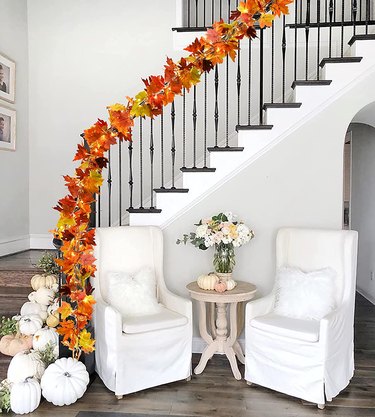 2. Velvet Foam Pumpkins, 12-Count
When in doubt about how to decorate for fall, opt for pumpkins, pumpkins and more pumpkins. This set of 12 velvet-covered mini pumpkins come in a range of colors, from white to tangerine to deep orange, and could be arranged in a variety of ways around your house. Use them all to make a dining room table centerpiece, or scatter them around your living areas—a few on your mantle, a couple on your entryway table and a couple more to bring the spirit of the season to kiddos' rooms. Come Thanksgiving, add a name tag to each to turn them into charming place settings for your feast.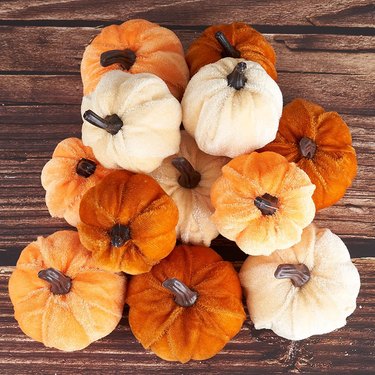 3. Bottle Brush Trees, 3-Count
Hurry! There are limited sets of these oh-so-cute bottle brush trees left, and you'll want to nab one before they sell out. (Don't save all the bottle brushes fun for Christmas!) These candy corn-colored cuties are an effortless and subtle way to bring the fall season into your decor, whether they're arranged on your coffee table, bedside table, fireplace mantle or anywhere else. Each set includes three bottle brushes of various heights (14 inches, 12.5 inches and 10.5 inches tall) for your own mini forest.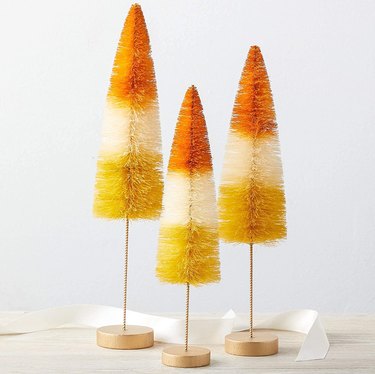 4. Flickering Flameless Candles, 5-Count
Nothing evokes warm, cozy feelings quite like candles do. If the thought of having open flames around your house makes you uneasy though, we understand. Maybe you have little ones or four-legged friends who put their noses where they don't belong. To evoke the same sentiment without the danger of fire, opt for these flickering flameless candles instead. They give off a realistic warm yellow glow without the fire hazard and are controlled by a remote so you can adjust the brightness and light modes, as well as set them on a timer. Each set includes five pillar candles and a remote control. Stock up on AA batteries, then revel in how each candle can flicker for over 300 hours before needing new batteries.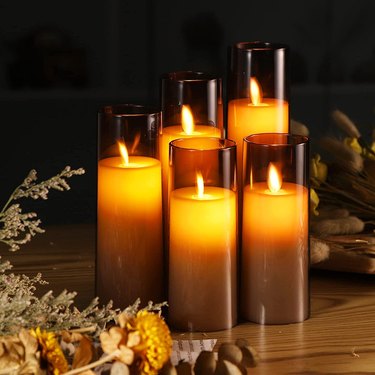 5. Natural Dried Pampas Grass Bouquet
With the end of summer comes the end of many seasonal flowers, but this dried pampas bouquet lasts all year long, no water necessary. Break out your most beautiful vase, then have fun playing florist arranging this bunch of 110 pieces of pampas grass. The set includes white pampas grass, brown pampas grass, reed grass, white bunny tail grass, dried wheat stalks, luxury pampas and gold balls for you to arrange to your heart's desire. This stunning bouquet adds texture, color and the feeling of fresh flowers to your space, all without the maintenance—or the need to toss them in a week.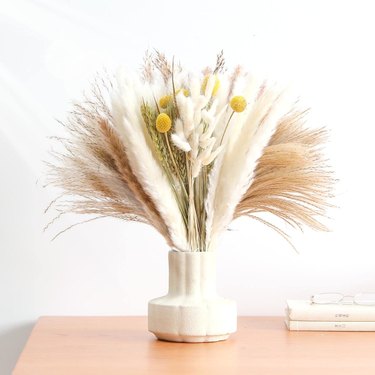 Anyone young or just young at heart would delight in this pumpkin-shaped LED light. Simply add two AA batteries (not included) to light the sign. Then comes the hard part: Deciding where in your house to put it. Temporarily replace your kid's night light with this to win the Fun Mom of the Year award, or add it to your kitchen countertop, in a windowsill or on an entryway table. There's no wrong place to house this festive light, as long as it's somewhere you can see it and smile at it often.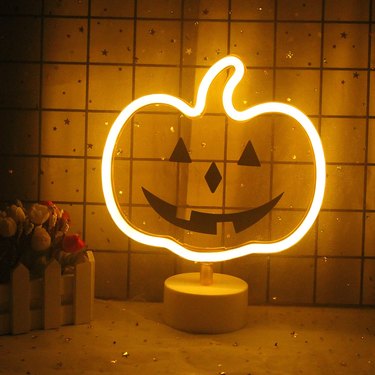 7. Autumn Leaves Printed Dish Towel Set, 2-Count
Fall decor can easily congregate in living rooms and entryways, but don't forget to decorate another high-traffic area—the kitchen. Simply hanging a fall-themed tea towel to your oven handle will fall-ify the space. This set of leaf-themed towels are understated and adorable, so you can keep them in rotation from the first chilly day until you break out the Santa- and snowflake-covered kitchen towels. These towels are also 100% cotton, so they're absorbent and machine-washable. Just keep these out of the dryer to keep them in their best shape to use autumn after autumn.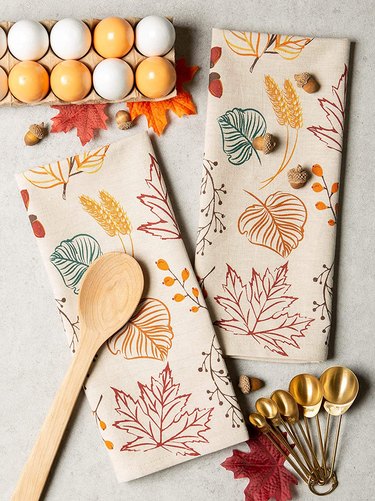 Candles are essential home decor, no matter the season. Even if the vessel is subtle—like this amber jar with a modern black label—the scent doesn't have to be. This intoxicating mix of pumpkin, clove, buttercream, cinnamon, embers and vanilla will fill your whole home with the fragrances of fall. For such a petite candle (just 9 ounces) it boasts over 40 hours of burn time, so you can enjoy whiffs of the delicious pumpkin spice scent now through Thanksgiving.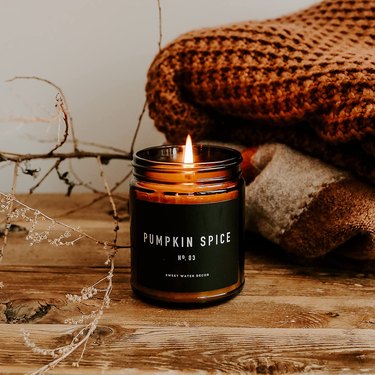 9. Textured Knitted Super Soft Throw Blanket with Tassels
Throw blankets are one of the easiest (and most practical) ways to mix up your living room decor. Simply toss this pumpkin-colored throw over the back of your couch or a lounge chair, and it'll instantly add a pop of autumn-like color to your home. Even if there's not a single pumpkin or maple leaf amongst your decor otherwise, you'll feel ready for the season. Good luck beating your family members to this machine-washable blanket come movie night though. It's ​that​ cozy.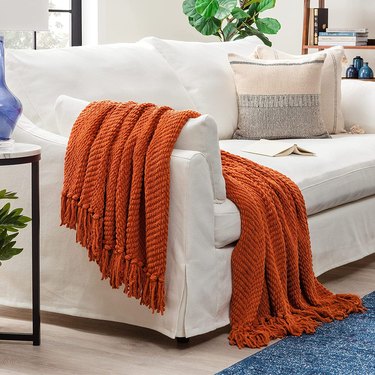 Remember: Wreaths aren't just for outside, and they aren't just for doors either. They can be hung in an entryway, above a fireplace, or even laid flat on a coffee table or dining room table with artificial candles in the middle. This autumn wreath measures 18 inches across and is made of maintenance-free artificial straw, evoking a wistful seasonal style. Come winter, store this wreath carefully and it'll look just as perfect next autumn.