If you want to add warmth and functional ambiance to your outdoor space this summer, a chiminea is a great way to do it.
Chimineas are portable, freestanding and decorative outdoor heat sources that have gained popularity over the past several years. They are a great alternative to fire pits and are considered safer due to their front-loading design and long chimney that directs the flame upward. They also provide a smoke-free environment (or at least a lot less smoke than most wood-burning fire pits). Fresh air is pulled into the hearth, allowing the smoke to exit through the chimney for an enjoyable fire experience. Another benefit of a chiminea is its size—it's a great option for a smaller space if you can't fit a fire pit.
Chiminea is the Spanish word for chimney. Traditional chimineas are wood-burning outdoor fireplaces made from terracotta that have a round body to hold the fire and a half-circle opening at the front for loading wood. Having originated in southern Mexico, they are classically molded with Mexican-inspired designs. Modern chimineas come in many styles, shapes and designs.
What to Consider When Purchasing a Chiminea
‌Material:‌ Chiminea fire pits come in a variety of materials. Outside of the traditional clay chiminea, you can find high-quality ones made of steel, cast iron, aluminum and hammered copper. Kiln-dried clay like terracotta or El Barro isn't as durable as metal, but it doesn't show as much wear and tear as metal might. While still a great choice, metal is prone to rust and weathering when placed in an outdoor environment. Cast iron is a popular choice for a rustic aesthetic, but it's heavier than other options, making these types of chimineas less portable.
‌Size and Shape:‌ Since chiminea fire pits are largely decorative pieces for backyard patios, it's important to pay attention to the dimensions before your purchase to ensure it'll fit in the space you have in mind. As for the shape, you can still find traditional clay chimineas with a round base and a vertical chimney on top, but there are also plenty of more modern designs to choose from.
‌Fuel Type:‌ The majority of chimineas are wood-burning, so to keep a fire going, you'll need to have plenty of logs on hand. Collecting firewood requires a bit of prep, but a wood-burning chiminea adds to its charm. If you don't want to deal with buying wood or gathering your own, or if you don't have the space to store extra firewood, a liquid propane chiminea might be a better option for you. There's also the option of purchasing a natural gas chiminea, which requires connecting to your home's natural gas line.
Scroll on for the best chimineas that'll bring the heat and the style.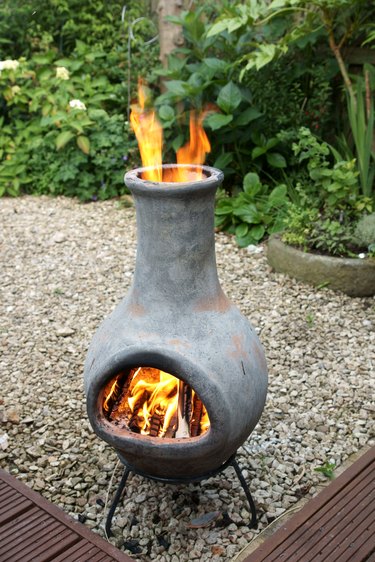 The Best Overall Chiminea
If you're looking for a high-end, wood-burning chiminea that'll add style to your outdoor decor, check out The Blue Rooster Company's Prairie Fire Chiminea. The outdoor fire pit is made of cast aluminum, which is lighter weight than cast iron, yet sturdier than regular aluminum. Cast aluminum doesn't rust, so that's one less thing you have to worry about. Its chimney can be removed to reveal a wood grate that can be used for cooking. As for the smoke, this chiminea has a fantastic draft which makes it practically smokeless.
‌Dimensions:‌ 19" x 19" x 44"
‌Weight:‌ 48 lbs.
‌Material:‌ Cast aluminum
‌Fuel Type:‌ Wood-burning
Chiminea fire pits are expensive, but they're well worth it. If you don't want to spend an arm and a leg on a chiminea for your backyard patio but still want a great piece, check out the Better Homes & Gardens Cast Iron Chiminea. For under $100, you get a great chiminea with an antique bronze finish that offers a 360-degree view of the fire, which also means it works well as a patio heater. As a bonus, a matching fire poker and a nylon cover are included with this outdoor wood-burning chiminea.
‌Dimensions:‌ 22.8" x 22.8" x 45.7"
‌Weight:‌ 48.4 lbs.
‌Material:‌ Cast iron
‌Fuel Type:‌ Wood-burning
Keep it traditional with this stunning terracotta clay chiminea. Handcrafted with a lattice design and kiln-fired, this rustic chiminea outdoor fireplace comes with a fire poker, stand and a chimney top. It'll make the perfect addition to your outdoor living space—whether that's on a patio, deck, garden or in the grass.
‌Dimensions:‌ 45.3" x 18.9" x 18.9"
‌Weight:‌ 71.9 lbs.
‌Material:‌ Terracotta
‌Fuel Type:‌ Wood-burning
The Best Cast Iron Chiminea
This wood-burning fire pit chiminea from Bali Outdoors will be a great addition to your existing outdoor furniture setup. It's the perfect mix of a fire pit and chiminea. It has a 360-degree mesh cage that allows you to view the fire and feel the heat from wherever you're sitting. A sliding door makes it easy to replace the logs as well as clean the ashes. In fact, the fire pit area is larger than many other chiminea options with plenty of room for enough logs to keep you from constantly replenishing them. Cast iron makes it super durable, but it's a bit too heavy to be portable.
‌Dimensions:‌ 22" x 22" x 45"
‌Weight:‌ 40 lbs.
‌Material:‌ Cast iron
‌Fuel Type:‌ Wood-burning
This modern, wood-burning Weather Steel Obelisk Chiminea from Terrain will add stylish outdoor heating to your patio. Its contemporary yet rustic aesthetic is striking and gives off cool art vibes. A log grate below the firebox can hold a good amount of wood, so you don't have to shuffle back and forth from a larger wood pile to keep the fire going. The chiminea comes in two color options: A rustic brown or black.
‌Dimensions:‌ 59.2" x 17.25" x 22.5"
‌Weight:‌ 52 lbs.
‌Material:‌ Weathering steel
‌Fuel Type:‌ Wood-burning
The Best Gas-Powered Chiminea
Wood-burning chimineas aren't for everything, so if you prefer one that's gas-powered, this mid-century modern stunner is a fantastic option. Fueled by propane, you don't have to worry about adding more logs, storing logs or even dealing with smoke, as the design is completely smoke-free. It gives off 55,000 BTUs of heat and conceals a standard 20-pound propane tank inside its base. Constructed from powder-coated rust-free aluminum, the all-weather fire pit will stand up to the elements for many years. For a pop of color, go with the orange and black option, or if you prefer something more subtle, try the light gray and black (pictured here), or the solid-color dark gray.
‌Dimensions:‌ 73.43'' x 42.64'' x 42.64''
‌Weight:‌ 75.18 lbs.
‌Material:‌ Aluminum
‌Fuel Type:‌ Propane
The Best Design-Forward Chiminea
You won't be disappointed with this stunning, wood-burning obelisk chiminea from Terrain. Constructed from a single piece of heat-resistant weathering steel, this chiminea brings a modern yet rustic twist to traditional chimineas. It comes in two sizes—small and large—and it's pre-oxidized, which means it has a natural rust look and may rust further after being exposed to the elements.
‌Dimensions:‌ 49" x 17" x 17" (small), 63" x 22" x 22" (large)
‌Weight:‌ 35 lbs. (small), 50 lbs. (large)
‌Material:‌ Heavy-gauge COR-TEN weathering steel, sheet metal
‌Fuel Type:‌ Wood-burning