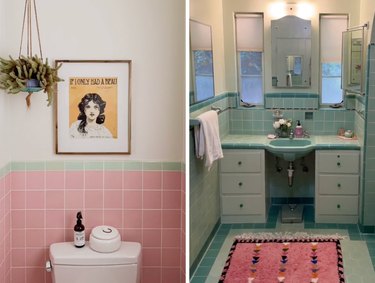 Homeowners of yesteryear sure did love their pastel tile. Today, living in an older home sometimes means inheriting a bathroom that looks like a time capsule (bright pink tile, anyone?), but vintage bathroom tile doesn't have to be dated or boring. In fact, embracing colorful tile and unusual tile patterns can help you create a unique bathroom design that's anything but cookie-cutter.
Whether you've got a space that feels straight out of ‌The Brady Bunch‌ (for those of us who love retro decor, this is a compliment!) or you're hoping to re-create a vintage vibe in your more modern bathroom, the options are endless. To get you started, we've rounded up vintage tile design inspo from social media creatives. Tiles for miles!
1. Maximalist Pink Tile Bathroom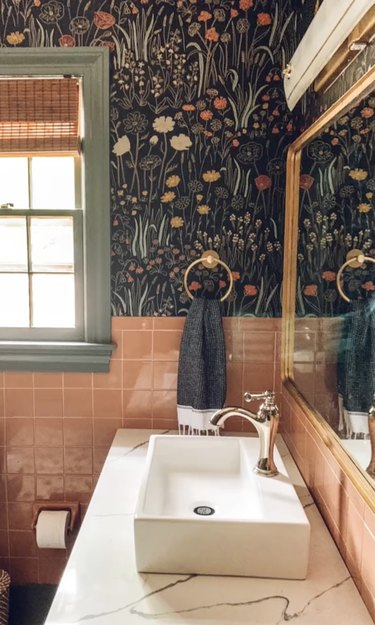 TikToker @katiebowlinghome considered ripping out the retro peachy-pink wall tile in her new home's bathroom, but ultimately she decided to build a new design around it. We're so glad she did! The results? A bathroom fit for a maximalist queen. Bringing in bold, dark wallpaper, painting the vanity a glossy black and adding gold features created perfect balance with Katie's pink tile.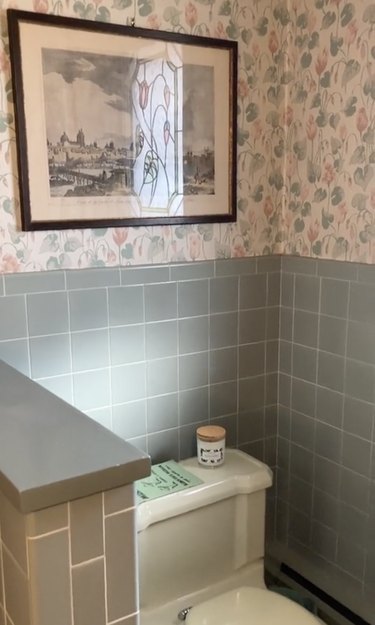 The bathroom in TikToker @carlottacisternas' 1957 home might make you feel blue—in a good way! The light blue wall tile, blue mosaic tile floor, blue countertops and blue trim are definitely remnants of a previous design era. And yet it all works, complete with soft floral wallpaper and a stained glass floral window to match. (Faux stained glass window art could help you create a similar effect in your bathroom.)
3. Modern Deco Tile Bathroom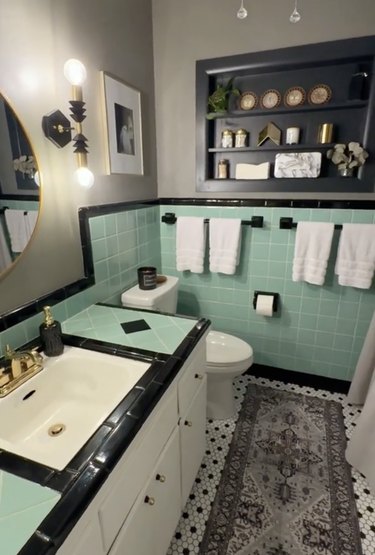 Before @karlinsummer did a full bathroom renovation, her green wall and countertop tile were accentuated with pastel yellow that made the whole space look dated and dull. She painted over the yellow trim and accents with black, added vintage-style, black-and-white hexagonal floor tiles and painted wall tops gray. Adding some framed wall art and new light fixtures created the mid-century modern vibe she was going for.
4. Italian Chic Tile Bathroom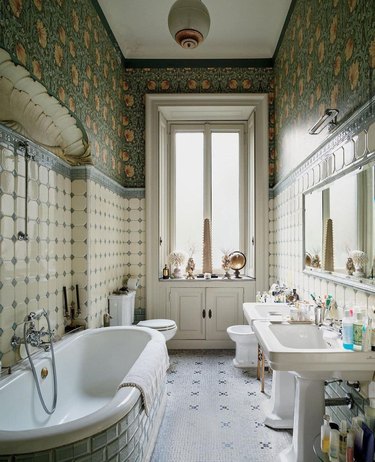 If a home is stylish enough to be photographed for ‌The New York Times‌, you can bet that the bathroom is going to be good. And in the Milan apartment where fashion executives Carlo Alberto Beretta and Jacopo Venturini live, that's definitely the case. Maybe you can't live in a century-old Milanese apartment with original tile and wallpaper, but you ‌can‌ draw some inspiration from their sun-drenched bathroom, as featured on @themaximalistdreamer. Dreamy!
5. Mid-Century Tile Bathroom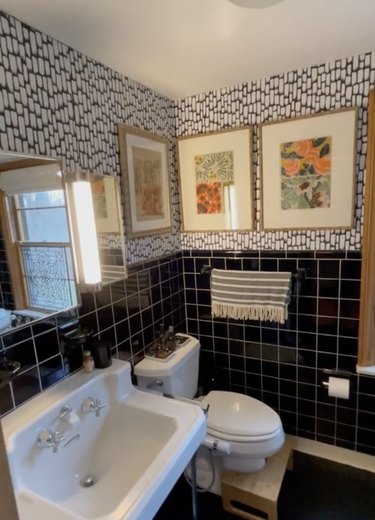 TikToker @bradwalshislate nailed the glam mid-century modern aesthetic with his bathroom renovation. The result combines classic design elements (including square black wall tiles, a retro white pedestal sink and a simple mirrored medicine cabinet) with striking wallpaper and brightly colored art. He notes that he used peel-and-stick wallpaper, making this an easy bathroom makeover to undo at any time.
Tip
Love vintage tile, mid-century modern style and/or bathroom design in general? Give these Instagram accounts a follow:
6. Minimalist Pink Tile Bathroom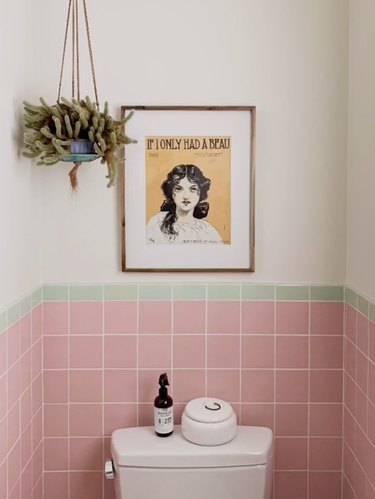 Here's a totally different take on decorating around mid-century pink bathroom tile, courtesy of Oregon resident Harrison Whitmarsh (@vintagehomespdx on TikTok). He took his retro pink bathroom in a clean, modern direction by painting the top half of the walls white, bringing in plants and storing minimal clutter on the countertop. We love it!
7. Victorian Glam Tile Bathroom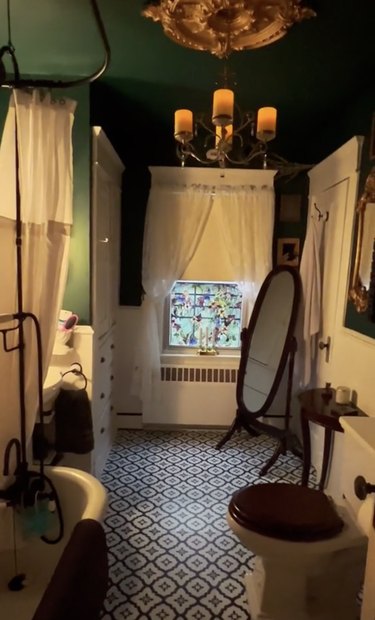 In comparison to this Victorian-inspired bathroom, 1950s tile designs seem positively modern. TikToker @victoriansavage took vintage vibes to a whole new level with a dark and moody bathroom. Black-and-white floor tile, deep green walls and gilded gold wall art look great together, but it's the chandelier with its faux candles that really completes the design. Flickering "candle" light evokes a 19th-century feel; thankfully, you can keep your 21st-century indoor plumbing!
8. Starburst Tile Bathroom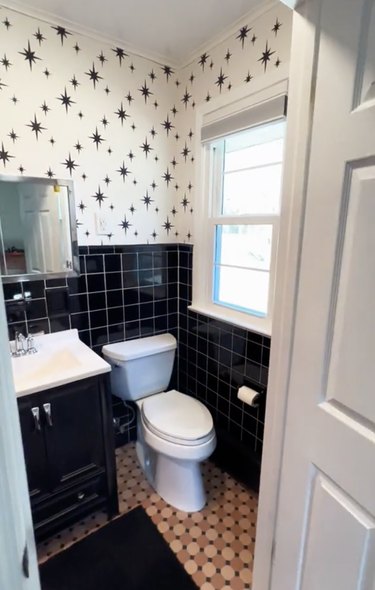 Competing tile designs can make outdated bathrooms hard to decorate. When TikToker @justadimestorecowgrl bought a house with a vintage loo, the square black wall tiles and peach-and-black mosaic bathroom floor tiles didn't look cohesive. Instead of replacing either one, she added a graphic black starburst wallpaper and starburst-shaped fixtures. The bold print is the bathroom's focal point and gives everything balance.
9. Baby Blue Tile Bathroom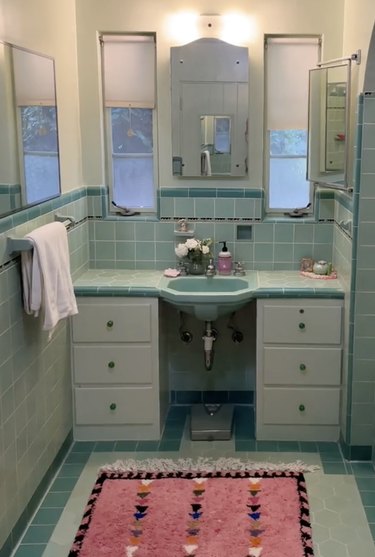 TikToker @jillybean401 probably didn't have to do much work to her 1935 bathroom; the blue tile in two contrasting shades create most of the visual interest in a small space. But adding a bright pink rug and a few smaller pink accents (we love the framed vintage photo!) keep the bathroom from being overwhelmingly monochromatic.
10. 1920s-Inspired Tile Bathroom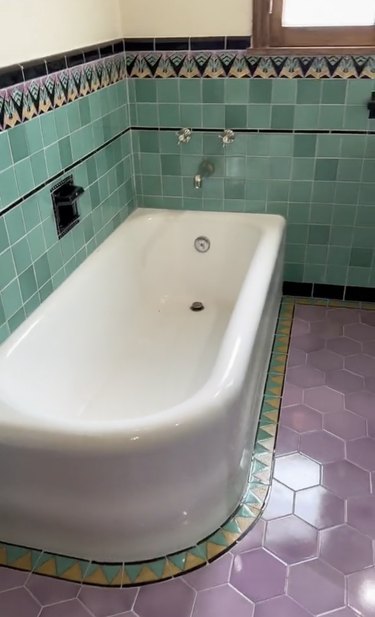 The Realtors of TikTok perform an invaluable service by giving the rest of us a peek inside incredible homes we'd never otherwise see. Los Angeles Realtor Jose Prats (aka @sellingla on TikTok) shared this look at a truly one-of-a-kind 1920s bathroom restored to its full Art Deco glory. Green, purple and yellow is one of those color schemes that certainly isn't for everyone, but this bathroom is proof that it can work when executed meticulously. The shower tile alone makes this one a must-see.
Feeling inspired? With just a bit of planning and a dash of creativity, your retro bathroom can be transformed into an updated bathroom design that maintains plenty of vintage charm—no tile removal required!