Minimalists, look away. The rug-layering trend that's recently picked up steam on TikTok isn't for you. But if you're someone who aspires to wander around a quaint stone cottage or stately English manor wearing chunky knits, read on.
Layering rugs is all about creating coziness with textiles, which is why it's the perfect trend for fall. There's just something about piling rugs on top of rugs that makes you want to curl up on the floor and snooze in front of a fireplace until spring (with intermittent breaks for snacks, obviously).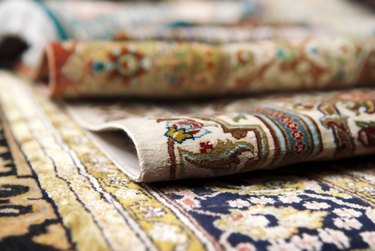 As you scour interior design sites, thrift stores and Etsy for new rugs, always keep pile in mind. It's the measurement of how long a carpet's fibers are. Low-pile rugs are generally best for layering; two thick wool rugs or shag carpets piled together can be too bulky. Jute and sisal area rugs are good choices for layering, but you'll also find wool, cotton and synthetic low-pile rugs.
That said, you can use a high-pile rug, like a luxe Persian carpet, as the bottom layer if it's wall-to-wall carpeting that fills (or nearly fills) the room. Using thin carpets is more important when you're layering area rugs with edges that people are constantly walking over as they move around a room.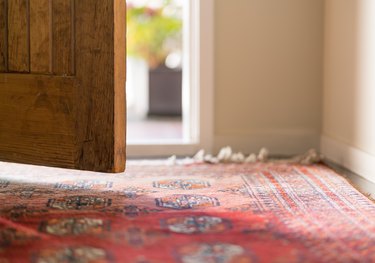 2. Mix and Match Materials
One goal of layering rugs is to create texture that's visually interesting. Combining rug types is an easy way to do that—for example, top a Persian carpet with a jute rug or layer nylon over wool. As you evaluate your many low-pile options, look at both indoor and outdoor rugs. Outdoor rugs are often made of materials like polypropylene rather than natural fibers, so they're easy to clean and ideal for high-traffic areas.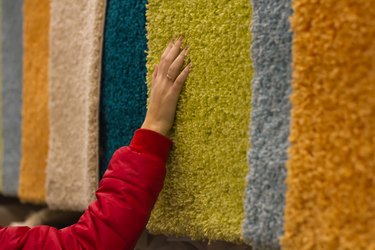 3. Don't Discount Doormats
Incorporating doormats can be a quick and inexpensive way to try the layering trend, and it brings pops of bright color into your home decor. Start outdoors by layering seasonal doormats over sisal or jute rugs at entryways. Indoors, use colorful woven doormats in tight spaces where you might not have room for anything larger than a 3-by-5 base rug. You can also try using several doormats as layering rugs on top of a long runner rug that goes down a hallway.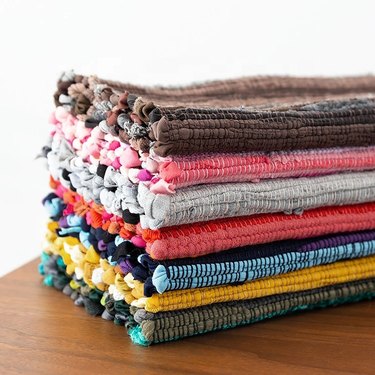 Know Your Rug Types!
Area rugs can be made from lots of different materials. Make sure you know what you're buying! Here's a quick guide to some common yet misunderstood rug terms.
​Jute​ and ​sisal​ are both natural fibers that can be spun into rope and woven to create rugs. Jute is softer than sisal, while the scratchier sisal is the more durable of the two.
​Persian​ rugs are hand-knotted by artisans in and around Iran and are traditionally made of sheep's wool, silk or cotton. ​Turkish​ rugs are also hand-knotted and are made in and around Turkey. The primary difference between the two is the type of knot used. Persian knots are half the width of Turkish knots. This means that Persian rugs can be made with more intricate designs, while Turkish rugs have more geometric designs. Many mass-produced rugs are designed to mimic the style of authentic Persian and Turkish rugs at much lower price points.
​Polypropylene ​is a synthetic resin (aka plastic) that's often used to make outdoor rugs because it's durable, stain-resistant and able to withstand exposure to outdoor conditions.
4. Try Contrasting Patterns
If you're ever going to experiment with bold pattern mixing, your own living room is the best place to do it. A combination that should clash in theory might look perfect to your eye. And if you lay a pink striped area rug over a zebra print over a vintage Moroccan carpet and find you actually hate the way the patterns mix, roll it up and try something else.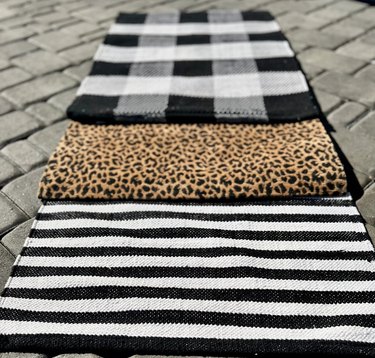 5. Experiment With Angles
Who decided that carpets should always be perfectly parallel to the walls? If you're someone who likes things just a little off-kilter, try playing with different ways to orient rugs in a space. Arrange area rugs at angles to each other so just their ends overlap to create a carpet pathway through your living room. You can also move your bed or couch so it's angled away from the wall and line rugs up to the furniture so they're angled away from the walls too.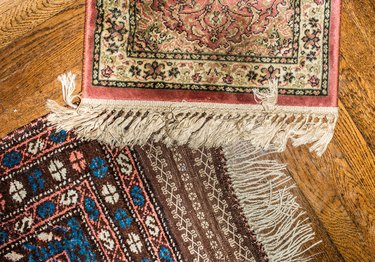 6. Use Texture Under Tables
Thick, fluffy area rugs are delightful to curl your toes into. They can also help make a space feel cozy and warm, so they're perfect for fall and winter. But thick shag rugs have an obvious downside in addition to being tough to clean: They're a serious tripping hazard. An easy workaround is to layer high-pile carpets on top of the rugs under your coffee tables or dining tables. Use a high-pile rug that's only slightly larger than the table it's under. That way, you get the comfort and style of a fluffy rug, but no one has to walk across it.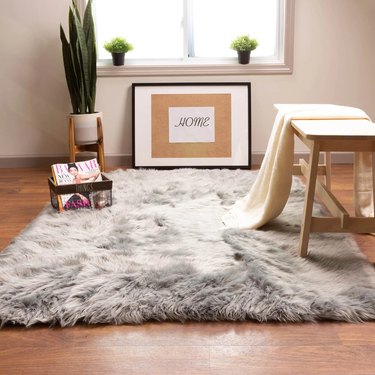 7. Secure Area Rugs With Pads
Even when they're on top of carpet (as opposed to slippery tile or hardwood floors), rugs can shift underfoot. That's both a tripping hazard and a constant inconvenience since you'll be moving them back into place all the time. Use a nonslip rug pad under any carpet that doesn't already have its own rubber backing.
Gripper pad for rugs over carpet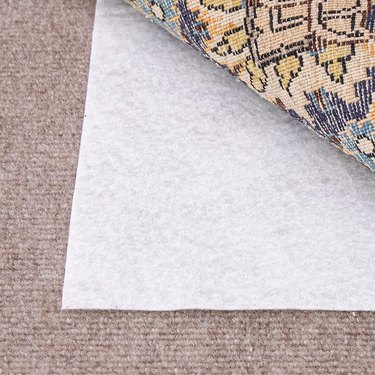 Safety First!
Your stylish new rug arrangement won't look so cute if it sends someone to the ER. Even with thin materials and using nonslip rug pads to hold carpets in place, layered rugs can move underfoot and cause people to trip and fall. When you put a new rug down, have everyone in your household walk around to make sure they feel comfortable with the carpets. Never use layered rugs on staircases or in a home where people use crutches or other mobility devices to move around.
8. Play With Unusual Shapes
While you're thinking about new ways to use rugs, think outside the box—or more specifically, outside the rectangle. There's a huge variety of rug shapes from which to choose, and they're automatically more eye-catching than standard rectangular rugs. Using an area rug with an abstract shape creates a focal point on your floor.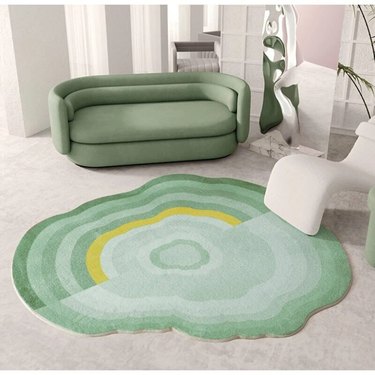 9. Play Off Your Wall Art
Is there a colorful painting or enlarged photograph hanging prominently in your home? Layering rugs can be a way of complementing and highlighting your favorite wall art. Using multiple rugs allows you to echo the color scheme of that art. Say you have a huge family photo blown up on canvas in which you're all wearing white and the sun is setting behind you over the ocean. You might layer blue, white and terracotta rugs to play off the colors of the water, your clothing and the sky.
10. Expand Your Options With Reversible Rugs
The appeal of reversible rugs is clear. Just turn it over when you want to create a new look, and if one side gets badly stained, you can always flip it to the other side rather than buying a new rug. Woven rugs are often advertised as reversible because certain weaving techniques naturally create slightly different color patterns on each side of the carpet. They're the perfect kind of carpet for indecisive home decorators who hate committing to just one style.
Reversible weatherproof rug