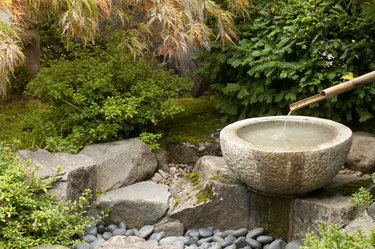 If you want to add soothing sounds and a tranquil ambiance to your outdoor space, an outdoor water fountain is a great way to do it. An outdoor water fountain can turn an average backyard into a relaxing and inviting zen-like space.
Before you make your purchase, there are several things to consider. Choosing the right outdoor fountain for your landscape design involves practicality, but it's also about personal preference.
What to Consider When Purchasing an Outdoor Fountain
‌Size:‌ The beauty of outdoor water fountains is that they can be any size and still be aesthetically pleasing. Small fountains can complement your existing outdoor decor while bringing some zen to the space, while large fountains are more of a standalone accent piece that draws attention. You do, however, have to make sure that the fountain you purchase will fit in your space. So, you might want to measure the space and compare it to the fountain's dimensions before you commit to a piece.
‌Style:‌ There are several styles of outdoor fountains to choose from, including modern, rustic and traditional fountains. The types range from garden fountains to tiered fountains to waterfall fountains to wall fountains.
‌Material:‌ You can find outdoor fountains in a variety of materials including metal, stone, concrete, fiberglass and resin. Since the fountain will be outside and exposed to the elements, you should make sure that whatever fountain you buy is durable. Stone and concrete are the most durable and can withstand all types of weather. Resin and fiberglass are lightweight and more affordable than heavier options, but you run the risk of the fountain not being able to withstand inclement weather.
‌Water Source:‌ There are generally two ways an outdoor fountain maintains its water source. Large fountains are sometimes connected to a home's water source (although it's rare), which supplies the fountain with endless water as long as the water remains turned on, while smaller outdoor water fountains can be filled with a hose and come equipped with a pump that continuously circulates the water through the fountain. Fountains that are filled manually have to be refilled with water every now and then.
‌Power Source:‌ The two most common power options are hardwired and solar-powered. Hardwired outdoor fountains require an electrical outlet to function and solar-powered outdoor fountains depend on the sun and don't require an electrical outlet.
‌Installation:‌ Most water fountains are easy to install and include a kit with everything you need to get it up and running. Typically, set-up requires you to connect the included pump to the tube, fill the fountain with water and plug it in. Outdoor water fountains should have no problem being plugged into any electrical outlet, but if you don't have one near where you want to place the water fountain, you might need to have an electrician put one in.
Scroll on for the best outdoor fountains that'll bring some tranquility to your space.
The Best Overall Fountain
It really doesn't get more tranquil than a rock fountain that looks like realistic stone. This freestanding fountain offers soothing water sounds without being the focal point or centerpiece of your outdoor space. It can blend in perfectly with your landscaping to provide natural water sounds. Its tiered design makes it sound like a real waterfall as water trickles down. The durable resin, stone powder and fiberglass construction is weather-resistant.
‌Dimensions:‌ 23" x 18" x 40"
‌Material:‌ Polystone with fiberglass
‌Weight:‌ 40.3 lbs.
‌Power Source:‌ Corded electric
‌Special Features:‌ LED lights
Place this rustic barrel fountain in your backyard living space to add the ambiance and hear the water flow all day long. This freestanding fountain with an electric pump uses a self-contained water recirculation system to create a gentle trickling sound—you'll just need to add water once a day (or whenever you plan to enjoy your outdoor area) to maintain a steady flow of water. The fountain is made of plastic, but for the price, it's a great way to add to your garden decor without spending too much money.
‌Dimensions:‌ 18'' x 16'' x 27''
‌Material:‌ Polypropylene
‌Weight:‌ 6 lbs.
‌Power Source:‌ Corded electric
‌Special Features:‌ Recirculating water system
The Best Freestanding Fountain
If you're looking for an outdoor fountain that doesn't require plumbing, this metal patio fountain from Alpine Corporation is a great option. Featuring four tiers of cascading water that flows through a recirculating interior water pump, the fountain has an eye-catching, modern industrial aesthetic. It's weather- and rust-resistant, so whether it's placed under a shelter or directly outside, it's durable and will withstand the elements.
‌Dimensions:‌ 20" x 14" x 43"
‌Material:‌ Metal
‌Weight:‌ 22.66 lbs.
‌Power Source:‌ Corded electric
‌Special Features:‌ Recirculating water system
The Best Tabletop Fountain
This low-maintenance tabletop water fountain will make you feel like you're at the spa. It can be used indoors or outdoors and requires no additional hardware or plumbing to use, but it does need to be plugged into an electrical outlet. The fountain cascades water over three tiers of Japanese-inspired raku bowls to create a zen-like ambiance in your space. The company recommends using distilled water, which the built-in pump will recirculate.
‌Dimensions:‌ 6.5" x 6.5" x 7"
‌Material:‌ Plastic, resin
‌Weight:‌ 2.3 lbs.
‌Power Source:‌ Corded electric
‌Special Features:‌ Recirculating water system
The Best Wall-Mounted Fountain
You don't need floor space for World Menagerie's Natural Stone Fountain as it attaches to a wall. Made of natural green slate, the water flows along the fountain to the LED-illuminated basin of river rocks. A built-in pump door gives you access to water adjustments without draining the existing water.
‌Dimensions:‌ 37'' x 10'' x 8.5''
‌Material:‌ Slate
‌Weight:‌ 35.4 lbs.
‌Power Source:‌ Corded electric
‌Special Features:‌ LED lights
The Best Design-Forward Fountain
It's small, but it sure is pretty. This zen-like Cylinia Fountain from Pottery Barn would look great on a table, on the ground next to potted plants or placed somewhere in a garden. A built-in water pump recirculates the water through stones and emits a peaceful fountain sound. The company notes that the fountain should be raised off the ground or brought inside during the winter months to prevent freezing.
‌Dimensions:‌ 9.5" x 6.5"
‌Material:‌ Cast stone mix (sand, stone, water and cement)
‌Weight:‌ 21 lbs.
‌Power Source:‌ Corded electric
‌Special Features:‌ Recirculating water system
The Best Solar-Powered Fountain
A solar-powered fountain is a great option if you want to place it in the middle of your patio or garden where it won't reach an electrical outlet. This solar-powered fountain has a classic, elegant look and creates a soft ambient water sound that'll add some peace to your outdoor area. The battery is charged in the sun and the stored energy is used to power the fountain at night or when it's cloudy outside. It takes one to two sunny days to fully charge the battery, and from there, it'll run for up to six hours. Whether the fountain is running or not, it also makes for a great bird bath.
‌Dimensions:‌ 20.8" x 34.5"
‌Material:‌ Glass fiber reinforced, concrete
‌Weight:‌ 26.4 lbs.
‌Power Source:‌ Solar powered
‌Special Features:‌ Recirculating water system