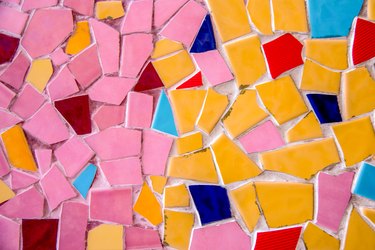 Tile can be stark and modern, warm and whimsical or intricately arranged to create museum-level mosaic artworks. There's a tile aesthetic for every style, and tile is also trendier than ever thanks largely to social media. Between tile brands showing off new products and DIYers demonstrating home decor techniques, you could easily spend hours scrolling yourself down a wormhole of aspirational tile design.
Your creativity is bound to kick into overdrive once you've seen how simple it can be to install, decorate with and even ‌make‌ tiles. So go ahead and embrace the tile trend! Just remember: If you start thinking, "I bet I could retile this entire house with a marble floor," you've gone too far...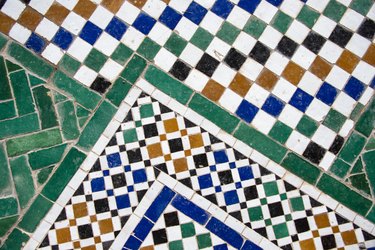 As you embrace the trend, think beyond square tiles and neutral colors. There's a wide world of creative possibility, especially when you use mosaic tiles to dream up your own designs. Check out TikToker @killaguilehouse's gorgeous garden mosaic for inspiration and don't be afraid to experiment with mosaic tiles yourself! Start with decorating a tray or small surface to build confidence in your skills before moving on to a wall.
Use tile to transform thrift shop furniture and simple side tables into one-of-a-kind decor. Check out @creationsbyellikenn's TikTok for an eye-catching demo using sheets of mosaic checkerboard tile. A classic black and white color combo offers deco vibes, but you can customize your tile choice with whatever color palette inspires you.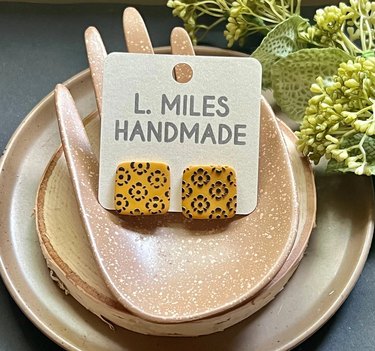 DIY-based trends can feel daunting. What if you like the tile aesthetic but don't ‌actually‌ want to retile your entryways...or, really, do anything requiring a trip to the home improvement store? Jewelry is always the answer! Wear a pair of handmade faux tile earrings, like this vibrant pair from Etsy creator LMilesHandmade.
We've all tried making our own bread or crafting our own wall art, but most of us haven't thought, "I should DIY some cement tiles!" Hey, life is about new experiences, so why not give it a try? Take a cue from TikToker @withinthegrove, who made hundreds of handmade black tiles for her entryway. Use handmade tiles to create a garden footpath or paint them with tile patterns and use them as home decor.
Tip
Want to try making your own tiles? You'll need some basic DIY supplies (gloves, a bucket, a drop cloth to contain the mess, etc.) plus some other important supplies, including: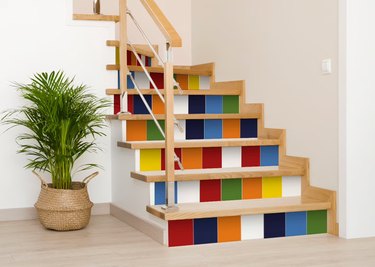 There are truly no limits to the possibilities of peel-and-stick tile decals like these bold and bright stickers from Etsy seller AlegriaM. Using self-adhesive temporary tiles allows you to revamp your kitchen backsplash, staircase risers, battered chests of drawers or other vertical surfaces.
6. Checkerboard Tile Nail Art
It takes a certain amount of fine motor skill to paint any sort of intricate design on your own nails. Painting a 3D checkerboard pattern to display your fascination with the tile trend, like TikToker @essie did, is truly next level. If you were really good at the board game Operation, you might be able to copy it yourself.
Transform a tired bathroom or kitchen floor with a DIY checkered tile paint job. Cover existing tile with a layer of paint and then follow grout lines to cover half the floor tiles with a second color (a la @flippingvintage_76's demonstration). For nontiled surfaces like vinyl, design your own checkerboard floor using painter's tape to lay out the pattern. A black and white checkered floor is classic, but a color combination that accentuates other decor would look pretty cool too!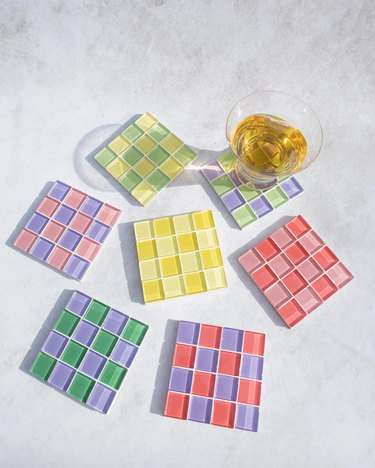 Here's one of those adult truths that 8-year-old you never would have believed you'd agree with someday: You can never have too many coasters! They're kind of like jewelry for your living room or dining room, adding pops of color and visual interest that help tie the room together. These glass tile coasters from Etsy seller SubtleArtStudios combine a classic checkerboard pattern with cheerful, candy-bright color combinations.
There are more ways to use and mix tiles than you could ever dream up yourself. That's where tile influencers come into play! Follow accounts like @mercurymosaics, a woman-owned business that creates artisanal tiles by hand, to spark creativity and explore ideas for customizing your space with tiles. Other follow-worthy Instagrams include @granadatile and @tilebar.
Would a checkerboard floor work in your kitchen? What kind of design would you create with mosaic tiles? And could you actually nail a 3D checkerboard manicure (pun intended)? You won't find out until you try bringing the tile trend into your life!