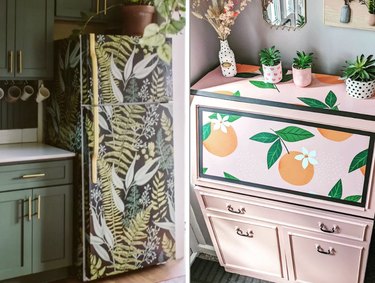 Wallpaper used to get a bad rap. Once considered outdated and ‌hideous‌, traditional wallpaper also had a reputation for being tedious to install and difficult to remove. Enter: Peel-and-stick wallpaper, which has totally rejuvenated the patterned wall trend. It's easy to apply, removable and makes for an affordable room makeover that anyone can tackle.
From muted tones for minimalists to bold designs for maximalists, there are peel-and-stick varieties for any taste. But removable wallpaper isn't just for walls! In fact, many DIYers have used it to create inspiring designs on stairs, furniture and even appliances—and we've rounded up a few of our faves. Prepare to channel your inner designer with these fun, quirky, unconventional and downright beautiful peel-and-stick wallpaper ideas.
Yes, peel-and-stick wallpaper even sticks to refrigerators! TikTok user @liz.morrow.diy wraps a plant print around her old white fridge—and this design hack works on stainless steel fridges too. What a fun way to help your fridge match your kitchen's color palette. Although patterns and complex designs are a blast, you could even wrap your fridge in a single color for simpler vibes.
2. Peel-and-Stick Stair Makeover
They're often overlooked, but stairs can complement the rest of your home decor. TikToker @sprucingupmamahood carefully measures the length and height of her stair risers, then cuts peel-and-stick wallpaper into strips. This isn't her first rodeo, as she (easily) removes previous peel-and-stick strips before placing new ones. Stairs are an important part of the home and deserve to tie in with the rest of the interior design.
Painted accent walls were popular in the early 2000s. Now, you don't even need to open a can of paint to achieve an accent wall! Simply peel the backing off removable wallpaper, press it to the wall like a big sticker and smooth out any air bubbles. No mess. No fumes. Just a fantastic feature wall with any design you choose. The most fascinating part of this mushroom wall (other than its enchanting woodland vibes!) is that TikToker @thewoodengypsy was brand-new to peel-and-stick wallpaper when she started. This was her first foray, proving that the medium is accessible—even for true beginners.
Next up, Instagrammer @my_quirky_home_ uses peel-and-stick wallpaper to bring old furniture back to life by finding the perfect print to complement a pretty-in-pink cabinet. For your own DIY project, cover an entire piece of furniture in removable wallpaper or consider matching wallpaper designs with paint. So versatile!
5. Whimsical Kitchen Backsplash
Instagrammer @tylerprintessdesign gave this cook nook a dramatic glow-up with a whimsical wallpaper pattern, then applied protective glass to help it stand the test of time. Who knows? A gorgeous kitchen like this might even inspire you to cook more. Or, at the very least, it might become the picture-perfect place to photograph takeout orders (no judgment here)!
Doors deserve some love! After all, they're high-traffic areas—you use them every day. In an a-‌door‌-able twist, TikToker @_londruhh uses a floral wallpaper to dress up her dull door. It's almost unbelievable how a simple roll of peel-and-stick wallpaper can make the most mundane surface look magnificent. Add a fancy door knob to your own wallpapered door and you'll have a statement piece that will make visitors gasp with delight.
7. "Cloffice" Transformation
Closet + office = ‌cloffice!‌ Instagram DIYer @thorn_cove_abode used temporary wallpaper to make this tiny space feel like its own little room. This home office idea is perfect for those working with small spaces or those who don't mind working ‌in‌ small spaces. A beautifully maintained ‌cloffice‌ embodies closet, home office AND organization #goals.
Replacing countertops can be an expensive undertaking. Never fear! TikToker @breatheearth offers a solution for transforming countertops using just one $10 roll of peel-and-stick wallpaper. No worries if you don't line up the sticky wallpaper perfectly the first time—it's easy to reposition and cut away excess pieces. Sometimes a modern refresh calls for nothing more than a quick DIY project.
While many temporary wallpaper creations use repeated patterns, Instagrammer @mymummyloves took the trend to another level by "glamming up" her bedroom with a peel-and-stick mural. Paired beautifully with a crystal chandelier, the Roman landscape mural wraps around the entire room—and we're sure it feels like taking a vacation while lounging cozily in bed. You can find us hanging out here forever!
Ready to take your fridge from drab to fab or make your stairs a conversation piece? All it takes is a vision, a bit of time and, of course, plenty of peel-and-stick wallpaper. Go ahead and purchase a roll to get started—the possibilities are endless!