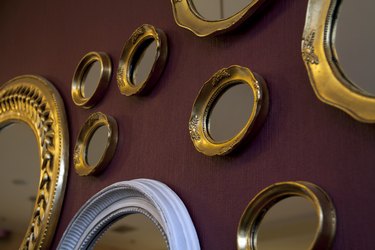 Mirrors are essential for everyday personal care, like brushing teeth, shaving, doing makeup, getting dressed, and making sure you look like an overall presentable human being before leaving the house. But mirrors aren't just for catching your own reflection. The right wall mirror can add light, dimension, symmetry and a decorative element to any space, but if you're going for something a bit more edgy, fun or whimsical than the average wall mirror, this list is for you.
A funky wall mirror can be more of a statement or accent piece than the typical wall mirror while still serving its purpose. It can double as a piece of art, so when you buy one, you're investing in both function and home decor.
What to Consider When Buying a Funky Wall Mirror
‌Size:‌ Before you settle on a mirror, you should first measure the wall space. A large mirror generally looks better on a wall with a lot of empty space, while a small mirror can look good on a wall with other hanging decor. A small mirror on a large, empty wall can look insignificant and out of place.
‌Shape:‌ Mirrors come in a variety of shapes, including squares, rectangles, triangles, circles and even funkier irregular shapes. If your home decor is already busy and colorful, you might want to go with a simpler frame that doesn't detract from your existing decor. Simple frames can still be funky and fun. If you want a mirror that'll add some pizzazz and double as a full-blown art installation, irregular shapes or mirrors with large and loud frames are a great choice. Several small mirrors grouped together can work well on a gallery wall.
‌Function:‌ Mirrors have different functions, so think about what you intend to use your mirror for before you start your search. Do you want a full-length mirror so you can see your head-to-toe outfit; a smaller mirror for the bathroom so you can apply makeup, do your hair, etc.; or do you intend to hang more of a decorative mirror on the living room wall where the mirror part isn't as important as the design?
‌Price:‌ The price of wall mirrors can range from under $100 to upwards of $1,000 or more. If you don't want to spend a lot, be sure to read reviews to make sure the glass is high quality, otherwise, deformities can make it look cheap.
Keep scrolling for some funky wall mirror options that we think you'll love.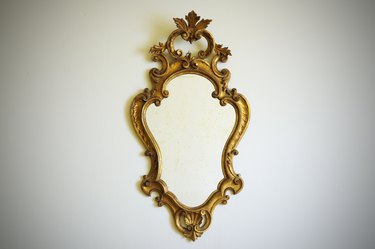 1. Umbra Prisma Irregular Wall Mirror
There's a lot to love about this modern hexagon mirror that's framed with geometric shapes made from plated metal wire, adding depth and beauty to any room. The mirror can be hung vertically or horizontally, making it versatile for your space. It doubles as a storage space because items like jewelry can be hung from its wireframe. Choose from a copper, brass, black or white finish.
‌Dimensions:‌ 3.38" x 17" x 22.38"
2. DosHermanosWood Geometric Wall Mirror
You will love this simple, yet eye-catching modern mirror. This handmade rectangular wall mirror consists of one large mirror cut in half to make two geometric triangles. It can hang either vertically or horizontally, and it'll look great in a living room, dining room, bathroom or bedroom. Really, it's perfect for any room that needs a little something fun on the wall. The rectangle mirror comes with attached hooks so it can easily be hung.
‌Dimensions:‌ 23.6" x 20"
3. Mercury Row Ansley Round Wall Mirror
The addition of this metal round mirror will bring a modern aesthetic to your living space. The gold finish will blend nicely with neutral colors and distressed details give the mirror an antiqued look. The circular metal frame has a contemporary silhouette that makes the mirror more of an art piece than a simple mirror. The mirror comes in two size options with both horizontal and vertical orientations.
‌Dimensions:‌ 26" x 26" x 1.5", 32" x 32" x 1.5"
4. Anthropologie Sculpted Rattan Mirror
For a mirror with a whole lot of personality and, dare we say, drama, check out this handcrafted Art Deco-inspired mirror. It's made of laminated rattan, wrought iron, mirrored glass and wood. Since the mirror is handmade, there will be slight variations between the one you receive and the photo since no two are exactly alike. It's ready to be hung but hanging hardware is not included. The mirror will look great in your living room, entryway, den or any frequently used room, and it'll also make for a great bathroom vanity mirror. The color options are black or neutral.
‌Dimensions:‌ 35.5" x 27.25"
5. Opalhouse™ designed with Jungalow™ Wood Resin Decorative Wall Mirror
Don't be afraid to make a bold statement with pattern. This affordably priced mirror from Target's Opalhouse line has a geometric shape with a black and white zigzag pattern. It measures 18 inches long by 24 inches wide, so it's suitable for a bathroom, entryway, nursery, gallery wall, or wherever else you can think to hang it. It's not super heavy (weighing just over 6 pounds), so it's easy to mount on the wall, although hardware is not included. You can opt to hang it horizontally or vertically as there are hooks on the back for either configuration.
6. Anthropologie Wooded Manor Arch Mirror
This vintage-inspired wall mirror is adorned with a woodland figurine at the top. You have the choice of a bird or deer (the owl and rabbit options are sold out), each of the mirrors being a different size with beautiful arched tops. The bird mirror, pictured here, is small and shield-shaped—it would make a great vanity or bathroom mirror, or it would work well alongside other pieces of wall decor. The deer-adorned mirror is a bit larger and has an elongated shape.
‌Dimensions:‌ 24" x 22.5" (bird), 37.25" x 24.75" (deer)
7. WoodenArtDesings Asymmetrical Wavy Mirror
Irregular mirrors breathe life into an otherwise boring space. Not that there's anything wrong with boring, as sometimes that's just hard to avoid, but if you want to liven things up, this asymmetrical wavy mirror will do the trick. Handmade, the shape of this modern mirror is unique and unlike any other. Add it to your existing gallery wall alongside picture frames or hang it by itself. It's incredibly sturdy and well-made, and the back of the mirror is crafted with four ways to hang it. The mirror comes in a black or white base color.
‌Dimensions:‌ 14" x 22", 19" x 30", 23" x 35", 25" x 40"
8. Alasdair Asymmetrical Wall Mirror
If you want to add an art piece to your wall along with a functional accent mirror, this fringe-adorned mirror will do the trick. It certainly makes an impact, measuring 36 inches wide and 29 inches high, but weighs only 12.5 pounds, making it easy to hang. The semi-circular mirror's fringe is made of hemp rope in its natural color. No assembly is required and it has two keyhole hangers for mounting. This wall mirror will add boho flair to any room, whether you choose to hang it in an entryway, dining room or living room.
9. Large Heart Wall Mirror by Leanne Ford
Perfect for a bedroom, this heart-shaped wall mirror inspired by a hand-drawn sketch will be a sweet way to remind your kids (or even yourself) how much you love them. The frame is made of black- or white-finished iron, creating a "perfectly imperfect silhouette." Choose from two sizes, small (18 by 20 inches) or large (26 by 30 inches), pictured here.
‌Dimensions‌: 18" x 20", 26" x 30"
10. StudioPenniLou Hand Tufted Wavy Mirror
We've never seen a wall mirror quite as unique as this one. Hand-tufted by an Australian artist using hand-dyed New Zealand wool, this wavy mirror features shades of cream, orange and pink. The mini size measures 20.4 inches by 15.7 inches and weighs just under 7 pounds, while the original size measures 31.5 inches by 25.6 inches and weighs a little over 12 pounds. If this colorway doesn't match your home decor, StudioPenniLou offers several other trendy designs including floral, plaid and checkered.
‌Dimensions:‌ 20.4" x 15.7", 31.5" x 25.6"