Scalloping details first emerged as a trend in 2021, and they've been everywhere ever since. This gently wavy pattern is sometimes used alone (like along the edge of a bathing suit) or as a repeating pattern, like what you might think of as a fish scale pattern. Embracing the scallop trend is a way of bringing vintage style, nostalgia and soft lines into your space—no actual seafood required!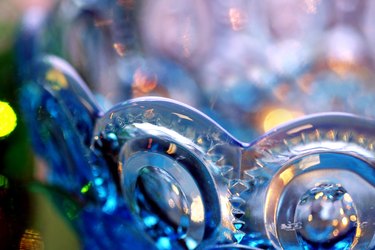 1. Stencil Scallop Pattern
Scallop Edge Wall Stencil for Paint
Painting a perfect scallop border by hand is basically impossible. Painting a scallop border using a sturdy stencil, on the other hand? That's basically impossible to screw up. Use a stencil to paint a narrow scalloped edge along the top or bottom of your wall. Or make a bolder statement with color-blocked walls. Create a scalloped border around the middle of a room and continue the color all the way down the wall.
2. Add Scalloped Temporary Wallpaper
Tempaper Scallop Removable Peel and Stick Wallpaper, 28 sq. ft.
Peel-and-stick wallpaper makes it easy to completely revamp your interior design in a single day. Use temporary wallpaper printed with a fish scale pattern to cover an accent wall, jazz up stair risers or revamp a tired wooden headboard. Look for wallpaper with a metallic finish if you're aiming for art deco style; go with a black and white scallops design if you prefer something more modern.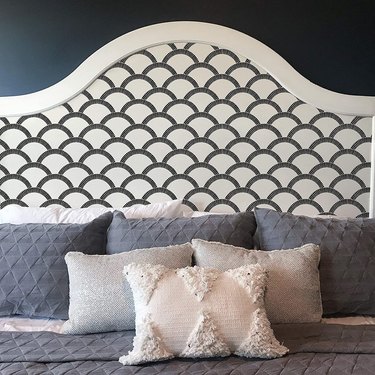 3. Scatter Seashell Throw Pillows
Yi-gog Seashell Decorative Pillows
Velvety seashell pillows are definitely having a moment. They're delightfully retro and just as suitable for a preppy teen's bedroom as a luxe beach house. If you're a DIYer with some sewing skills, you can easily find a sewing pattern and YouTube tutorials for creating your own seashell pillows from scratch, but the process is painstaking, so buying velvet pillows in a few rich shades might be your better choice.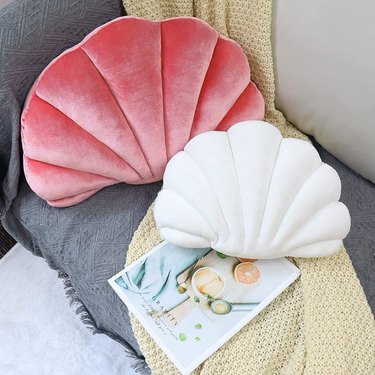 4. Create a Scalloped Frame Behind Wall Art
Scalloped Shape Wall Stickers
Adding a scalloped edge around your mirrors and framed photos is a quick and temporary way to add more color and whimsy to your walls. Using individual stickers makes it easy to follow rounded shapes, like circular mirrors. Plan out your border first to make sure the final sticker you place will fit perfectly.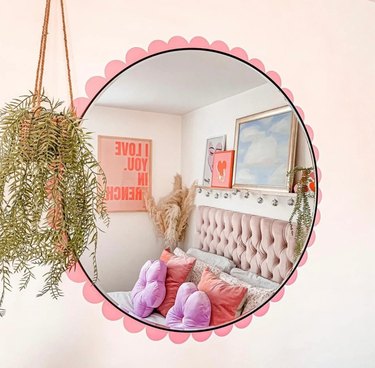 5. Lay Down a Scalloped Area Rug
Natural Jute Scalloped Rug
Buying an area rug with a scalloped edge is a subtle way to work this trend into your home decor without looking like you're trying to be trendy. A jute rug with a wavy border highlighted by colorful stitching is neutral enough to work with any design style. You might even find it adds a little vintage style to your space; this is the kind of rug you can picture seeing in a simple home a century ago.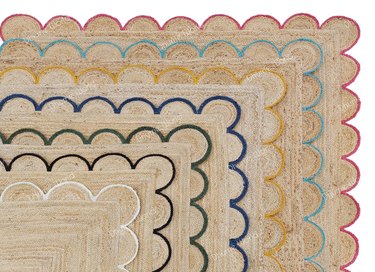 6. Buy (or Make!) Scalloped Tablecloths and Placemats
Scalloped Placemats, 2-Count, 14" x 20"
If you're all about DIY, adding a scalloped edge to tablecloths and placements is one way you can experiment with creating on-trend decor. But cutting a perfectly consistent wave pattern all around the edge of the fabric can be difficult, so feel free to take a shortcut with professionally made linens.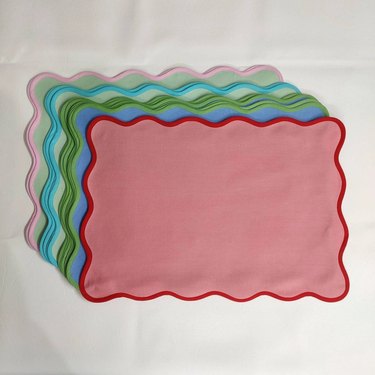 Tip
Cutting your own scallop pattern into fabric freehand is challenging if you don't have a pattern to follow. The smaller the scallops, the harder it is to cut them each to a uniform shape and size. Using scalloped pinking shears lets you cut a scalloped edge into thin fabrics or paper crafts.
Mushroom Forest Scalloped Lamp Shade
A lamp shade with a scalloped edge can definitely read retro compared to the clean shapes of the lamp shades used in modern design—not that that's a bad thing. Bring in scalloped lamp shades in pastel colors to embrace a vintage '50s look or opt for shades that pair the scallop shape with a modern print.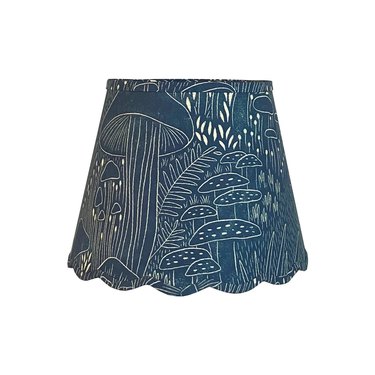 8. Put Up Scalloped Floating Shelves
Floating shelves with scalloped edges combine function with style. Install these shelves to give yourself more storage space and/or to create a rotating art gallery. It's easy to swap out framed photos, holiday decor and other artwork when they're just propped on floating shelves. A shelf with a scallop pattern along one edge can typically be installed either with the scalloping running along the top of the shelf or the bottom of the shelf depending on your style preference.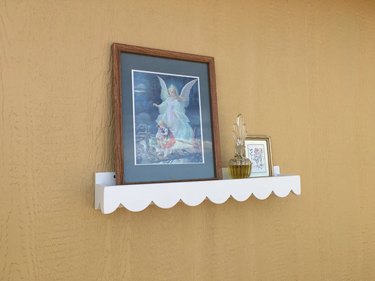 9. Hang Scalloped Valances
Window valances are a natural place to incorporate scalloping. This wavy pattern creates a lovely contrast to the straight lines of your windows, so scalloped valances are a good choice in a room where you're aiming for soft and cozy style. Sewers can DIY their own valances fairly easily, while nonsewers have plenty of professionally made options.
10. Upgrade Your Headboard
Velvet Upholstered Headboard, Full/Queen Size
How long have you been sleeping under the same headboard? It's probably the biggest focal point in your bedroom, so changing your headboard is a minor investment with major impact. Choose one in a rich color with a softly scalloped edge to make your bed look as cozy and inviting as possible.