We're firm believers that you can never have enough candles. They add ambiance, a warm glow, and a heavenly scent (or no scent, if you prefer!) to any room. Your living room, dining room, bathrooms and bedrooms can all benefit from a candle or two, and they make for a fool-proof gift too.
If you're in the market for a new candle (or 10), you're in luck. We've shopped for cool sculptural candles from one of our favorite budget-friendly options: Etsy. Not only can you support small businesses and artists by shopping for candles on Etsy, but since they're handmade, you can often customize the color and scents to your liking.
These aren't your plain old cream-colored, vanilla-scented candles. These are fun, funky and colorful creations that instantly add charm to any space in your home, from a fireplace mantle to a side table to an outdoor dining table.
What to Consider When Buying Handmade Candles from Etsy
‌Type of Wax:‌ There are pros to every type of candle wax, including beeswax, soy and paraffin. Many candles are made out of paraffin wax, which can hold a lot of fragrance and color. Since paraffin is made from a byproduct of the oil industry though, it's not considered eco-friendly. Soy wax is efficient, and will burn up to 50 percent longer than paraffin wax, but doesn't hold scents as well. Then there's beeswax, one of the oldest, most traditional forms of candle wax, which is generally considered the most environmentally-friendly wax. Which one you choose is purely based on personal preference.
‌Scents:‌ Few things are more personal than fragrances. What is delightful to one may be overpowering to another, and more often than not, people with those opposing feelings live under the same roof. That's one reason we love buying candles from Etsy. Oftentimes, you can choose the scent of a candle, or you can elect to leave it unscented.
‌Individual or Sets:‌ Whether you're shopping for individual candles or sets, there are upsides to both ways of buying. Buying individual candles gives you the flexibility to try various colors and shapes, mixing and matching them. Buying sets, meanwhile, alleviates any "should I get the pink candle or the yellow one?" and usually breaks down for a cheaper price per candle.
From taper candles to pillar candles and more, read on for 12 quirky candles worth adding to your Etsy cart. They're almost—we said almost!—too beautiful to burn. (You should anyway.)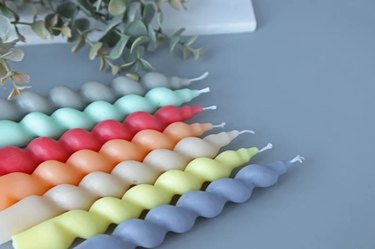 The Best Customizable Candle Set
For a little bit of all things funky, we love this customizable candle set. Choose from a host of shapes, including sea shells, bubbles, swirls, arches, twists and s-shapes, as well as seven soft pastel colors for a set that is truly one-of-a-kind. These candles are handmade with soy wax, meaning they burn slow and clean, so you can enjoy them even longer.
The Best Taper Candle Set
Stock up on a half dozen candlestick holders, because you'll want to add this set of six pastel-colored taper candles to your Etsy cart immediately. They're made out of a blend of beeswax, widely considered the most environmentally-friendly wax, and soy wax, which gives the candle a creamy, buttery finish. Bonus: When you buy as a set, as opposed to purchasing them individually, you're essentially getting more than a candle for free too! The shorter candles have a burn time of four to five hours, while the taller ones burn for approximately eight to nine hours.
The Best Bubble Cube Candles
Whether you light these candles or simply admire them from a side table or mantle, we couldn't love bubble cube candles more. They add color, texture and serious fun to any space. This Etsy seller offers them at an affordable price point (just $12!) in dozens of colors, including brights, pastels and neutrals. Choose from just as many essential oil-based scents, or opt for unscented. How about a red lemongrass candle or maybe an emerald-green cypress one? If you have decision fatigue, select the "surprise me" option to have this Etsy artist choose for you.
The Best Twisted Taper Candles
Taper candles are a must for every household. Not only do they look charming on a fireplace mantle, but they're essential to adding soft light to a dinner party. Taper candles look especially good clustered together with various heights, colors, and shapes, so stock up on a variety of these, which come in fun hues and equally-as-fun designs. Add a classic taper candle to your cart, in addition to a twisted one, a spiral one and one with a diamond design too.
The Best Wiggle Taper Candles
None of the candles on this list take themselves too seriously, but these hand-curved wiggle taper candles are particularly fun-loving. They're sold in sets of two and are available in 21 hues and three heights. Mix and match these dripless paraffin candles to your color-loving heart's desire, and perhaps add a few more sets to your carts to keep on hand for hostess gifts.
Get ready to answer "Where did you get that candle?" over and over when you decorate your house with this thick braided design. Guests will love them, and so will you. They come unscented, though if you'd like to add a scent, simply message the Etsy seller prior to making an order. Each candle is available in four colors (gray, pink, white or nude) and is made to order with a combination of beeswax and soy wax.
The Best Swirl Pillar Candles
These little beeswax cuties, which come in an array of colors and scents (or unscented), are going to be your new go-to gift. They're small—just over 2.5 inches tall and 2 inches wide—which makes them the perfect "I got you a little something" gift, whether as a favor for wedding guests, a hostess present, or as a small housewarming gift. The elegant swirl design feels right at home in, well, any home.
The Best Ribbed Pillar Candles
Your plain white pillar candles are bound to get dusty and neglected once you add a few of these handmade beeswax candles to your collection. Choose from square or round, as well as three heights and a selection of cool colors. Our recommendation? Mix and match a variety of colors and heights for a design vignette that's equally stately as it is bohemian.
There's no quicker, easier way to add a little joy to your space than with a rainbow arch candle. (Other than maybe two or three rainbow arch candles.) These cheerful arches come in two sizes and seven pastel colors that allow you to mix and match. Since they're unscented, you can easily gift these to anyone and everyone without worrying your recipient won't like the fragrance.
If we told you these handcrafted floral pillar candles are even prettier in person would you believe us? You should. These ornate designs are made to order from a blend of natural soy wax and beeswax, which is far more special than most candles you can buy online. This seller also gives you the option of adding on a handcrafted concrete candle saucer if you'd like. You don't want wax all over your coffee table, do you?
The Best U-Shaped Candles
We're clicking "add to cart" right this second on these U-shaped soy candles. These charmers are hand-poured in eight sweet, soft colors. Leave them unscented or choose from four scents: gingerbread, Madagascan vanilla, dark honey and sandalwood, or black plum and rhubarb. With such a cute design, there's no going wrong.