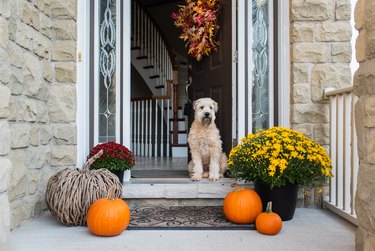 A fall doormat can welcome in the new season ... and your guests! Aside from pumpkin-spiced everything and sweater weather, one of the best parts of fall is the decor. You may or may not ​need​ a doormat dedicated specifically to the fall season, but will it bring joy to you, your family, your friends and your Amazon delivery person? It sure will.
The first day of fall is Sept. 22, which gives you plenty of time to buy the perfect fall doormat. There are several types of doormats to choose from, including fall-inspired styles, punny sayings, Halloween and Thanksgiving-themed welcome mats, and more neutral designs that can be used year-round.
Of course, a doormat serves more purpose than just decor. It can be placed outside or inside your front door, allowing your family and visitors to easily scrub or wipe the bottoms of their shoes before entering your home.
What to Consider When Purchasing a Fall Doormat
​Size:​ The size of the doormat you choose will depend on the size of the entrance to your home. A standard-sized single door will typically work best with a doormat that measures around 30 by 18 inches, while a mat measuring around 36 by 22 inches will fit better with a double door or larger entrance.
​Shape:​ Most doormats are rectangular in shape to fit the entire entryway. You can also find entryway mats that are square, round, half circle, or uniquely shaped like a leaf, pumpkin or another object. Whatever shape you choose, you'll want to make sure that it fits proportionately in front of your door.
​Material:​ The best fall-themed doormats (and mats featuring any type of design or theme) are made of coir, an eco-friendly material made up of the natural fibers from the husks of coconuts. Coir is known for its durability, versatility, cost-effectiveness and slip-resistance. It's the best material for printing words and designs, AKA super cute fall prints. Another good material option is polyester, which is a bit softer than coir. Rubber or PVC material is often placed on the back of doormats to prevent them from moving around.
​Style:​ Doormats get a bad rap, but they don't have to be boring. There are so many designs to choose from, you can be picky and search for a doormat that matches your style and the vibe of your home. Choose a doormat that'll make you smile every time you walk in the door—whether it's pretty, funny or gets you in the mood for the fallidays (fall holidays).
Keep scrolling to see the best doormats of 2022 that'll bring all the cozy fall feelings.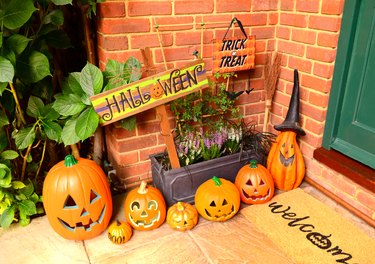 1. Juvale Hey There Pumpkin Fall Doormat
Welcome the fall season with this sweet "Hey There Pumpkin" doormat. The saying could be referring to all the pumpkins you and your kids will likely pile on your doorstep over the next few months, or it could be an endearing term for anyone who walks in your front door. Either way, this coir doormat will get you through the fall season and will be just as relevant for all the fall seasons to come. The back of the mat is rubber to keep it in place.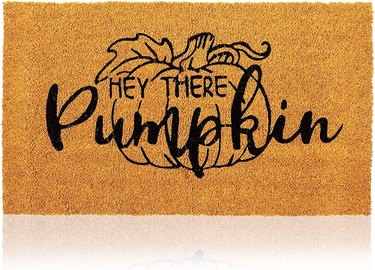 2. Food52 Plaid Coir Doormat
This plaid design can work on your doorstep year-round, if you're willing to brave the winter with such a pretty doormat, that is. In fact, it almost seems too pretty to wipe your feet on, doesn't it? That's how you know you've found a great doormat. Crafted from natural coconut fiber, the mat provides a durable spot to wipe dirt and moisture from your shoes. It features a nonslip backing and lends a chic, minimalist vibe to your front porch decor.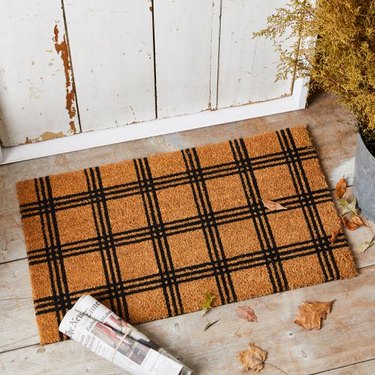 3. Shiraleah "Happy Fall" Doormat
After the long and hot summer we've had, fall could not come soon enough. This doormat is adorned with white leaf motifs and the phrase "Happy Fall" in a modern, bold font. A non-slip vinyl backing ensures that the coir mat will stay put, so while you might be welcoming fall, you won't actually fall.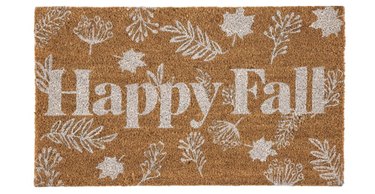 4. Calloway Mills Fall Colors Outdoor Doormat
There's something about fall colors that bring on the warm fall feelings. This welcome mat is clearly designed for fall, but it doesn't throw it in your face. The seasonal colors and foliage are a casual way of adding a touch of fall to your home decor. Vinyl backing and durable coir makes the welcome mat weather tolerant and durable all season long.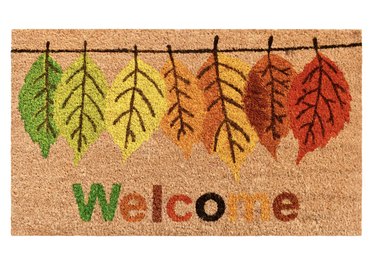 5. Places & Time Stay Awhile Doormat
Whether you want your guests to stay awhile or fall to stay awhile before the dreaded winter season rears its ugly head, this doormat is the perfect autumn-inspired addition to your doorstep. The doormat sports three different colored maple leaves, which can actually work nicely all year long.
6. Ashland Home Football Doormat
For many people, autumn is all about pumpkin patches and warm scarves, but for others, its sole purpose is football season. If you're one of the latter, this football-themed doormat is perfect for you. It doesn't scream "WE'RE A FOOTBALL FAMILY," rather it's a subtle nod to the sport. The mat features UV protection, natural bristles and an anti-slip backing to keep it from blowing away on a windy fall day.
​Dimensions:​ 28.7" x 17.7"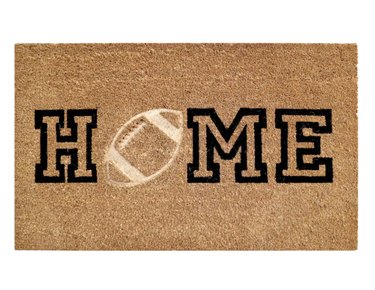 7. Justgottalook Sup Witches Doormat
Technically, this "Sup, witches" doormat can work year-round, depending on what you're into. Of course, it's perfect for Halloween, especially when decorated with pumpkins and other spooky decorations. The coir doormat comes in three sizes: mini, standard and large. Backed with slip-resistant PVC rubber, this mat will hold all the trick-or-treaters. The words are hand painted using an outdoor industrial paint that has built-in UV protection.
​Dimensions:​ 24" x 16", 30" x 18", 35" x 24"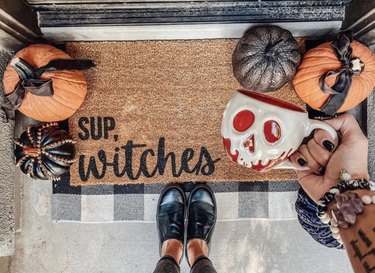 8. MarilynColwellDesign Oh My Gourd Doormat
When it comes to punny doormats, this one is the big winner of the fall season. Since a gourd is, well ... a gourd, this doormat will take you all the way through Thanksgiving before needing to pack it away until next fall. The shipping on this mat is a little steep but the words are hand painted with UV-resistant acrylic paint and well worth it. The mat has a vinyl backing to keep it in place, but if you place it on top of a decorative rug, you might need to adhere some anti-slip grips to the bottom of the rug or set a weighted plant on top to keep it from sliding.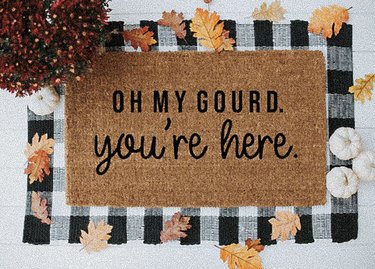 9. Waterstylesa78 Personalized Pumpkin Doormat
This fun doormat is perfect for both the Halloween and Thanksgiving seasons. Made of high-quality polyester with a nonslip rubber backing, this mat is soft on the feet and easy on the eyes. It can be customized with your family name or any other name you want to use, and it comes in three sizes.
​Dimensions:​ 18" x 12", 24" x 16", 28" x 18"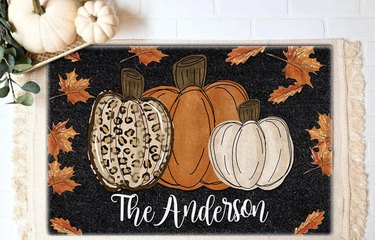 10. Pottery Barn Ghost Light Up Doormat
Your guests (and kids) will get a kick out of this ghostly doormat that's designed with floating specters that light up when they're stepped on. Made of 100% coir with PVC backing, the doormat comes entwined with LED string lights that stay on for about 18 to 20 seconds after they're stepped on. It's a fun way to add some spookiness to your fall decor.