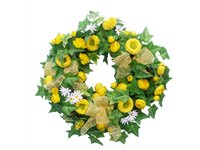 Use a wreath to add a colorful accent to your front door. Mark each holiday with a wreath of its own with themed colors and silk flowers. For instance, craft a heart wreath with red carnations for Valentine's Day or choose Easter lilies, forsythia and daffodils to welcome spring. Hang a large floral grapevine wreath above the fireplace to compliment your color scheme or arrange a group of smaller wreaths above your bed in lieu of a head board.
Things You'll Need
Silk flowers
Wire cutters
Grapevine wreath base
Purchase materials. Visit a craft store or craft department of a large retailer where there will be a variety of silk flowers as well as grapevine wreath bases of various sizes. You may also find what you need at garage sales, craft fairs, and thrift stores. Choose the flowers carefully to be sure there are no empty stems in the bunch.
Prepare the flowers. Spread the bunches of silk flowers out on a table or counter top. Using the wire cutters, snip flowers from the bunches. Cut single flowers as well as clumps of two or three. Snip the stems to 2 to 3 inches in length to make them easier to work with.
Plan your arrangement. Lay the grapevine wreath base on the table or counter next to the flowers. Try out different arrangements by putting the flowers on the wreath without attaching them until you find the look you are going for.
Attach the flowers. Apply a small amount of hot glue on the flower stem, close to the bloom, and press it into place on the wreath, being sure to tuck the stems out of sight between the grapevines. Continue in this fashion until you have achieved an attractive, well-balanced arrangement and all flowers are securely attached.