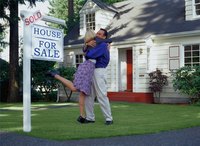 Buying your first home is exciting, but it can also be daunting when you move your old things in and discover that you and your old furniture do not fill the space or the needs of a real home. In many cases, you will need to budget carefully in order to get the items you need and still save money for a rainy day. Make sure that you invest in quality where it counts, and scrimp and pinch only in the areas that will not affect your day-to-day life. Remember to first obtain the things that you need to live in your house comfortably, then build on your furniture and decor later at your leisure.
Buy a bed that will last. Do not purchase a used mattress or an extremely cheap bed, as they will simply fall apart and you will be out hundreds, if not thousands, of dollars. Do not choose a headboard and footboard--no matter how beautiful--over a quality mattress. You may have a gorgeous resting place, but your rest will not be good. If you are unable to buy a good bed immediately, invest in a comfortable air mattress and sleep on that until you have enough money saved for a good mattress. A stellar air mattress will usually cost about a hundred dollars, and you can use them for guests once you have a real bed of your own.
Outfit the dining room with a table and chairs that will do double duty when necessary. Dining room furniture can be found at yard sales or purchased relatively inexpensively from discount stores. Pick a table that can be extended for a game night or when you have company over, and choose upholstered chairs that will be comfortable for guests if you sit around after dinner. Upholstered chairs can also be moved into the living area when guests are over and are easy to "dress up" with slipcovers for seasonal gatherings.
Select a solid sofa. Not counting your bed, your sofa will be the most important item of furniture in your house and will likely get the most use. It should be comfortable, durable and upholstered in pleasant fabric. It does not need to match your other furniture; you can always cover everything with slipcovers.
Look for bargains on chests of drawers and wardrobes. These items are extremely useful for storage and look elegant in a hall or living area, as well as in the bedroom. If you have a lot of closet space, you may wish to use them in unexpected places to hold things like table linens, CDs or movies instead of clothes.
Make sure you have enough light. Many houses have bright, harsh overhead fixtures that are useful for cleaning and when you need to see every corner of a room, but are not friendly on a daily basis. You can buy inexpensive lamps at garage sales or discount stores and use them to soften the edges of a room without limiting the light and making you feel like you live in a cave.