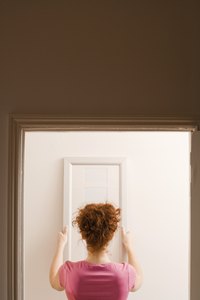 A small room with no windows can be a challenge to decorate. Not only is the space confined, but also the lack of natural light can make it look even smaller than it is. With a little creativity and some basic accessories, however, you can make the room inviting. Think outside of this little windowless box, and you'll come up with a space in which you want to spend more time.
Things You'll Need
Painting or photograph
Curtains
Furniture
Paint the walls a light color, such as white or a pastel. This will make the space feel more open, creating the illusion of space. Avoid dark colors, as they will only make the room appear darker and smaller.
Add lighting to the room. Install recessed light fixtures in the ceiling. Hang a decorative chandelier from the ceiling. Bring in uplights that direct the light upward, instead of down. Use warm light bulbs in the fixtures to create the look of natural lighting.
Hang mirrors on the walls. Hang a single large mirror on a focal wall, or hang several smaller mirrors throughout the space. Light will bounce off the mirrors, creating the look of more space and light.
Hang a large landscape painting or photograph. Set the image on a wall, and surround it with curtains to create a faux window. If that look seems too artificial. Hang the painting or photograph on one wall, and hang white or light-colored curtains from ceiling to floor on another wall. This will create the illusion of a window.
Select small-scale furniture, and use only necessary pieces. For example, if the space is a living area, opt for a love seat and a small armchair instead of a large couch and an overstuffed chair. For a bedroom, use a single or double bed opposed instead of a king bed, and add a single tall chest of drawers.
Add a water element as a final touch. A small fountain with trickling water will help you feel as though a window is open and you're listening to a stream outside.