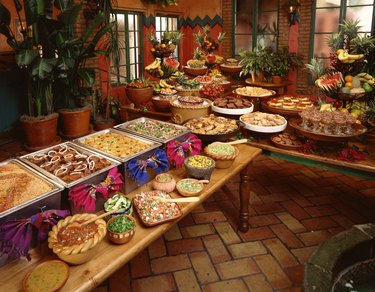 A Mexican buffet can be planned for a number of celebrations, such as birthdays, anniversaries, graduations, retirements or wedding receptions. Keep it simple with basic tacos, and offer easy-to-prepare entrées, giving your guests "south of the border" aromas and flavors.
Starters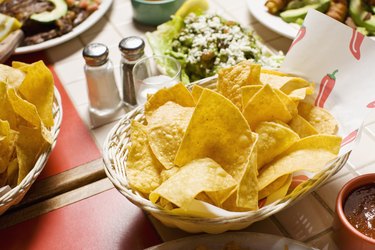 Every Mexican buffet must have chips and salsa. However, if you really want your guests to sit up and notice, offer them freshly prepared salsa and warm tortilla chips. Keep the chips warm in a chafing dish along side your other hot dishes. Fresh salsa (see Resources) can be prepared in mild, medium and hot. Label them, so your guests won't get any surprises.
Add some fun appetizers to the front of your buffet or even at a separate location. It gives guests a chance to mingle before dinner without going hungry. Try jalapeño poppers queso blanco (white cheese dip) or cheese quesadillas, cut in pie-shaped slices (see Resources).
Tacos, Entrées and Sides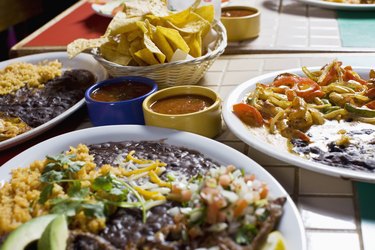 Give your guests a choice between crispy corn or soft flour tortillas, with a chicken and beef filling option. But make them really special with the addition of onions, green or red bell peppers to a spicy recipe (see Resources). For a large Mexican buffet, offer fish, such as cod, halibut, shrimp or crab. Fish tacos are all the rage. Don't forget the condiments, such as lettuce, tomatoes, shredded cheese and hot peppers.
A pan of hot beef, chicken and pork verde enchiladas are crowd-pleasers. You might not think of vegetables, per se, when making up your menu for a Mexican buffet, but roasted vegetables are delicious added to tacos or as a side dish. Also, you won't want to offer only rice and beans to your vegan guests. Slice vegetables such as zucchini, carrots, broccoli, onions, peppers, mushrooms, cauliflower, asparagus, potatoes and sweet potatoes. Place them on a cookie sheet, and drizzle them with olive oil. Cook the vegetables in a 350 degree Fahrenheit oven for 12 minutes.
Offer alcoholic and non-alcoholic margaritas. Just make sure the kids are getting the non-alcoholic version. Some adults, especially the designated driver, would prefer to enjoy a non-spirited drink while not standing out from everyone else.
Dessert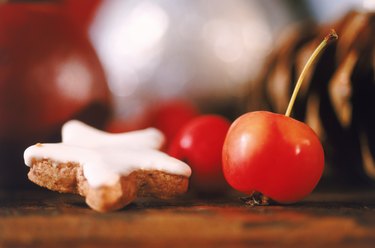 Don't forget to plan for a light but spectacular ending to your buffet with a Mexican dessert. After a heavy Mexican cuisine, there's no room for a rich dessert. Sliced fruit and cookies is the perfect choice. Prepare Mexican sugar cookies a day or so before the buffet. Simply make a batch or two of sugar cookies, but include ½ teaspoon of cinnamon in the recipe. Dust the tops of the cookies with a sugar and cinnamon mixture before putting them in the oven to bake.