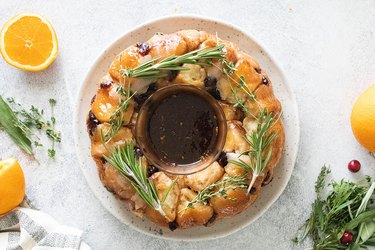 'Tis the season for delicious treats—starting with this festive monkey bread "wreath"! Biscuit dough is smothered in orange-infused butter and cinnamon sugar and then layered with dried cranberries. Once baked, the combo transforms into a ring of warm, buttery goodness.
If that weren't enough, this cranberry-orange monkey bread is more than just a menu item. When garnished with fresh herbs, like rosemary and thyme, the dish doubles as a beautiful edible centerpiece. Who says decor can't be delicious?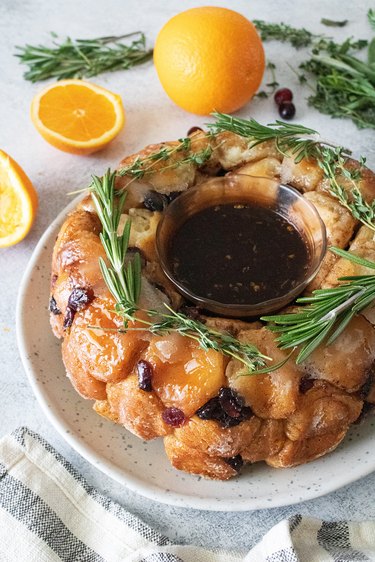 Of course, you can't forget the dip. Serve the finished monkey bread recipe with a simple chocolate-orange sauce to round it all out. Or, if you're feeling extra sweet, go for caramel sauce or a cream cheese icing. The possibilities are delightfully endless!
Since this recipe uses store-bought refrigerated biscuit dough, it's ideal for last-minute potlucks and parties. You could even make it in advance. Simply prep dough in a Bundt pan, cover in foil or plastic wrap and refrigerate overnight. Either way, you can be sure that this easy monkey bread recipe will be a staple of your holiday menu.
Read on to learn how to make monkey bread with a seasonal twist, plus find ideas for styling it as an (edible!) holiday centerpiece wreath.
Video: Edible Centerpiece Made of Cranberry-Orange Monkey Bread
What Is Monkey Bread?
Before we dive in, the basics: Monkey bread is a pull-apart bread that's enjoyed as a snack, dessert or brunch item. It's made with balls of canned biscuit dough layered in a Bundt pan. The recipe can be made sweet or savory depending on the ingredients used to coat the dough. You're also welcome to use homemade dough if you have a go-to recipe; just be sure to adjust the baking temperature and cook time.
1. Cranberry-Orange Monkey Bread
Things You'll Need
Bundt pan


Cooking spray or vegetable oil


2 16-oz. cans of biscuits

1/2 cup unsalted butter, melted

2 Tbsp. orange zest, divided

1 cup white sugar

1 tsp. ground cinnamon

1/2 cup dried cranberries

Fresh herbs for garnish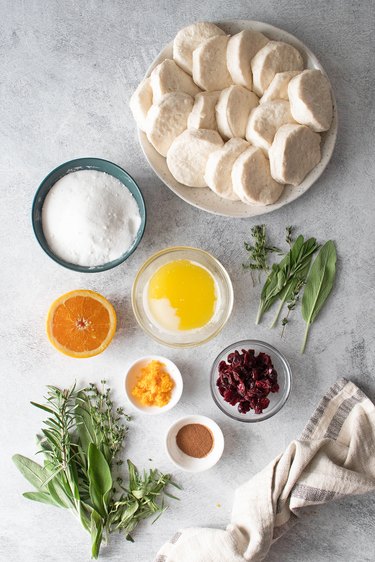 Tip
Typically, homemade monkey bread is made in a Bundt pan. However, "Bundt" is a trademarked name, and you don't necessarily need to use an official Bundt pan. You can use any dome nonstick cake pan with a hole in the middle; they're sometimes called fluted cake pans or fluted tube pans.
1. Prepare flavoring ingredients
Preheat oven to 350°F. Grease a Bundt pan with cooking spray or vegetable oil. Set aside.
Melt 1/2 cup butter in microwave or on stove top. In a small bowl, combine melted butter and 1 Tbsp. orange zest.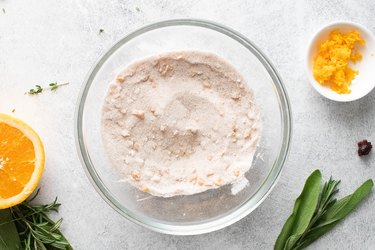 In a separate bowl, combine 1 cup sugar, cinnamon and 1 Tbsp. orange zest. Whisk well.
Tip
For a more caramelized flavor profile, replace granulated sugar with brown sugar.
Open both cans of biscuits and separate dough. Cut each refrigerated biscuit in half and then cut each half in half. This will yield four pieces of dough.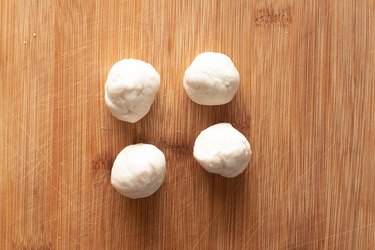 Roll each biscuit piece into a ball.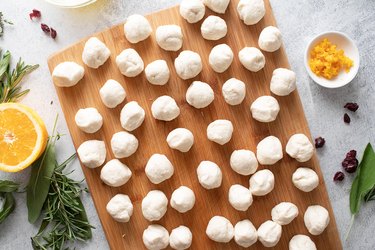 Repeat with remaining dough until you have a total of 64 pieces.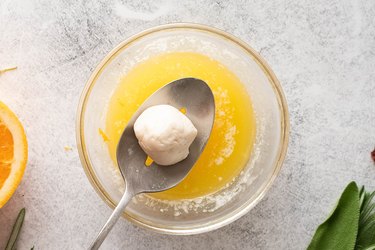 Dip a ball of dough into orange-butter mixture. A slotted spoon is helpful for this.
Roll dough in cinnamon sugar. You can use a slotted spoon, but it may be easier to do this with your fingers.
Place coated dough in Bundt pan. Repeat with first third of dough balls, about 21 pieces, so bottom of pan is covered. Don't worry if chunks of cinnamon sugar end up in the pan. It will become melted and gooey in the oven, giving monkey bread a mouthwatering cinnamon roll-like touch.
Sprinkle half of dried cranberries (about 1/4 cup) on top of dough.
Tip
For a bit of crunch, add 1/4 cup pecans with each addition of cranberries.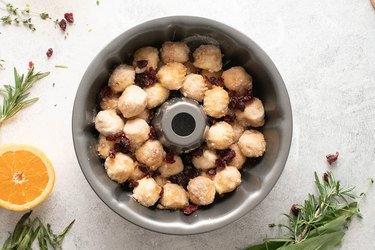 Dip and layer another third of dough, about 21 pieces. Add remaining dried cranberries.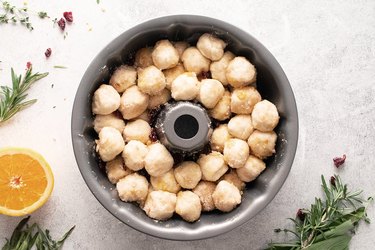 Top with remaining batch of dough.
Tip
If you have leftover cinnamon sugar mixture, add it to pancake batter! You can also sprinkle it on banana bread just before baking.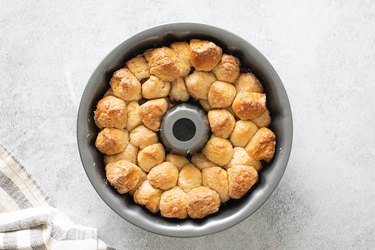 Bake monkey bread for 35-40 minutes or until dough is golden brown. Let cool for 5-10 minutes before handling. Run a butter knife around perimeter of monkey bread. This will help separate it from pan.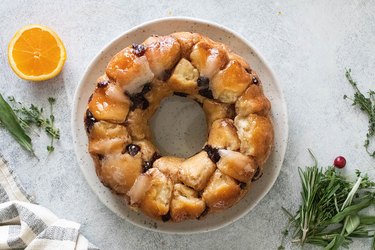 Invert pan on a serving plate, cutting board or wire rack.
Things You'll Need
1 cup chocolate sauce

1 Tbsp. fresh orange juice

2 Tbsp. orange zest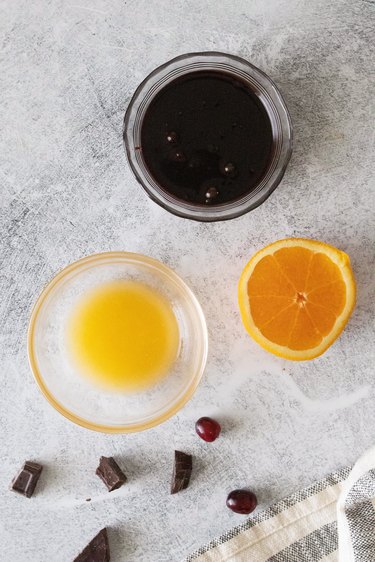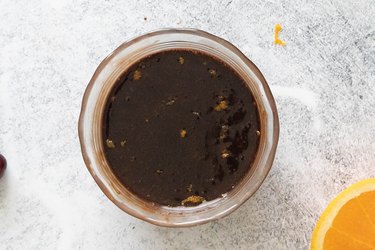 In a small bowl, mix together chocolate sauce, orange juice and orange zest.
Tip
Instead of orange juice, you can use more orange zest or a few drops of orange extract.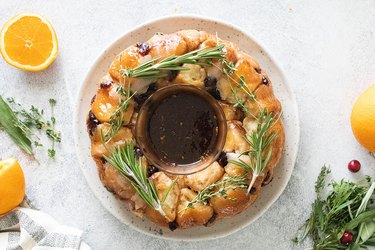 Place bowl of chocolate-orange sauce in center of monkey bread.
For a minimalist look, style a single ring of herbs on top of monkey bread. Another option is to accent monkey bread wreath with one large bundle of herbs. For a fuller look, add extra bundles of herbs on plate surrounding bread.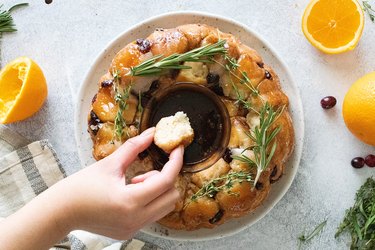 Serve monkey bread warm or at room temperature. Store leftovers in an airtight container in refrigerator. To reheat, warm biscuits in microwave for 1 to 2 minutes. You can also reheat in oven for 10 to 15 minutes at 350°F.