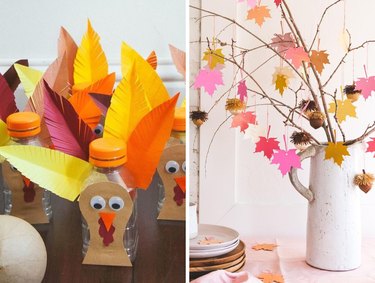 Thanksgiving is just around the corner, and we can almost smell the pumpkin pie, sweet potatoes and turkey legs cooking away in the oven! Of course, every family or group of friends has their own Turkey Day or Friendsgiving activities to look forward to, from board games to Thanksgiving dinner itself. But if you're looking for a few new ideas to spice things up around the table, we've got you covered!
We've gathered some of our favorite family-friendly Thanksgiving activities and traditions with DIY twists from across social media. Whether you're looking for a fun gratitude game or something small to do during football game commercial breaks, these crafts, activities and game ideas are sure to be a Thanksgiving touchdown!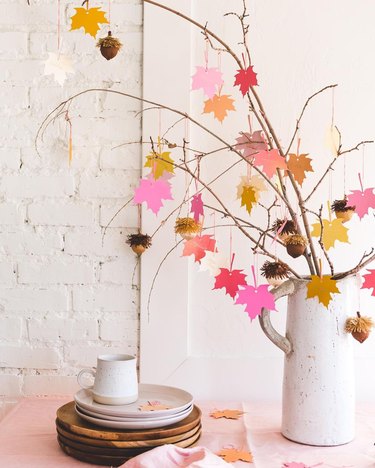 Focusing on gratefulness this Thanksgiving? Make a gratitude tree! Take a cue from Instagrammer @houselarsbuilt and use gathered branches (or a faux tree) in place of a table centerpiece during the whole month of November. Ask family members to write what they're thankful for on leaf-shaped paper cards as the month progresses, then display the cards on the tree for a beautiful physical representation of thankfulness. We love the tree's acorn ornaments and the pretty pastel tones!
2. Handprint Table Runner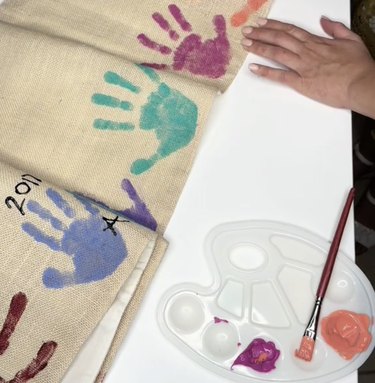 Remember how your parents used to record your height with a pencil mark on the wall each year? This DIY table runner offers a Thanksgiving-themed way to capture memories and growth! Follow TikToker emerald_outlaw's simple tutorial, which calls for a long piece of burlap and skin-safe paint. Have children leave their handprint on the burlap each year to measure growth (and evolving color preferences!). This project would be especially cute as a fixture on the "kids' table," where cousins can look forward to adding their handprints every November.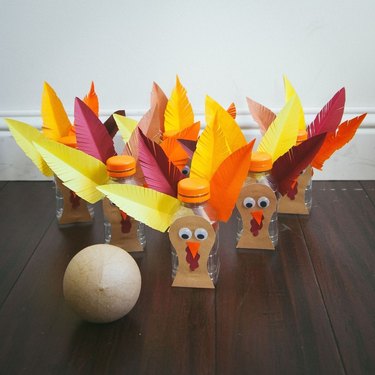 Next up is an activity that will have kiddos and adults alike cracking up: turkey bowling! There are so many ways to modify this idea from @kiwico_inc on Instagram, whether you use painted toilet paper tubes as "bowling pins," transform plastic cups into mini turkeys or attach construction paper to empty water bottles. You could even use leftover Halloween pumpkins as bowling balls—just make sure someone keeps score!
4. Friendsgiving Time Capsule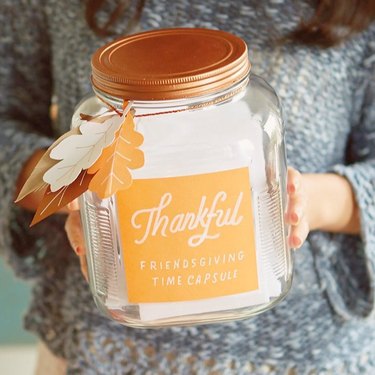 Don't forget about Friendsgiving! If you're gathering with buddies during the holidays this year, consider putting together a Friendsgiving time capsule like the one Instagrammer @think.make.share did. All you'll need is a large jar or container, a label and trinkets or notes to represent the present year. Store your capsule and make plans to reopen it in five, ten or twenty years when you gather again!
Who doesn't love bingo? While you can play this classic game in the traditional style, we're kind of obsessed with these printable Thanksgiving-themed bingo cards from Instagrammer @ateacherandhercat, which feature a few beloved parts of the Thanksgiving feast. You can also make your own cards with nothing more than printer paper and art supplies—having kids draw and create bingo cards would be another special way to involve them in the day. Pro tip: Candy corn works great as an (edible) bingo marker!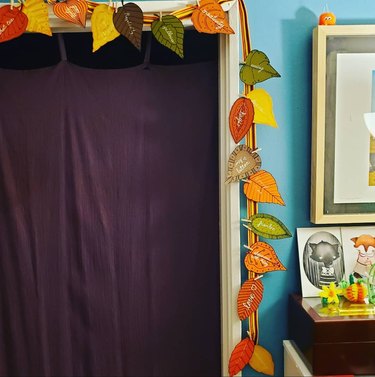 Home decor meets reflection with this idea from Instagrammer @stacileechcornell, who suggests making a colorful gratitude garland with a long strand of ribbon, cutout leaves and mini clothespins. Write things you're grateful for on each paper leaf, then display your completed garland on a fireplace mantel, in a doorway or even on the dinner table. Kids might also enjoy adding stickers or glitter to each leaf for added creativity.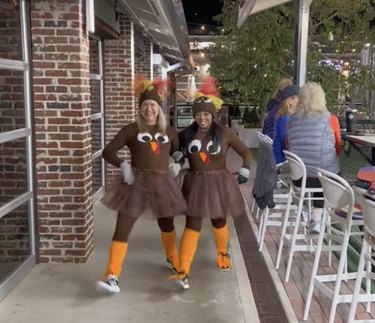 Who says costumes are only reserved for Halloween? We love the approach taken by TikToker @KymmishPickleball, who dressed up in DIY turkey costumes with a friend to celebrate Thanksgiving. While @KymmishPickleball wore her getup on the pickleball court to mark the holiday, we'd love to see a whole Thanksgiving Day get-together full of folks in turkey tutus and orange leg warmers.
Easy Thanksgiving Game Ideas
Not much time to prepare? Here are a few super easy Thanksgiving game ideas to try with the whole family:
‌Thanksgiving charades: ‌While everyone's digesting dinner (or waiting for the turkey timer to go off), do a round of charades with a holiday theme. Think: acting out holiday movies, impersonating family members or reenacting Thanksgiving gatherings past.
‌Thanksgiving Pictionary:‌ Use plain paper and pens to create an on-the-spot Thanksgiving version of the beloved guessing game. Draw holiday-themed clues and watch your loved ones scramble to identify your scribbles.
‌Turkey tag:‌ It's like normal tag but with a Thanksgiving twist! Sometimes referred to as a "Turkey hunt," this is a great way to help kids burn off energy or get loved ones outside for some fresh air after a filling meal. Instead of being "It" when you're tagged, you're "the turkey"!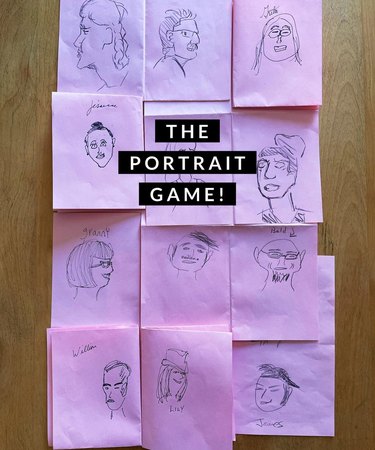 Here's a cost-effective activity that the whole family can partake in on Thanksgiving: the Portrait Game! Instagrammer @maandpamodern explains the super simple process, stating that the game had their entire family doubled over in laughter on Turkey Day. To play, each family member will be given a pen and a piece of paper before choosing another family member to draw (the worse the artistic abilities, the funnier!). Everyone has 60 seconds to complete their drawings before revealing their "masterpieces" to the group. Hilarity is sure to ensue!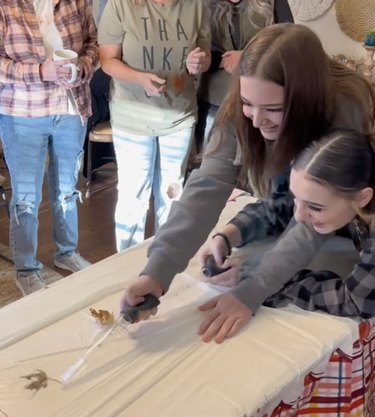 Some of the best Thanksgiving games are created with items you've already got in the house. Look no further than TikToker @leeinkc's fun-filled turkey baster showdown, which makes a great party game for the entire family. The concept is simple: Use (empty!) turkey basters to "race" leaves down a table toward the finish line! Pit your family members against each other just for fun, or make it a little more interesting with prizes. Perhaps the winner gets an extra piece of pie, an early Christmas gift or a homemade Turkey Day trophy.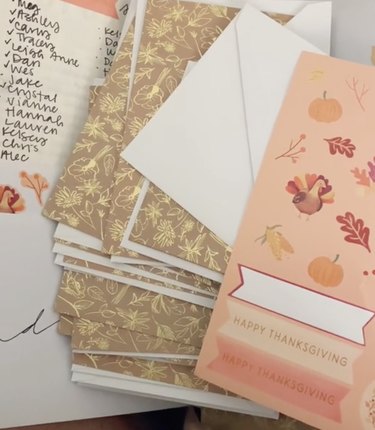 Many of us send out Christmas letters each year, but what about making this tradition Thanksgiving-themed? TikToker @alltheradreads creates a list of people she's thankful for, then writes and mails out gratitude cards. We know it's not always possible for families and friends to gather, so this provides a great way to connect with loved ones when you're spending the holiday solo or far from home.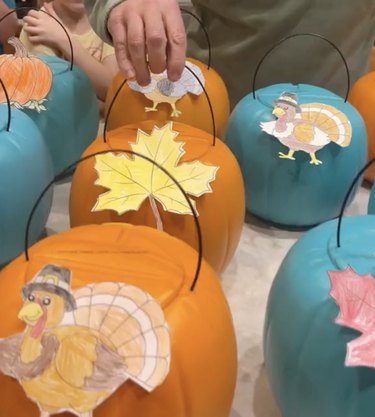 Here's an easy (and potentially lucrative) family game from TikToker @jkezzyfan. The concept of "Don't Pick the Wrong Pumpkin" is simple: Cover an empty table with decorated plastic pumpkins and have the game organizer hide a prize under each cup—some silly, some not-so-silly (we spotted cash and candy!). The twist? One pumpkin conceals a container of cold gravy, and the loser has to eat a spoonful!
12. Thanksgiving House Contest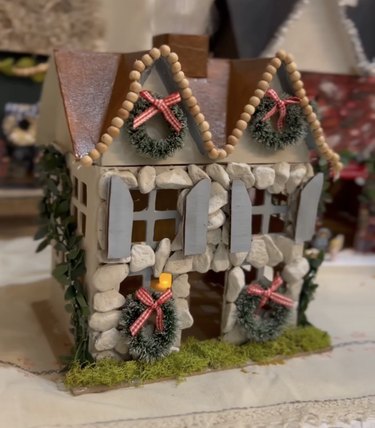 Take a crafty cue from Instagrammer @celestecclark, whose family takes part in a whimsical mini house-decorating contest on Thanksgiving every year to mark the "official" beginning of the Christmas season. After Thanksgiving dinner, each member of the family decorates a gorgeous mini house (you can find similar ones at most craft stores) with everything from tea lights to moss to tiny holiday wreaths. Turn it into a contest with prizes for added competitive spirit. How charming!
Thanksgiving is about more than food and (glorious) turkey-induced naps. Whether it's playing classic games or participating in a Thanksgiving-themed activity, Turkey Day offers a delicious excuse to cherish time together and get creative. With any luck, you've found a new Thanksgiving family tradition on our list!