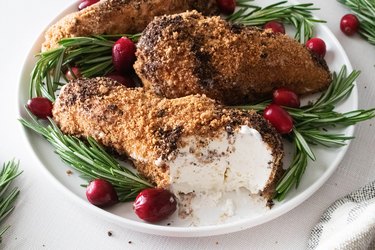 Ice cream might not be a typical Thanksgiving dessert, but this quirky holiday recipe is sure to change your mind. Made of nothing more than mini Twix bars, vanilla ice cream and crushed cookies, these mini "turkey legs" are the epitome of festive fun!
The project is loosely inspired by our "fried chicken" ice cream and waffles recipe, which uses a similar technique: Mold vanilla ice cream around a fun-size Twix bar "bone," form it into a drumstick shape and cover it with an edible coating. The fried chicken version uses crushed cornflakes, while our turkey ice cream version uses gingersnap and Oreo crumbs. This gives the treat a slightly spiced flavor, making it perfect for turkey day.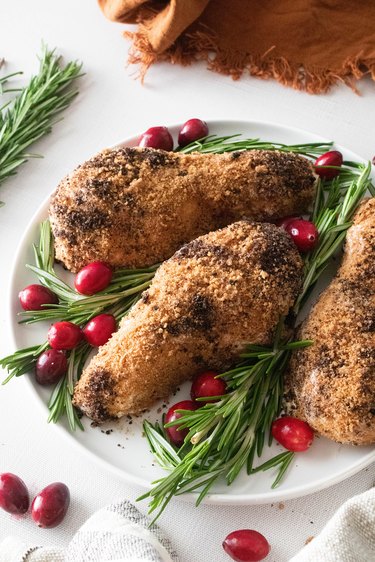 Once the mini ice cream turkey legs have frozen, be sure to style them with fresh rosemary and cranberries—this will emphasize the "Thanksgiving meal" look. Needless to say, this dessert will be the highlight of any holiday table, whether you're attending a potluck or hosting Thanksgiving for the first time. Guests will gobble it right up!
Video: Ice Cream "Turkey Legs" Are the Sweetest Optical Illusion
Things You'll Need
1 1/2 quarts vanilla ice cream

6-8 fun-size Twix bars

2 cups gingersnap cookie crumbs

1/2 cup Oreo crumbs

Fresh rosemary and cranberries, for styling

Large spoon or ice cream scoop

Parchment paper

Sheet tray or freezer-safe plates

Rubber gloves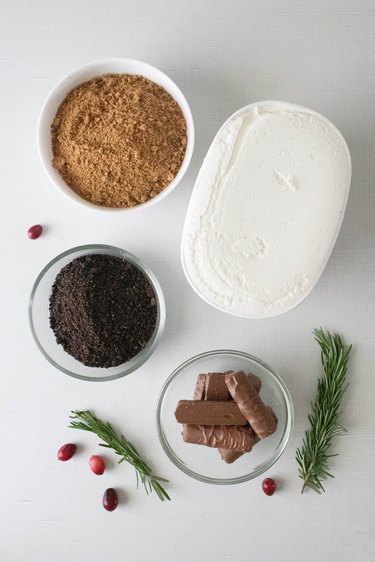 Tip
Before starting the recipe, make space in your freezer. You'll need enough room for a sheet tray or plate. This way, you can work in batches and limit how long ice cream stays out at room temperature.
1. Mold ice cream turkey legs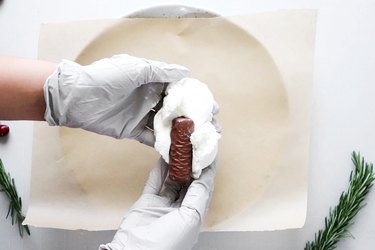 Line a sheet tray or freezer-safe plate with parchment paper and then put on gloves.
Scoop out a heap of ice cream with a large spoon or ice cream scoop. Flatten with your hands and place a fun-size Twix bar along bottom.
Tip
Vanilla is a classic and well-loved flavor, but you can use different ice cream flavors for your turkey legs. For example, try something with caramel or nuts for a mouthwatering seasonal twist. You could even fold ingredients like maple pecans or brown sugar into plain vanilla ice cream to take it up a notch. If you love more unique flavors, make this recipe with salted buttercream, goat cheese or cream cheese ice cream if you're able to find them. Anything goes when it comes to Thanksgiving ice cream!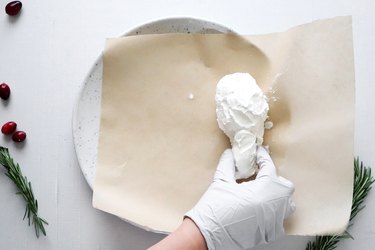 Wrap ice cream around Twix bar, forming it into a drumstick shape. Add ice cream to top for additional bulk.
Tip
If ice cream becomes too cold to handle, place it on sheet tray or plate. You can then can add ice cream to turkey leg by gently pressing it in.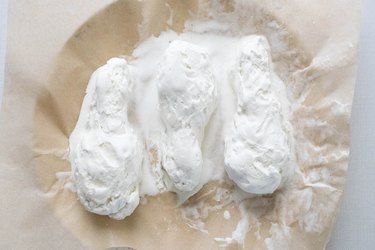 Make another 1-2 turkey legs and then place them in freezer. Be sure to work quickly! Working in batches will ensure ice cream doesn't sit out for too long.
Repeat until you've created desired number of turkey legs. You should be able to make 6-8 ice creams depending on size of each one. Freeze for at least two hours.
Tip
If you need to further mold ice cream turkey legs, remove them from freezer after 30 minutes to one hour and then shape with back of a spoon.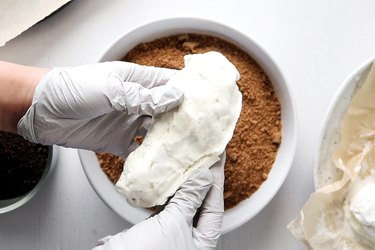 If ice cream has pooled and frozen around turkey leg, you can now break it off to retain turkey leg shape. Alternatively, if pooled ice cream isn't completely frozen, separate it from leg using a spoon.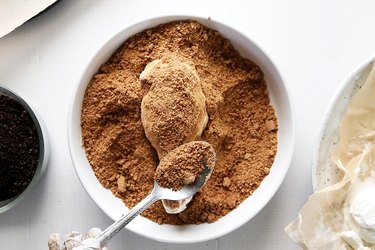 Place gingersnap crumbs in a shallow bowl. Take out a few turkey legs, letting them sit at room temperature for about 5 minutes. This will let surface of ice cream slightly soften so crumbs stick properly.
Lay a turkey leg in bowl. Scoop gingersnap crumbs on top and then gently press into ice cream form. Don't forget to press crumbs into sides too.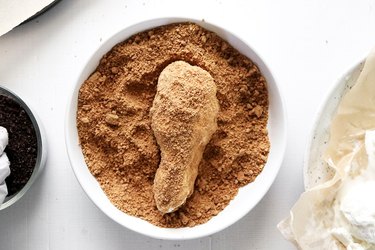 Tip
If you're not a fan of gingersnap cookies, try this recipe with graham cracker crumbs. The color will be lighter and less reddish but just as tasty.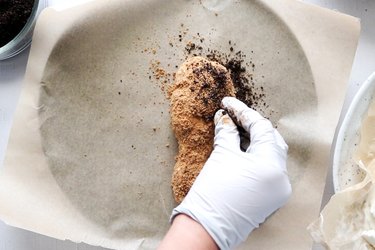 Transfer turkey leg to a new parchment-lined sheet tray or plate. Next, add Oreo crumbs to random parts of turkey leg, focusing on top. This will create a "burnt" look like a real turkey leg.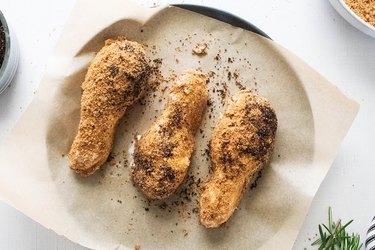 Repeat with remaining turkey legs. Return to freezer for another 1-2 hours or until ice cream is firm.
3. Style with rosemary and cranberries
When you're ready to serve this tasty Thanksgiving dessert, place turkey legs on a plate or baking sheet. Add fresh cranberries and sprigs of rosemary between drumsticks to create a classic Thanksgiving dinner look.
How to Serve Mini Turkey Leg Ice Cream
To elevate the ice cream turkey legs, here are some creative serving suggestions:
Pair ice cream with cranberry sauce for a sweet take on caramelized turkey and cranberry.
Serve with maple syrup, stonefruit jam, pumpkin dip or chocolate sauce with a bit of sea salt for a burst of Thanksgiving flavor.
Add a slice of candied walnut cheesecake on the side. If you prefer pie, go for pumpkin or sweet potato pie.
Enjoy with a scoop of chocolate mashed potatoes (yes, it's a thing!) for a delicious optical illusion.
If you love savory tastes, try ice cream with a roasted peach and sage or rosemary flavor. The herby notes will complement the sweetness of peach and ice cream.
If you ask us, dessert is the best part of any Thanksgiving table—and these one of a kind Thanksgiving ice cream treats are guaranteed showstoppers. Just make sure not to mix up real turkey legs with the ice cream version!