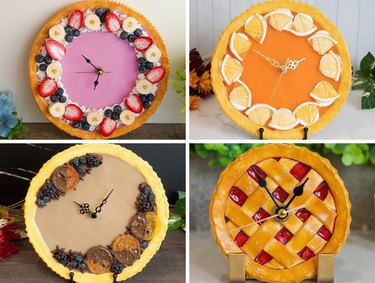 Maho Martin makes mouthwatering berry banana tarts, strawberry cakes and chocolate pies—just please don't stick a fork in 'em. You see, Maho's fantastical desserts are actually fake treats that she painstakingly creates using things like resin, clay and paint. "I love what I do," says Maho, a former video editor who now runs the Etsy shop M's Faux Bakery, where she's been selling clocks, candles, jewelry and more since 2020. "I think there's also a surprising moment when people first see my fake food, because they think it's real and, even after they find out it's fake, they have no idea how it was done. People become fascinated."
Maho was inspired by the art of ‌shokuhin sampuru‌ from her native Japan, a tradition in which restaurants place fake models of their best apps, entrées and desserts in their front windows to entice passersby to come in and try the real thing. Maho took that idea and turned it into fun, functional decor for those who want to satisfy their sweet tooth—minus the cavities!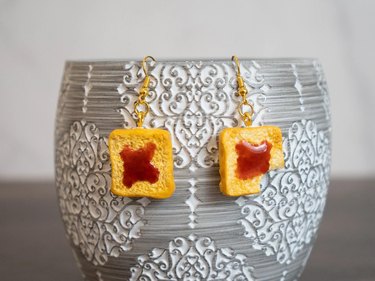 We talked to Maho about how she turned her hobby into a side hustle, the secret to making the perfect fake strawberry and making faux pies while Bad Bunny plays in the background.
Tell us the story of how you came to the United States.
‌MAHO:‌ I grew up mostly around Tokyo and Chiba (a nearby city). After going to film school and working in the video and film industry, I felt like learning English could be useful. In 2016, the company I was working for went bankrupt, so I figured it was a good time to come to the U.S. and go back to school. I chose to move to Los Angeles because it's home to the American film industry.
What inspired you to start your Etsy shop?
‌MAHO:‌ Because of my immigration status at the time, I wasn't able to work and, during the COVID-19 quarantine, there was nothing to do. I had always loved fake food, so it seemed like a good time to start making it as a hobby. I searched through many websites and experimented a lot. Once I got my American work permit, I realized that it might be something that people here in the U.S. would like to buy. So I started my shop.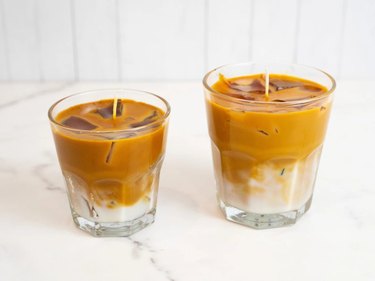 You've focused on American-style desserts, but your inspiration was the Japanese art of "shokuhin sampuru." Can you tell us more about it?
‌MAHO:‌ ‌Shokuhin sampuru‌ started in the early twentieth century. Restaurants started making fake menu items, and they evolved into increasingly realistic displays. Nowadays, restaurants bring in their food to a ‌sampuru‌ maker, who will perfectly re-create the dish. Over time, it's become a part of wider Japanese culture. You can find key chains and phone cases made to look like food. I really liked it when I was a kid. I remember getting a fake bowl of soba noodles for my birthday one year and being so happy.
How do you decide what to make for your Etsy shop?
‌MAHO:‌ I just try to think of what would be cute on the wall (for my clocks) or what might look good as an earring. Once I decide on a food, I'll look for pictures online for reference to make sure I make it properly. Also, because I'm from Japan but making things mostly for Americans, I do a lot of research on what kinds of foods are popular here.
What's your process after that?
‌MAHO:‌ The base for most pieces is a combination of clay and resin. Some foods, like some types of bread or fruit, I can make from a mold. Other foods, I'll have to re-create by hand using clay. For tart filling, I'll color the resin with paint before pouring it into the pie crust. Once I have all the individual pieces, it's mostly just assembling everything and painting. There's a lot of waiting for things to dry or cure, so one tart clock can take as long as a week or two to finish.
What's the most difficult object to make from scratch?
‌MAHO:‌ Strawberries. The coloring inside a cut strawberry is hard to get right. I build the whole strawberry first, without a mold, including all the seeds on the outside. Then I cut it in half. This has to be done after it hardens, but before it gets too hard. Then there's a lot of detail that goes into the coloring, both on the inside and outside.
Do you have a funny story about the worst piece you've ever made?
‌MAHO:‌ When I made my strawberry jam toast clock for the first time, I had so much trouble coloring the jam and making it look realistic! I ended up with a dozen toast clocks that looked like they were covered in ketchup. I threw all of them away!
Do you have a sweet tooth IRL?
‌MAHO:‌ I like sweet things but not as much as you might think. I really like apple pie with ice cream, but now I realize I've never made fake ice cream. Maybe I should try that next!
What is a typical day of making fake food like?
‌MAHO:‌ I have an office at home. I'll usually be working in there after I finish my day job or on weekends, whenever I have time. I play a variety of music, like alternative, Japanese music and even reggaeton, to help me focus.
Do you have plans to offer pieces featuring Japanese food as well?
‌MAHO:‌ I would love to make more Japanese food, but I think the demand for food that Americans are more familiar with is much higher.
Which Japanese dishes (that Americans aren't familiar with) could be future faux pieces in your store?
‌MAHO:‌ It's hard for me to pick just one. Authentic sushi, for example, is very simple and really all about the flavor and texture of the fish—very different from sushi rolls that are so popular here in the U.S. Sake is also super simple, with only three ingredients: water, rice and koji (the fermentation culture). Despite this, there are so many different amazing kinds and flavors: sweet ones, dry ones, rich ones. It's a lot like wine, where different sake can leave you with a different feeling or pair better with certain foods.
Where do you see your business in five years?
‌MAHO:‌ I'd love to make it full-time and sell my things at festivals and stores. I've also always wanted to make props for the screen—TV or movies. It would be so cool!