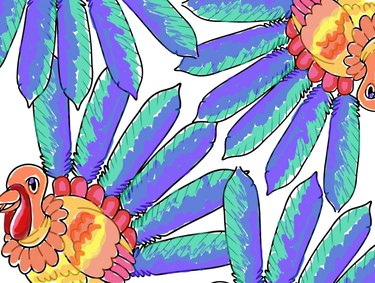 Thanksgiving is all about family, food, football, gratitude and plenty of fun! If you're seeking activities for kids to do while the turkey cooks, we've created five free printable Thanksgiving activity pages and coloring sheets that are great for engaging little ones, from a gratitude turkey to a "seek and find" Thanksgiving dinner table.
These free printable pages also make fantastic holiday worksheets for school before Thanksgiving break and can even be compiled into a mini DIY coloring book. Best of all, you only need a printer (you'll find links to each printable below) and some crayons, colored pencils, markers or watercolors.
Happy Thanksgiving—and happy coloring!
1. Printable Football End Zone Maze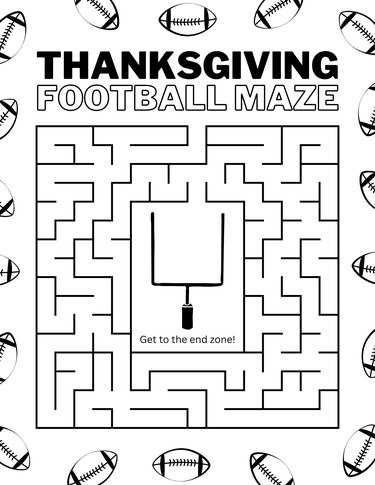 This Thanksgiving coloring page and end zone maze is a fun activity for the classroom or for playtime at home. The footballs and end zone can be colored in, while the maze provides a challenge. Try letting kids solve the maze using different-color crayons—that way, they can track their progress into the end zone. Touchdown!
2. Printable DIY Name Cards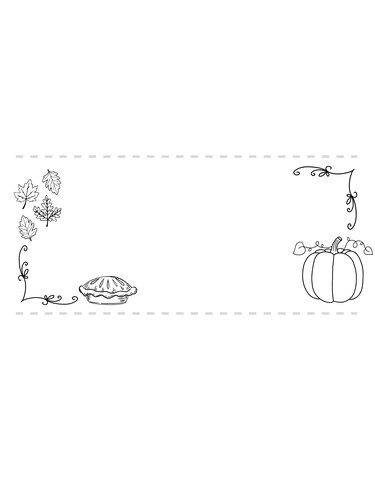 This printable name card is the perfect craft for kids who want to play a role in preparing for Thanksgiving dinner. Once your child has colored in the pumpkin, pumpkin pie and fall leaves, they can write their name in the blank space and fold the card along dotted lines to create a name card that will sit up on its own. They can even make enough for the whole family and display them before the Thanksgiving meal.
3. Printable Gratitude Tree Activity Sheet
This printable activity sheet features a gratitude tree and piles upon piles of fall leaves. Once your little one has added five things for which they're grateful to each section of the tree, they can color in the leaves, grass, tree and sky. You can even go around the table at your Thanksgiving gathering and ask each child to share what they wrote down. 'Tis the season to give thanks!
4. Printable Thanksgiving Seek & Find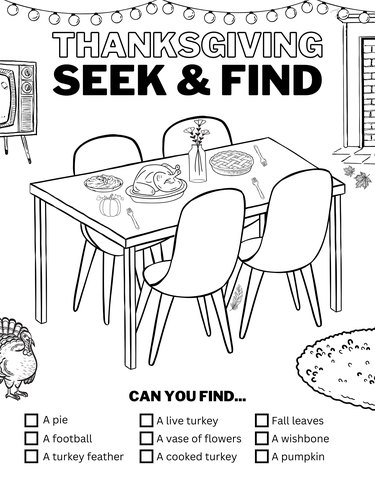 This printable Thanksgiving activity page is perfect for older kids who want more of a challenge (it doubles as a coloring sheet too). The seek and find activity lists nine Thanksgiving-themed items to be discovered among the Thanksgiving dinner scene, including a turkey, a wishbone and a football. You could even arrange a competition at the kids' table to see who can find all nine first!
5. Printable Thankful Turkey Activity Sheet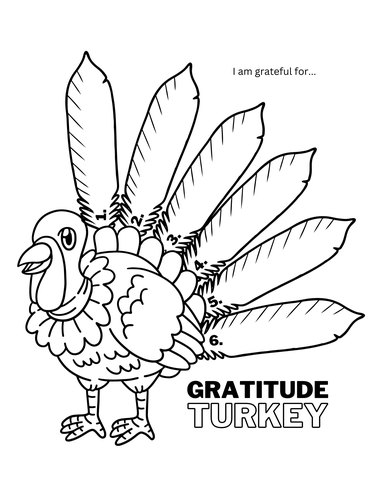 This classic turkey activity sheet features a big Thanksgiving turkey with six feathers where kids can write down six things for which they're grateful. The activity sheet also doubles as a Thanksgiving turkey coloring page, making it perfect for hanging on the fridge once complete. Gobble gobble!
We hope these printable Thanksgiving craft pages are a hit with kids and grownups alike as you prepare for this bustling and beautiful time of year. Happy turkey day!