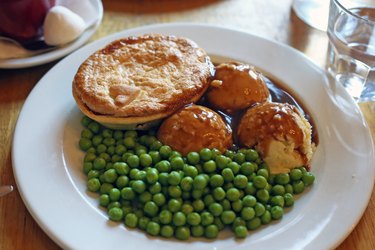 Native Australians get to eat some very interesting things. You might be familiar with popularized terms like "shrimp on the barbie" and vegemite, but these are only two examples. There are plenty of other foods in Australia that are worth learning about. Some did not originate in the country, and others were created many years ago.
Common Foods in Australia
As in many other parts of the globe, Australians love to grill outdoors and enjoy eating barbecued "snags." This word is just another way of saying sausages, which you can make from beef, pork and other ingredients. Local Australians like to wrap their snags with bread and cover them with sauce and fried onions. Along this same theme, a burger with "the lot" is another favorite. This burger consists of a bun, barbecued burger, sauce, salad, pickled beetroot, a fried egg and a juicy slice of pineapple.
Chicken parmigiana (also called parmi, parma or parmy) is prominent in Australia, and you can find it on pub menus across the continent. Instead of only the traditional bread crumb topping, they offer different varieties, like double banger and vindaloo. Australian meat pies differ from shepherd pies and are hand-sized, filled with mincemeat and gravy and covered with tomato sauce. Other popular Australian foods you will know are fish and chips, avocados and pumpkin soup.
Foods That Originated in Australia
You can find versions of these dishes all over the United States, but to get a real taste of Australian food, you'll want to dig in deeper. Vegemite is an Aussie breakfast staple made from brewer's yeast; in other words, it's what is left at the bottom of beer barrels after the liquid is removed. It has a flavorful, salty taste and gets added to soups and casseroles. Australians spread this shiny, thick brown paste with butter onto bread and crackers. Don't knock it 'til you try it!
Lamingtons is also one of the most popular foods of Australia and the national cake there as well. It's a square-shaped sponge cake with jam inside and chocolate icing and coconut on the outside. This sweet treat was named after a former governor of Queensland, Lord Lamington. The chiko roll was invented in New South Wales and is similar to a spring roll, filled with cabbage, green beans and other veggies.
The delicious and well-loved Pavlova dessert might have been invented in New Zealand or Australia and may have been named after Russian ballerina Anna Pavlova; no one is 100 percent sure. It has a meringue base topped with whipped cream and assorted fresh fruit. Another dessert loved by Aussies is the golden gaytime. It's a vanilla ice cream bar dipped in chocolate and covered with biscuit pieces; it's also available in other flavors. Australians with a sweet tooth also like Milo, a chocolate powder mixed with milk or water or sprinkled on cakes and snacks.
Barramundi is on many Australian restaurant menus and is a kind of sea bass that is found in the Indo-Pacific and in Australia. Kangaroos and emus are also native to the area, and you can buy both in the supermarket meat sections. Kangaroo is a lean, healthy red meat and gets made into steaks, sausages, burgers and more. The emu is a bird, and like the ostrich, it is categorized as a red meat.